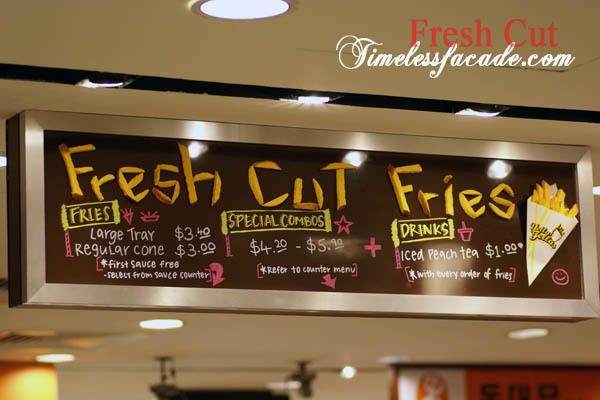 This is going to be a very short entry as I don't usually write about snacks that I eat. Just happened to pass by this stall at Bugis Junction which was featured in the Straits Times sometime back about its fries so decided to give it a shot, especially since this is probably the only place in Singapore that sells poutine (to my limited knowledge).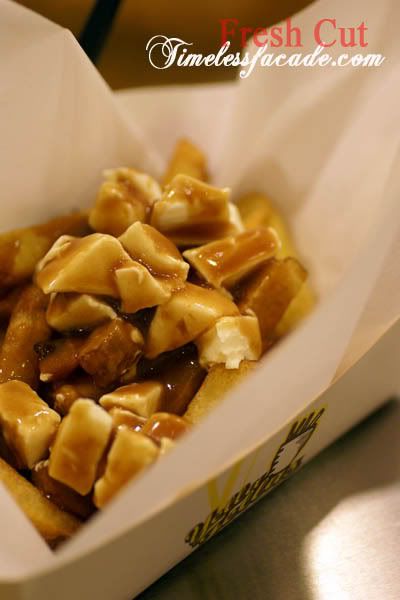 Poutine
$4.90 gets you a medium size serving of thick cut fries with the skin still intact, covered in a sporadic layer of cream cheese and drizzled with beef gravy. I personally felt that the fries were too thickly cut, which resulted in some parts being overly hard while some parts were soft. The gravy wasn't hot enough( it was at room temperature!) to melt the cheese, unlike that of
New York Fries
, which pours hot/warm gravy over their cheese curds to melt them onto the fries for a absolutely delicious experience. I also thought that the salt content was a little too excessive as good fries, in my humble opinion, only require minimal salt.
Likes: Finally poutine in Singapore!
Dislikes: Poutine needs refining
Final Verdict:
Ambience:/10
Service:/10
Food:6.5/10
Value for money:6/10
Overall:6.25/10
Address: #B1-K6 Bugis Junction
Contact: 9863 1404
Opening Hours: Daily: 11am - 10pm
Website: http://www.yellafellas.com.sg/index.html