I've always been wondering about New York New York, the pseudo New York eatery that took the local dining scene by storm a couple of years back with its first outlet at Citylink mall. Managed by the same group which also owns and operates Thai Express, Xin Wang Hong Kong Cafe and Pinle, queues were long and winding especially during meal times. The eatery has since expanded to 6 outlets in Singapore to cope with the demand.
The Place & The Menu
The AMK Hub outlet is located at the basement of the suburban mall and operates on a partially open concept, very much like the main branch at Citylink. The walls are plastered with scenes from New York City and there are semi private booths at a corner for a cosier dining experience. I did think that the tables in the middle are spaced too close to each other, very much like fast food restaurants, which makes for an uncomfortable dining experience.


Cheese Freedom Fries
Corny names aside, the fries tasted as bad as they sounded. Soft, soggy and drizzled with cheese that tasted like Twisties (the snack). The fact that it was served hot provided scant comfort.


Chicken & Prawn Combo
I don't know what to make of this dish as the prawn batter was too thick and soaked in oil while the chicken tasted rather average - something any mom and pop stall can churn out sans the relatively higher prices. Ironically, the wedges that came alongside were the better deal - not overly fried and piping hot.


Juicy Burger
I must admit that the burger was quite a size but the patty tasted rather "macdonaldish" albeit being alot thicker. The texture also suggested it was machine processed rather than hand chopped/made. I didn't appreciate the mustard and ketchup atop the patty as well.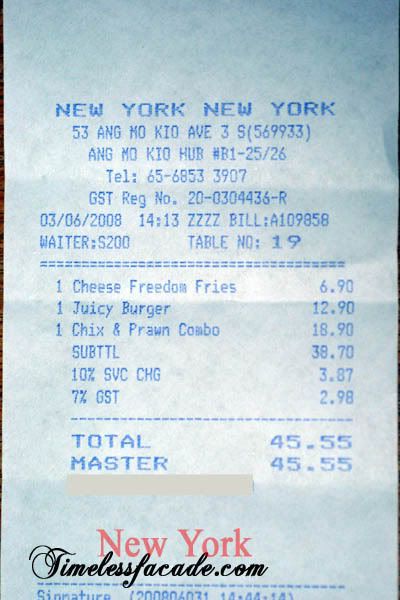 Bill
$46 for a 2 pax lunch of such average quality certainly isn't going to win me over and I am pretty sure that amount can be better utilized elsewhere. Service, or lack of, didn't extend beyond taking our orders and serving them to us. Our requests for ice water took a long time to arrive and after repeated reminders. Even the manager had a nonchalent attitude when showing us to our seat. Average food plus lousy service (which I have to pay a 10% service charge for) is definitely a no go for me.



Likes: Nothing
Dislikes: Food is average, service almost non existent

Final Verdict:

Ambience:6.5/10
Service:5.5/10
Food:6/10
Value for money:6/10

Overall:6/10

Address: B1-25/26 AMK Hub

Contact: 68533907

Opening Hours: 11am - 10pm daily

Website: http://www.newyorknewyork.com.sg/