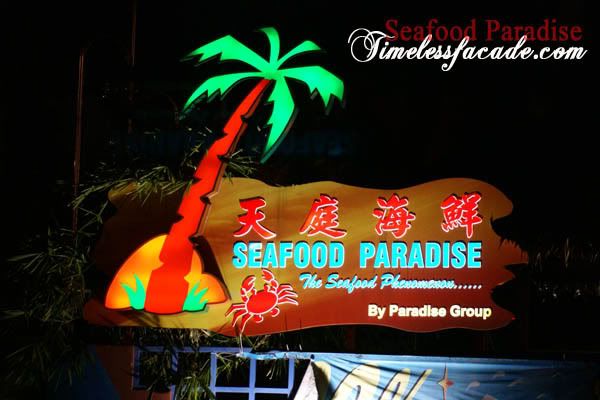 Had dinner at Seafood Paradise @ Defu, the original and mass market seafood offering from Paradise Group, which has another outlet bearing the same name at the Singapore Flyer and also runs the excellent fine dining restaurant,
Taste Paradise
,at Mosque Street. This wildly popular restaurant started out as a humble 25 seater cze char stall in 2002 and has since expanded its premises to accommodate more then 200 people, which is by no means a small feat.
Hidden within the Defu industrial estate, Seafood Paradise @ Defu isn't exactly located at the most convenient of places and people who are unfamiliar with the area might have quite a bit of difficulty trying to get there. The restaurant offers both alfresco and air conditioned dining and please be warned that turning up without reservations at prime time slots like 7pm to 830pm would probably leave you without a table.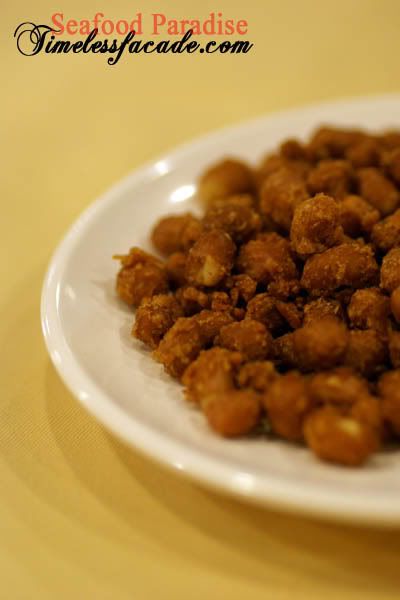 Appetiser
Just thought that I would include this in because not many places serve this form of nuts and I happen to like it quite a bit.


Wasabi Prawns
A signature dish of Seafood Paradise, the wasabi prawns certainly lived up to its hype in my humble opinion. The prawns were fresh and huge with a nice crunchy texture beneath its slightly crispy exterior. Topped with sweet mango slices, pine nuts and dragon fruit seeds, I did think that the wasabi was a tad strong this time round, giving me a minor headache. But all in all a very good eat.


Homemade Beancurd in Seafood Sauce
The small serving of beancurd was quite a size (for 3-4 pax) and came across as silkily smooth with a very faint hint of the smokey aftertaste that I personally like. The generous meat floss atop gave it a nice sweet bearing while the savoury gravy had cubes of prawns, sea cucumber and squid. Very satisfying, to me at least.


Egg White and Scallop on Broccoli
I thought that this simple vegetable dish was very well executed with the broccoli not too soft from overcooking while the gravy had a very nice savoury taste. The scallops weren't overcooked as well and the egg white was plentiful sans the raw and mildy nauseating aftertaste that plague most such dishes. Probably the only fault I can find with this dish is the excessive oil in it, which would probably scare off the more health conscious folks.


Whole Ribs in Honey Pepper Sauce
Another signature dish of Seafood Paradise, the ribs were well seasoned without being the meat being too hard and carried with it a light sweetness from the honey with a placid pepperish undertone. But some might find it a tad too sweet for their liking, ie, my gf.


Bill
A dinner that costs close to $70 for 2 pax isn't what I would call cheap but I cannot deny the quality of food that Seafood Paradise offers. Just for the record, we had to doggy bag most of the ribs (3 out of 4 pieces) as both of us were too stuffed to eat anymore. Service was excellent as well although they could have been a little more organised in the reservations. People waiting up to 30 mins for a table even with reservations is definitely a big no no.
Likes: Good food, free parking
Dislikes: Long waiting times especially during peak periods
Final Verdict:
Ambience:7/10
Service:7.5/10
Food:7.5/10
Value for money:7/10
Overall:7.25/10
Address: 91, Defu Lane 10, Swee Hin Building
Contact: 6487 2429
Opening Hours:
Monday - Saturday
Lunch (last order at 2.15pm)
11.30am - 2.30pm
Dinner (last order at 10.30pm)
5.30pm - 11pm
Sunday
Lunch
Closed
Dinner (last order at 10.30pm)
5pm - 11pm
Website: http://www.paradisegroup.com.sg/