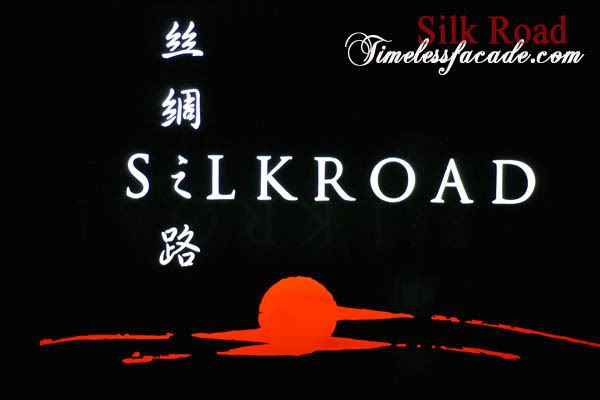 The Silk Road or 丝绸之路 was an important cultural and trade route that linked China and the Far East to the West in ancient times. This was the very route that legendary explorer Marco Polo took from North and South China back to Venice during the 13th century. Banking on the success of this historic route, the Silk Road group of restaurants was born, with Silk Road of the Sea at Sentosa being the latest addition to the family.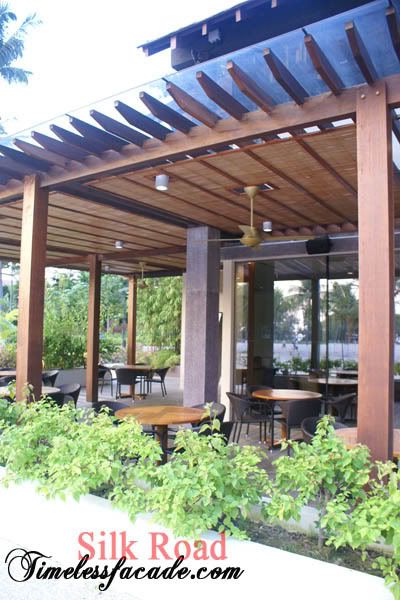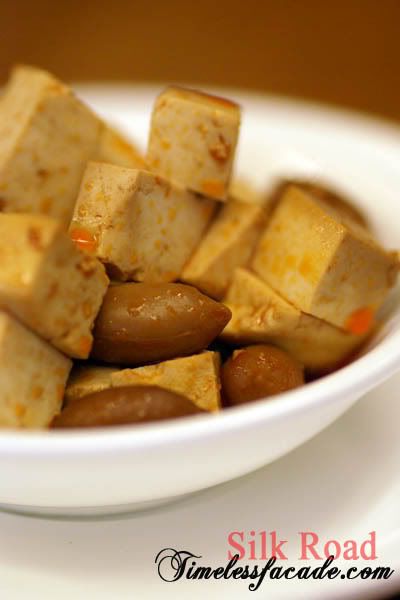 Exterior, Interior, Menu & Appetiser
Nestled on the ground floor in a standalone building along Palawan beach, Silk Road shares the premises with Braise, a modern European restaurant that occupies the second floor. This cosy Chinese restaurant offers both air conditioned indoor dining and al fresco if you wish to experience the sea breeze and the sand that tags along with it. The interior is done up simply with white washed walls and pillars but more importantly, comes with floor to ceiling windows to allow an unobstructed view of the beach (provided no one blocks your view by sitting in front of you in the al fresco area).


Pumpkin Soup
An off the menu item as well as a signature dish of Silk Road, the pumpkin soup cost a hefty $18. Portions were big and the soup was probably just sufficient for 1 person. However I must give it credit for its rather interesting presentation - served in a pumpkin with its insides carved out. The soup came across as mildy sweet with a relatively strong hint of the raw ocean, which can be quite unsettling at times. I also thought that for the price, there would be a more generous serving of scallops, prawns, squid and seaweed in it.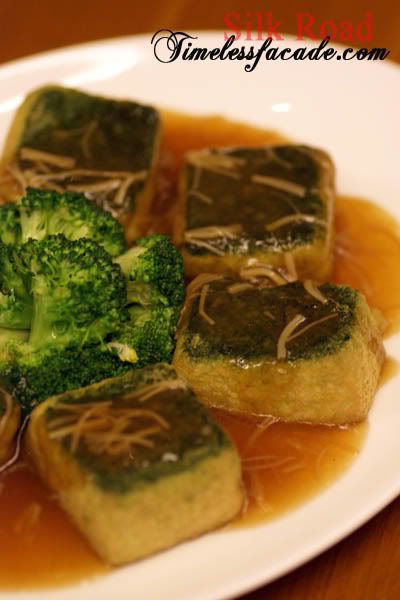 Chef's Homemade Signature Beancurd
Besides the gravy being a wee bit too salty, I couldn't find any fault with the beancurd, which was a little crisp on the outside yet smooth and silky on the inside. Personally, I liked the layer of spinach atop which accentuated the savoury aftertaste. Polishing off this dish would have child's play to me.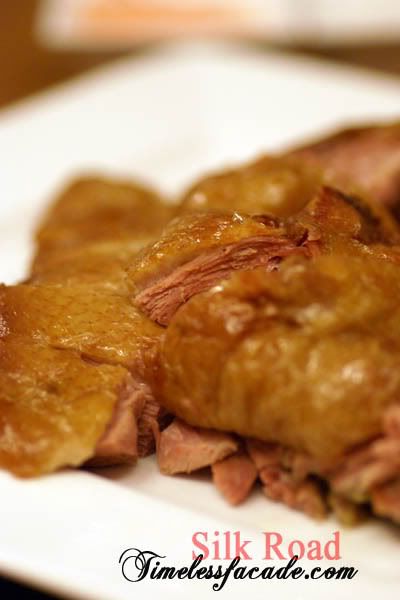 Sichuan Smoked Duck with Camphor & Tea Leaves
My experiences with smoked duck in Singapore are limited to only
Szechuan Court
and
Peach Blossoms
, both of which doesn't exactly serve up good smoked duck I must say. Although Silk Road's rendition was better then both places, it still didn't impress me much. The duck meat was reddish (a little too reddish at some parts though) but not overly dry and carried a floating hint of smokiness. There was the problem of the missing tea taste though.
Stir Fried Asparagus
How bad can stir fried asparagus get? This dish was normal with the asparagus cooked just right, not too soft nor hard. And thats about it.


Supreme Fried Rice with Seafood

I thought that the rice was evenly fried, as evident by the homogeneous colour but lacked the quintessential wok hei taste. Fortunately, the rice still came across as relatively tasty with a reasonably generous amount of ingredients.
Bill
Dinner is a most relaxing environment coupled with a nice view of the beach cost the two of us about $98. Expensive? Definitely. However, if you take a look at the individual pricing of items, its more or less Crystal Jade prices except for the pumpkin soup, which is really over the hill IMHO. Take that away and suddenly, the total bill does seem a tad more reasonable. However, having said that, I don't see myself returning, especially with an upfront $7 ($6 entry + $1 parking) charge.
Likes: Nice place
Dislikes: Rather pricey
Final Verdict:
Ambience:7.5/10
Service:7/10
Food:7/10
Value for money:6/10
Overall:6.875/10
Address: Amara Sanctuary @ Sentosa, 1 Larkhill Road
Contact: 6377 4248
Opening Hours:
Mon-Thu: Lunch: 11.00am - 2.30pm
Mon-Thu: Dinner: 6.00pm - 9.30pm
Fri/Sat/Sun: 11.00am - 9.30pm
Website: http://www.amarasanctuary.com/fnb/silkroadofthesea.html
Note: Acting on a whim, I've decided to do a mini Sentosa food series on a monthly basis starting this month (October), which will probably run all the way until July next year. That makes 10 entries in total so if there is any place you would like to recommend me, please drop me a note and let me know =)