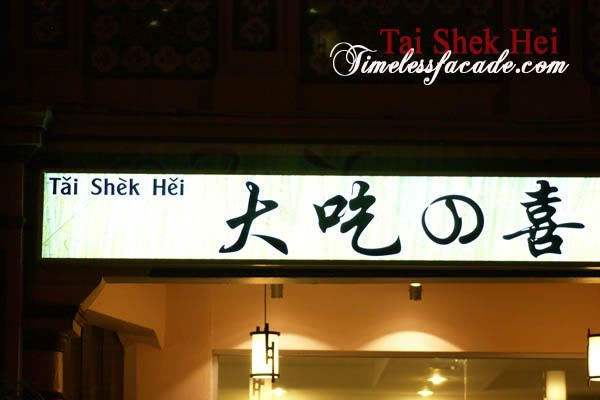 Was in the vicinity of Joo Chiat so decided to pop down to this kid on the block after reading rather favourable reviews of it by some food bloggers. It also helped that I was financially strapped and had to eat on a tight budget.
Interior & Menu
Located right at the junction of Joo Chiat Road and Koon Seng Road, Tai Shek Hei has only been in operations for about 2 months or so and the decor is typical of a Chinese type eatery. According to the writeup in the menu, Tai Shek Hei specialises in bamboo noodles, which are purportedly unique in the sense that the dough used in making the noodles are beaten with a long thick bamboo pole that promises a springy product without the lye (alkaline) taste.


Speciality Tobiko Dumpling

I had a go at the bamboo noodles, topped with their speciality tobiko (flying fish roe) dumplings. The noodles were thing and springy with lots of bite while the dumplings were quite good with the skin not too thick and the prawns crunchy with a little help from the roe. The soup base was supposedly made from boiling sole fish, prawn shells, dried scallops etc but though rather tasty, it didn't exactly wow me.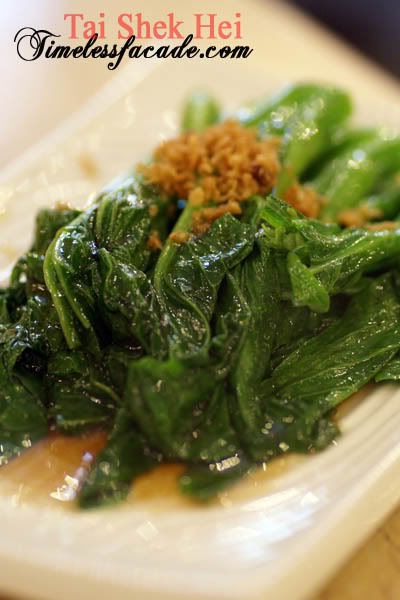 Cai Xin
A very normal dish and something you can find at any random cze char stall. $6 is still reasonable I guess.


Roast Combination
We opted for the Soy Chicken and Roast Duck combination which was surprisingly quite good. The meat was tender yet moist and had a nice chewy sensation to it. The amount of fats beneath the skin was also minimal, which is good for health conscious folks. I would have liked the skin to be a little crispier though.


Bill
To be honest, I think the food was quite decent and it wasn't exactly expensive either, standing at about $28 for 2 pax. Its a pity about the location and the lack of crowds though.
Likes: Food is decent
Dislikes: Nothing
Final Verdict:
Ambience:6.5/10
Service:6.5/10
Food:7/10
Value for money:7/10
Overall:6.75/10
Address: 283 Joo Chiat Road
Contact: 6345 5095
Opening Hours:
Lunch: 11am - 3pm
Dinner: 6pm - 11pm