Yes its back at Tetsu once again, just that this time round it was through an invitation for a food tasting. To be honest, my
last paid dinner
at Tetsu was very average so I didn't dare harbour any hopes on Tetsu getting its act together even though it was a food tasting.
Menu & Sake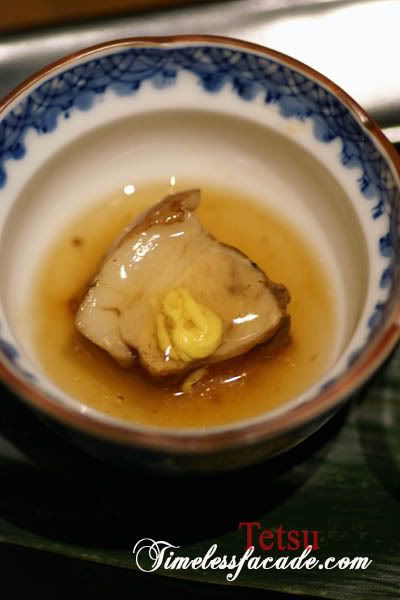 Sampling Platter
This opening platter was a selection of Kajiki(swordfish) Tataki, Agedashi tofu and braised pork belly. Personally I thought that the swordfish was good - well seared on the outside yet retaining its rawness on the inside with a faint smoky taste.
Interestingly, the agedashi tofu was miles apart from the usual ones that I was used to. Instead of being silkily smooth, the texture reminded me more of carrot cake (菜头粿), starchy and wobbly. I guess at this point, its really up to personal preference.
The braised pork belly was purportedly braised for 2 days but though it was tender and nice, it didn't exactly wow me. And its really fatty.


Mixed Sashimi
I didn't have the stomach for sashimi that evening so I skipped this dish entirely.


Teriyaki Chicken
To me, Teriyaki chicken is comfort food. So perhaps that was the reason I fancied it quite a bit. A tad charred and crispy along the exterior, the meat held a nice moist bite without being overwhelmed by the mildy sweet teriyaki sauce coating.


Sushi Roll
I liked this. The rice wasn't overly sticky nor loose with a fragrant sesame seed coating and copious amounts of roe atop. Wedged in the centre of the roll was a nice savoury crab meat filling layered by thin slices of vegetables that provided an extra crunch. I would have prefered a wee bit more vinegar in the rice though. If there's anything that I'm going back to Tetsu for, its definitely for the sushi.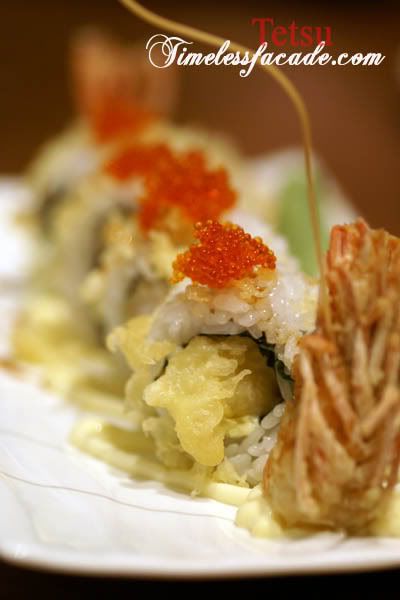 Dragon Roll
Ditto to the comment I made in the previous paragraph about returning for the sushi. The dragon roll was good as well - firm rice enveloping a prawn tempura and topped with roe. A dollop of mayonnaise made for extra seasoning.


Rosu Katsu & Hire Katsu
Katsus tend to have this nauseating effect on me because its deep fried and too much flour just makes me go woozy. Tetsu's rendition was no different but I must admit that it was quite decent. I personally prefered the Rosu katsu (pork loin), which was juicier and carried more bite then the hire katsu (pork fillet). But of course the Hire katsu was more tender and of a leaner (equates healthier) cut. For both katsus, the bread crumbs absorbed quite a bit of oil so I called it quits after eating a piece each.


Assorted Tempura
Here is where Tetsu needs a major improvement IMHO. The tempura batter was way too thick and though very crispy due to the crumbs, I honestly feared for my health. Imagine the amount of oil absorbed. In the case of the prawn tempura, I could barely make out the taste of the prawn, which was overwhelmed by the taste of the batter.


Inaniwa Udon
Hailing from Akita Prefecture in northern Japan, the Inaniwa udon is supposedly one of the highest quality udon made in the country. Honestly I don't know much about udon but I did find tetsu's offering quite good as the udon was al dente without coming across as too starchy. But the funny thing is that it looked more like a fat version of glass noodles then udon.


Strawberry Mousse
A dessert of the day but definitely not your run off the mill sweet kind of strawberry mousse. This one had bits of real strawberries in it, making for a semi rough texture and sourish ending.
Overall I would say that I'm pleasantly surprised by the jump in quality of food this time round and the chef even came out to sit with us for about an hour to chit chat, which is quite a nice touch I feel. Thanks to Tetsu for the invite.
Likes: Sushi
Dislikes: Tempura needs improvement
Final Verdict:
Ambience:7.5/10
Service:NA/10
Food:7/10
Value for money:NA/10
Overall:7.25/10
Address: #03-18 Tanglin Mall
Contact: 68363112
Opening Hours:
Lunch: 1130am - 3pm
Dinner: 6pm - 10pm
Website: http://www.tetsu.com.sg/