Had been meaning to try out Vittles for quite a while and the opportunity finally presented itself one rainy afternoon. Apparently this small heartland cafe has been featured in quite a few media vehicles as well as in various prominent food blogs. Whats seemingly interesting about this place is the free flow of popcorn that you can help yourself to.
Exterior & Interior
Vittles sits among a short stretch of shops along Sembawang Road and can be difficult to spot especially if you are not alert, which was precisely what happened to me and I had to circle the area a couple of times before I finally spotted it.
The place offers an alfresco sitting as well as a smaller air conditioned interior and comes across as very "cafeish" with its white plastic chairs and laminted menus.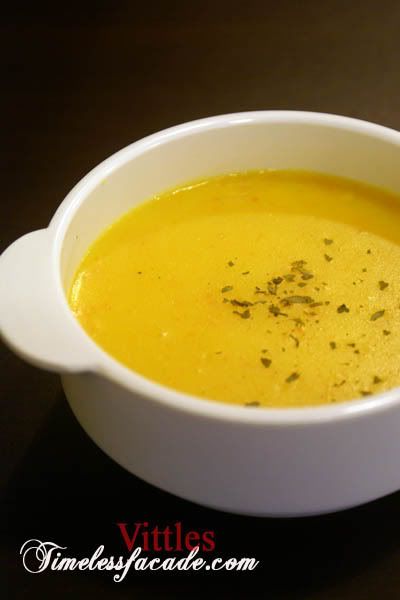 Soup of the Day
I don't quite remember what soup this was but it tasted right out of the sachet - average tasting. But it came with the set so I guess its better than nothing.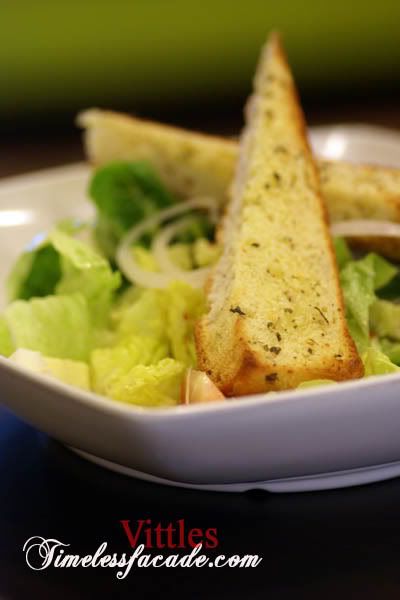 Julius Caesar Salad
As great as Julius Caesar was in Roman history, this salad bearing the namesake wasn't the least impressive, coming across as average and run off the mill. And just to set the record straight, no, Julius Caesar didn't invent the caesar salad.


Moo Moo II Burger
One of the signature dishes of Vittles, the Moo Moo Burger looked a tad smaller then what I had seen in photographs, which was a bummer really. Texture wise, the patty was relatively smooth with patches of roughness throughout (an indication of slip shod hand chopping?) and managed to retain some moisture even though it was cooked till well done. My major grouse came in the taste section. The patty was covered/drowned with BBQ sauce which greatly overwhelmed whatever taste the beef patty had to offer as well as that of the bacon and cheese.


Durian Mousse

I couldn't resist ordering the durian mousse even though it cost something to the tune of $7. I must say that it was quite decent - smooth and not too sweet although the mousse was a tad too dry. Not something that I'll order again though, simply because of its small portions.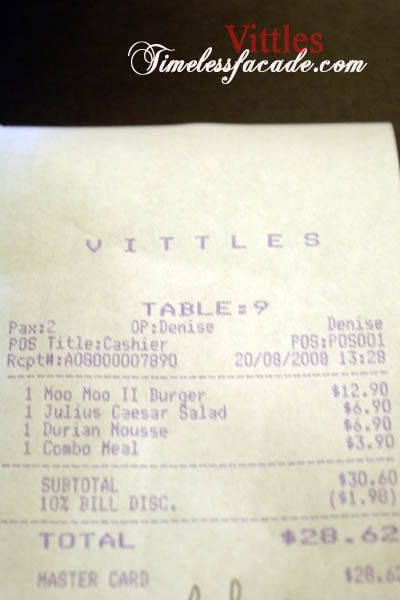 Bill
While its comforting to know that $29 can buy you a soup, salad, main and dessert at Vittles, its not exactly value for money as food quality is a whisker above average at best. A return seems highly improbable for me as Carl's Junior does seem like a cheaper option.
Likes: Nothing
Dislikes: Nothing
Final Verdict:
Ambience:6.5/10
Service:6.5/10
Food:6.5/10
Value for money:6.5/10
Overall:6.5/10
Address: #01-05 Sembawang Cottage, 369 Sembawang Road
Contact: 6756 1138
Opening Hours:
Sun to Thurs : 12:00 am to 10:00 pm
Fri, Sat & Eve of Public Holidays : 12:00 am to 11:00 pm
Website: http://www.vittles-sg.blogspot.com