Ever since Top of the M closed down with much fanfare in early 2008, Meritus Mandarin's iconic coffeehouse, Chatterbox, has moved up the levels (literally) to occupy what used to be the crowning glory of this centrally located hotel in Orchard Road.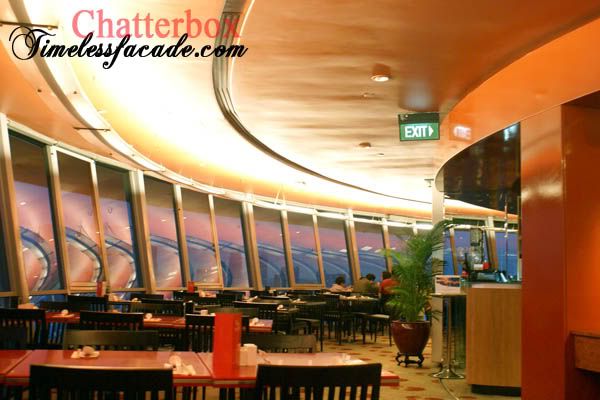 Interior

Perched on the 39th floor of the hotel, the interior now sports bright red tables and pillars to give a very traditional coffeeshop feeling, yet still offering a panoramic view of the surroundings. Note that the restaurant doesn't revolve anymore, leaving that honour solely to Prima Tower.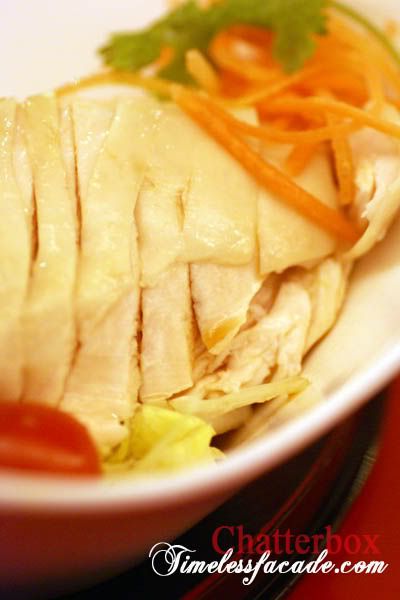 Chicken Rice Set
Chatterbox has been known for its excellent chicken rice and of course its exorbitant prices. Consisting of only a bowl of rice, soup and a relatively generous serving of chicken meat, this dish is definitely not for the value conscious.The soup was very tasty probably due to the high MSG content while the chicken was sufficiently tender with an appropriate amount of bite. Personally I felt that the rice wasn't fluffy or tasty enough, coming across as a tad dry and limp.


Flowering Chinese leaf cabbage
The Cai Xin was as normal as it gets but portions were really small for the price ($9++).


Apple & Raisin Tart
In all honesty, I was quite surprised to find a "western" dessert on a menu that featured mainly Chinese/local fare and since my initial choice of homemade coconut ice cream was out of stock, I settled for the tart. Which wasn't exactly a bad choice considering that the tart was quite crusty with a nice oven baked taste to it. Add a couple of sweet apple slices, raisins and a scoop of ice cream for a rather nice ending. But hey, its $12++.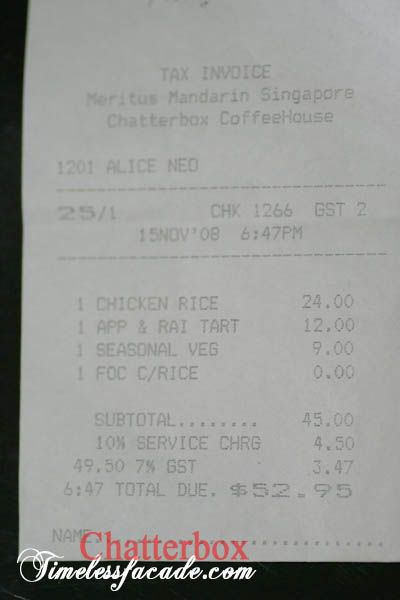 Bill
I shudder to imagine the ridiculous price I would have to pay in the absence of my 1 for 1 chicken rice voucher. Even so, the bill for 2 pax came up to about $53 ($81 without voucher), which is really quite off the chart if you ask me. Service was decent but I seriously doubt I will return, not for the food and definitely not for the high prices.
Likes: Good view
Dislikes: Food quality can be better, expensive
Final Verdict:
Ambience:7.5/10
Service:7/10
Food:6.5/10
Value for money:5.5/10
Overall:6.625/10
Address: 39th floor, Main Tower, Meritus Mandarin Singapore, 333 Orchard Road.
Contact: 6831 6288
Opening Hours:
5am to 1am (Sun – Thu; Last order at 12.30am)
24 hours (Fri, Sat & Eve of Public Holidays)
Chatterbox High Tea – Available on Saturdays, Sundays and Public Holidays from 2pm to 5pm
Website: http://www.meritus-hotels.com/hotelresort/meritus_mandarin/dining/chatterbox.htm