Hosted a colleague's farewell lunch at Peng due to the rather pressing time constraint and her penchant for Chinese food.
Interior
Hidden in the small private residential enclave of Realty Park just off Hougang Central, Peng sits amongst a row of shophouses that also houses the central kitchen of Lee Wee Brothers (which sells rather good otahs IMHO). The interior is reminiscent of your typical olden day Chinese restaurant and the plastic table sheets add to that notion.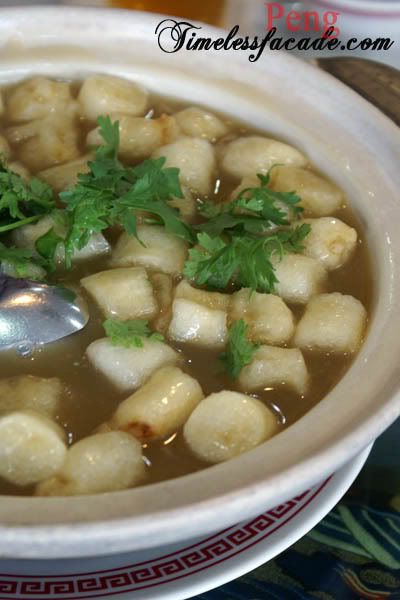 Fish Maw Soup
Decent but not exactly the best I've had, the fish maw soup wasn't too starchy and had a very generous serving of fish maw in it. I see this as a more wallet friendly and viable alternative to its more upmarket cousin though - the shark's fin soup.


Oyster Omelette
I didn't like this dish one bit because of the overwhelming raw taste of the oysters. It extended even to the egg, which was a tad too watery for my liking as well. Definitely not something that I would order again, but that's probably just personal preference.


Braised Goose Meat
I've come to realise that Teochew restaurants are usually not very generous with the goose meat and Peng was no exception. The portions were hardly sufficient for the 10 of us but at least the meat was thickly sliced with a nice bite to it. Dip the meat in the sesame laden gravy and top it with corriander for maximum taste.


Fried Chicken with Thai Sauce
A rather common dish in many cze char stalls everywhere, this dish failed to wow me and I would probably say its average at best. The skin/flour was crispy but the flour coating could have been a little lesser. As for the thai sauce, lets just say its very common place. Thumbs up for the generous portions though.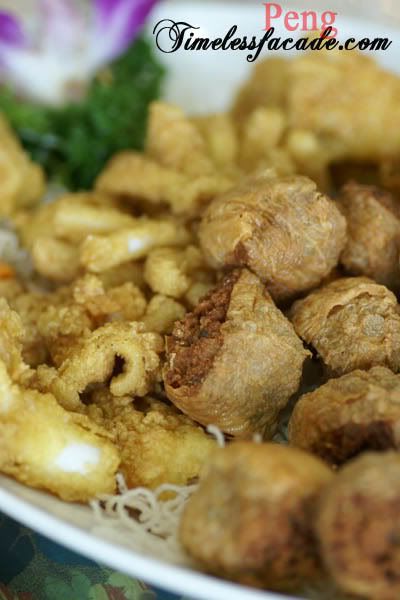 Butter Squid with Prawn Rolls
The butter squid was undoubtedly the highlight of the afternoon with its crisp batter belying a faint buttery undertone. Coupled with crunchy squid, it was a hot favourite amongst everyone.
The same couldn't be said for the prawn roll aka
Har Zhor
though. Uncharacteristically bland, it failed to perk up even with the sweet sauce.
Kang Kong
I didn't have too much of the Kang Kong aka water spinach as I couldn't quite take the spiciness. But from the little that I tried, I found it decent.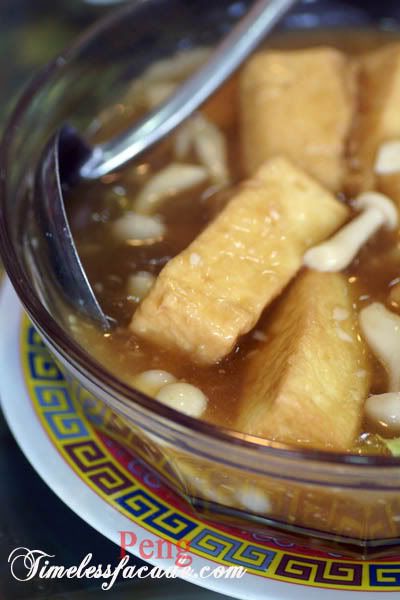 Braised Homemade Beancurd

The homemade beancurd was smooth yet firm with a strong egg white taste to it which I personally like. There were enoki mushrooms as well, which added to the savoury factor but to be honest, I thought that the gravy this time round was rather bland as compared to my previous visits.
Orh Nee
A staple in any Teochew restaurant I patronise, the orh nee at Peng did seem a little too watery from all the coconut milk ladened upon it. However the paste was smooth and overall a decent eat, but definitely not near the best that I've tried so far.
A filling lunch for 10pax came to a rather reasonable amount of about $167. The food quality is decent but not fantastic so unless I'm in the area, I probably won't make a specific trip down just for a meal.
Likes: Reasonable prices
Dislikes: Food isn't fantastic
Final Verdict:
Ambience:6.5/10
Service:6/10
Food:6.5/10
Value for money:7/10
Overall:6.5/10
Address: 30 Lorong 1 Realty Park
Contact: 6289 6975
Opening Hours:
Lunch: 11am - 2.15pm
Dinner: 5.30pm - 10.30pm