Braise - A collaborative effort between Loh Lik Peng of Hotel 1929 and New Majestic Hotel and Chef Sebastian Ng of Ember Restaurant that opened in March 2008. Helmed by Chef Desmond Lee, who had stints at Raffles Hotel, Saint Julien and the now defunct Fig Leaf as well as an attachment with celebrity Chef Gordan Ramsay, this modern European restaurant offers classic French food with a modern lift.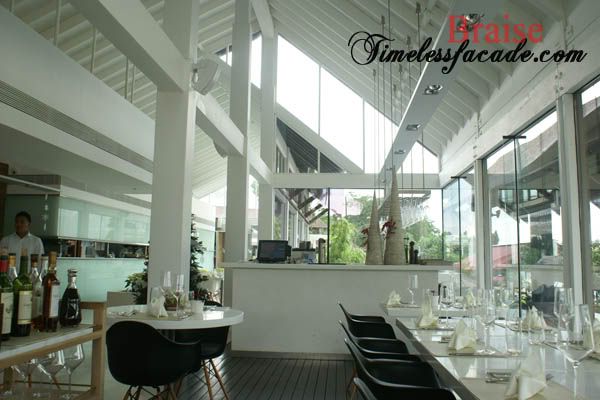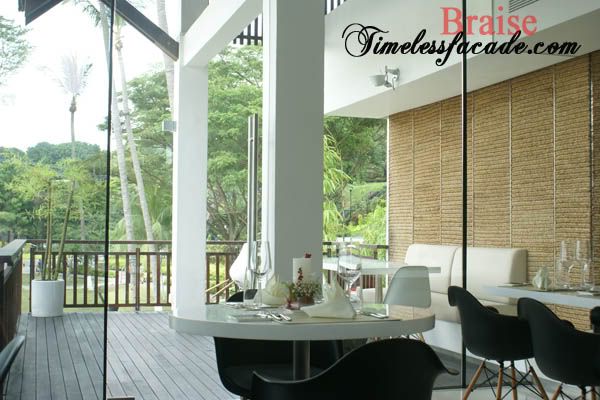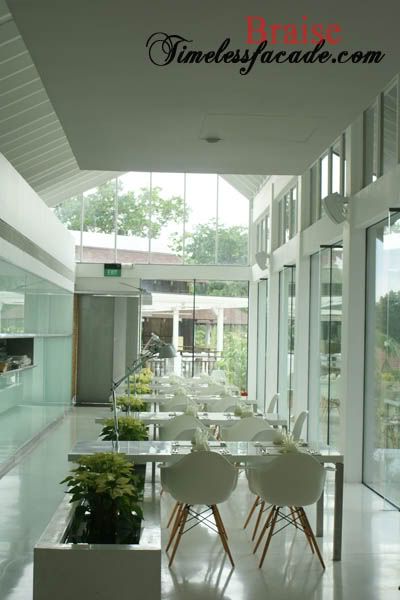 Interior & Complimentary Bread
Sitting pretty on the 2nd level of an old monorail station along Palawan beach, Braise plays neighbour to Amara Sanctuary's
Silk Road of the Sea
, which is located on the ground floor. The interior of Braise is nothing short of breathtaking, offering a splendid view of the surrounding Palawan beach through floor to ceilings windows throughout the entire place - very reminiscent of a green house actually. Temperatures are kept to a comfortable low through the use of powerful airconditioning. Essentially the place offers the best of both worlds - bright and cheery with a view in the comfort of an airconditioned environment.
The complimentary bread was served warm and had bits of herbs in it, coming across as crusty on the outside while soft on the outside. Overall a mildly flavourful piece of dough that saw me asking for seconds.
Pressed Duck and Potato Terrine with Mix Greens and Balsamic Onion
Wrapped up with a flimsy layer of lettuce, the duck had a lightly salted smokey aftertaste that went well with the smoothness of the potato. Subtly pleasing to the tastebuds but not exactly my idea of a fantastic appetiser though as it failed to open up my appetite.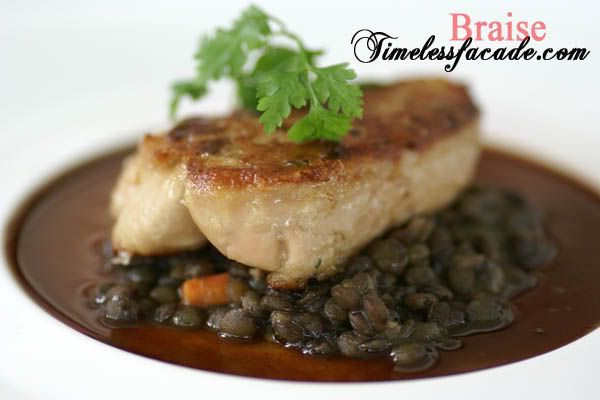 Pan Seared Foie Gras, Lentils Fricassee and Red Wine Sauce
I would gladly sacrifice my health for another piece of this foie gras. Though smallish, the foie gras was pan seared till the exterior was a tad crisp yet remaining soft and quivery on the inside. Equally outstanding was the lentil stew with red wine sauce which lent its savouries to the foie gras and created one of the best foie gras dishes I've had this year.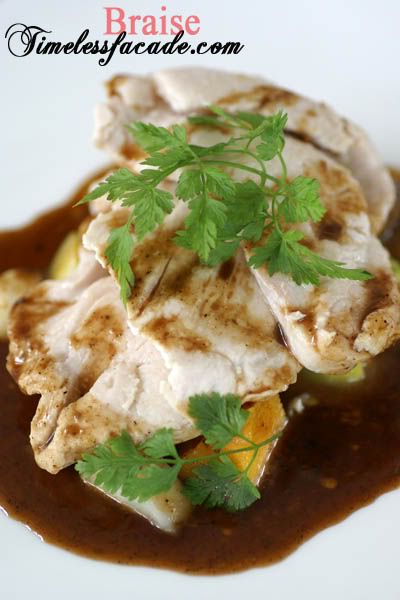 Turkey Breast, Braised Vegetables, Honey Spiced Sauce
Turkey, especially the breast portion, tends to be associated with toughness. However Braise's rendition was, on the contrary, surprisingly tender without losing its fibrous texture. A pity the sauce was a little lacklustre, coming across merely as a little sweet from the honey.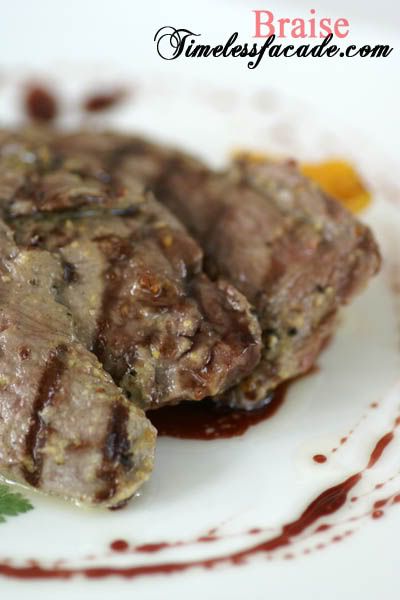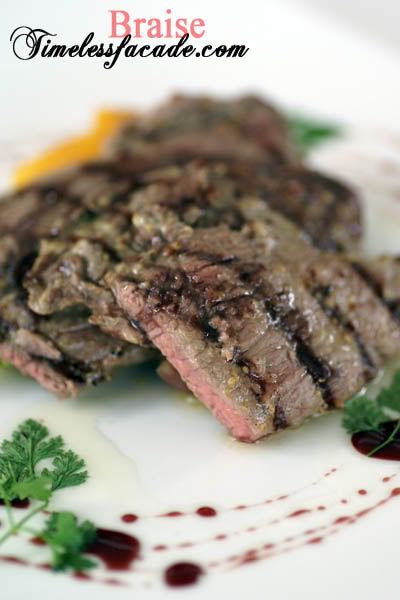 Venison with Braised Vegetables, Cassis Sauce
Believe it or not, this is the first time I'm having venison in a non Chinese restaurant and I am suitably impressed with what Braise presented. Well seasoned and grilled till the meat retained but a nice pinkish hue, it tasted rather similar to a well done piece of steak, albeit more tender. Buttery overtones carrying a pepperish tinge complemented the sweetness of the meat and left me lamenting about the portion size. The only gripe I had about this dish was the sauce, which tasted like cough syrup to me.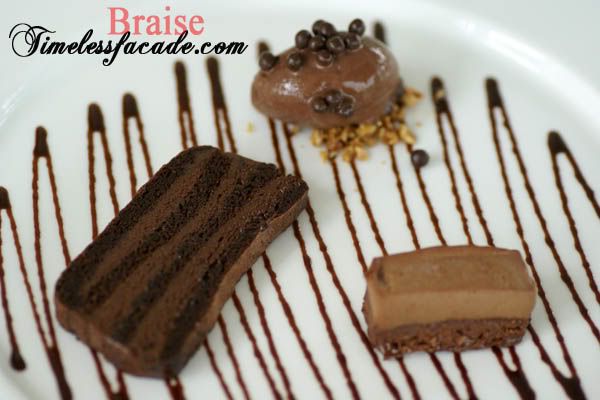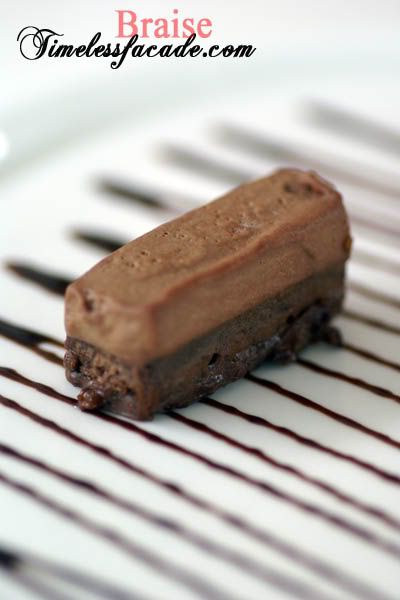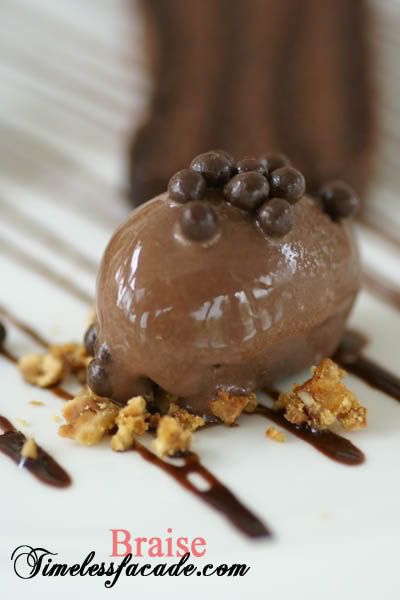 Tout Chocolate Combination
Comprising a scoop of chocolate ice cream topped with chocolate balls, a slice of chocolate cake and chocolate mousse on a biscuit base, this dessert didn't exactly involve much aesthetics and looked rather haphazard if you ask me. However, I must say that I enjoyed it quite a bit. The chocolate ice cream was smooth and more bitter then sweet (great for those who don't like too sweet stuff) with the chocolate balls giving it an extra crunch. The sponge layers on the cake were moist and compact while the chocolate layers gelled everything together for a nice and simple chocolate cake. As for the mousse, it had a nice bitter hazelnut taste on a crunchy biscuit base.


Vanilla Creme Brulee, Figs, Passion Fruit Sorbet
I thought that the creme brulee was quite decent save for the fact that the sugar layer was overly thick. Made from real vanilla beans, as evident by the black vanilla seeds in the pudding, this dessert didn't overwhelm with its sweetness and had a smooth and almost creamy texture. The passion fruit sorbet provided the sourish contrast to the pudding's sweetness, allowing for a more varied taste sensation.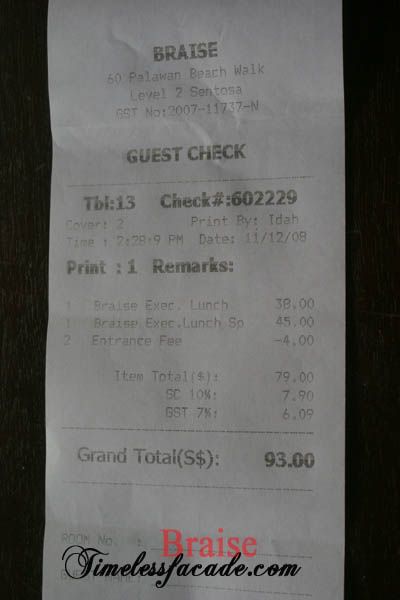 Bill
Lunch for 2 almost broke the bank at $93 after a $4 discount from some promotion that Sentosa is currently running in which diners will be reimbursed for their entrance fee to the island if they dine at certain F&B outlets. Having said that, I see this amount as money well spent for the quality of food, ambience and service. A revisit to this charming little restaurant beckons. This time under the moon's pale glow of course.
Likes: Ambience is great, food quality is evident
Dislikes: Can be troublesome to get there, not cheap
Final Verdict:
Ambience:8.5/10
Service:7.5/10
Food:7.5/10
Value for money:7/10 (Lunch only)
Overall:7.625/10
Address: Level 2, 60 Palawan Beach Walk
Contact: 6271 1929
Opening Hours:
(Mon-Sat): Lunch: 12pm - 3pm
(Mon-Sun): Dinner: 6.30pm - 10.00pm
(Sun Brunch): 11.30am - 3.00pm
Website: http://www.braise.com.sg/