Yes its back to Thai Pan at Changi Village again after a
rather acceptable experience
just a couple of weeks back. My parents were keen to try it out after I casually mentioned about Thai Pan's restored olden clubhouse interior in a conversation and so there we were, on a wet Sunday night.
Butter Squid
Purportedly one of the signature dishes of Thai Pan and one that I didn't get to try the last time round, the butter squid was interesting in the sense that it was coated with a thick layer of butter and egg yolk, very much like those you would find in butter prawns, albeit being soft and mashed.


Thai Pan Jade Tofu with Chicken Floss
The tofu was soft but not exactly silky and had a very strong egg taste, which was fine by me. But it got a little nauseating after a while. A very simple comfort dish.


Olive Fried Rice
They don't have the $1/bowl promotion for the olive rice on weekends so we had to get the standard $6 version, which was good for 2 pax. The rice was well fried with a rather strong olive taste that came across as rather moist. Coupled with a mildly sweet minced meat sauce, this dish was a hit with all of us. Just don't consume too much of it because after a certain point, the queasiness kicks in.


Broccoli with Crab Meat
The
last time round
, this dish stole the limelight with its not overly cooked broccoli and mildy starchy and savoury gravy. This time round however, the gravy was a tad too coagulated, resulting in a semi sticky solution that clang on to the broccoli. Still decent though.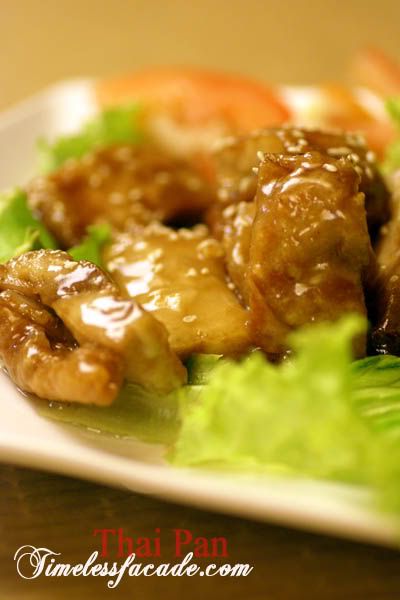 Honey Chicken
I don't know what made us order this dish, but its probably got to do with it being listed as a recommendation on the menu. The chicken was tender but didn't exactly taste out of the ordinary. The sweetness index on this one is quite high though so if you have a low tolerance for sweet stuff, you might want to avoid this.


Bill
The food isn't expensive, at $44 for a 3 pax dinner. However I don't think the quality is really evident. Granted, all the dishes are still palatable and decent but I definitely won't make the long trek down. Service is decent but the place seems rather short handed especially on busy weekend evenings.



Likes: Nice place, reasonable pricing
Dislikes: Food quality can be better

Final Verdict:

Ambience:7.5/10
Service:7/10
Food:6.5/10
Value for money:7/10

Overall:7/10

Address: Civil Service Club Changi Clubhouse, 2 Netheravon Road

Contact: 6448 9827

Opening Hours:

Lunch: 12pm - 3pm

Dinner: 6pm - 10.30pm