Heard many rave reviews about Thai Pan, a Thai style
cze char
restaurant located at the eastern tip of Singapore so made the long trek down to give it a shot. Apparently its claim to fame is its quality food at coffeeshop
cze char
prices.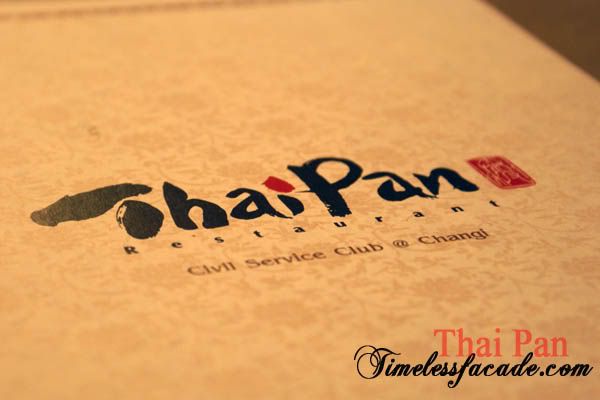 Exterior, Interior & Menu
Located in a charming colonial style clubhouse within the Civil Service Club's premises at Changi Village, Thai Pan's interior boasts a sloping ceiling with wooden arches, parquet flooring and views of lush greenery through the checkered windows. The place does seem susceptible to echos though, because of the lack of sound dampening/absorbing materials like carpets.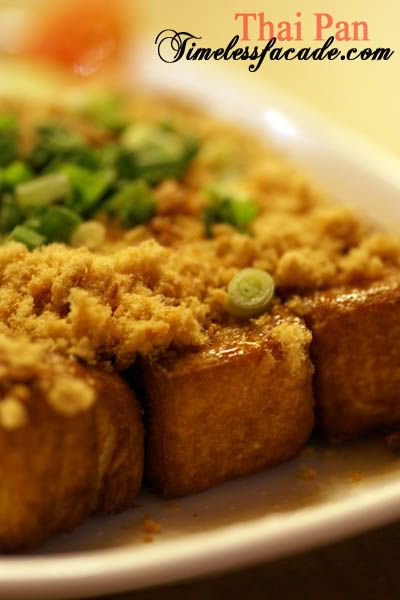 Jade Tofu with Chicken Floss
I thought that the name sounded promising. Jade tofu conjures images of silken tofu with a nice savoury taste. However that wasn't quite the case unfortunately. The skin was a little crisp and the inside was soft but not exactly silky. I struggled to make out the mild savoury taste that the tofu carried but to be fair, it was decent, just nowhere in the league of
Pow Sing
.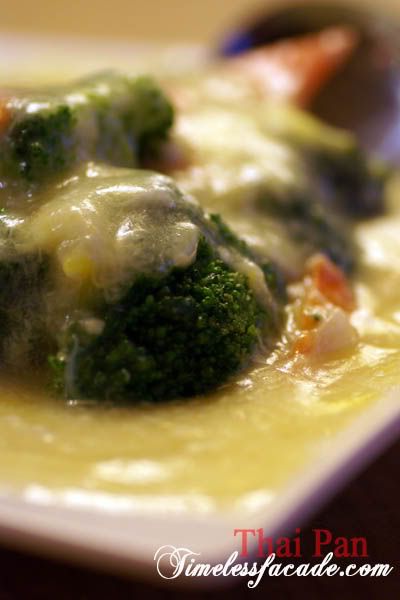 Broccoli with Crab Meat
Personally I thought that this was quite good. There was egg white and small chunks of crab meat in the not too starchy and mildly appetising gravy that layered the crunchy and not overcooked broccoli.


Phad Thai
I didn't quite take this Thai Pan's rendition of this Thai street dish as the ketchup taste was just too overwhelming. I would have prefered a kaleidoscope of flavours and of course the ubiquitous dried shrimps. This one only had egg and chicken cubes.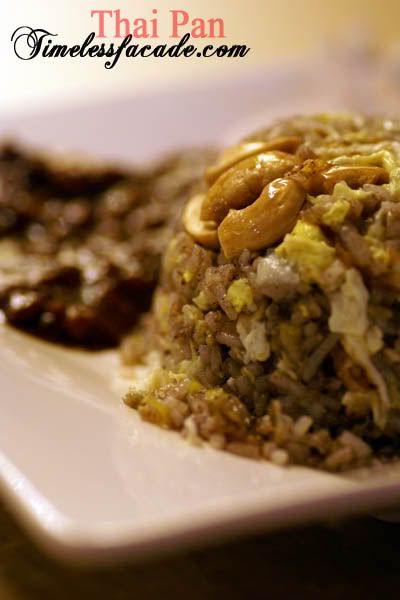 Olive Rice
At $1 a pop, this was a great deal. But please note that its a promotion so I can't say if it will be a good deal in future. The rice was sufficient for 1 pax and had a nice wok hei taste with egg and cashew nuts. Accompanying alongside was a small serving of slightly sweet minced meat sauce that went well with the rice. The only minor gripe i had was that the rice did seem a little too damp for my liking.


Bill
The food was quite decent and the pricing relatively reasonable, at about $24 for 2 pax - a value proposition that comes close to or on par with what the coffeeshop
cze char
stalls are offering, albeit in a much better environment with better service.
Likes: Nice place, reasonable pricing
Dislikes: Nothing
Final Verdict:
Ambience:7.5/10
Service:7/10
Food:6.5/10
Value for money:7/10
Overall:7/10
Address: Civil Service Club Changi Clubhouse, 2 Netheravon Road
Contact: 6448 9827
Opening Hours:
Lunch: 12pm - 3pm
Dinner: 6pm - 10.30pm