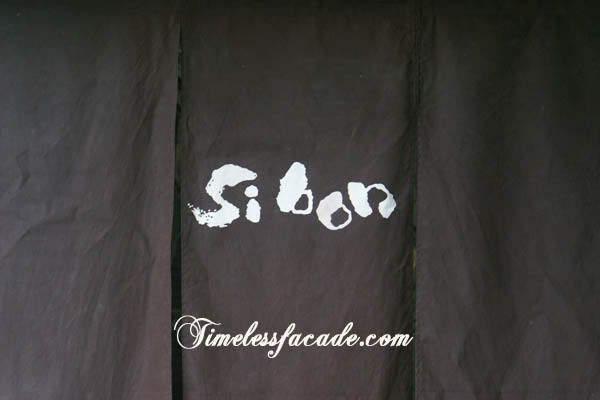 Si bon - the upmarket Japanese restaurant at Sentosa that specialises in kushiage, a form of Japanese cooking that involves coating a variety of ingredients with egg and bread crumbs and deep fried. Helmed by Chef Seiichiro Arakawa, Si bon promises a refined kushiage experience equal to what you would experience in Japan itself.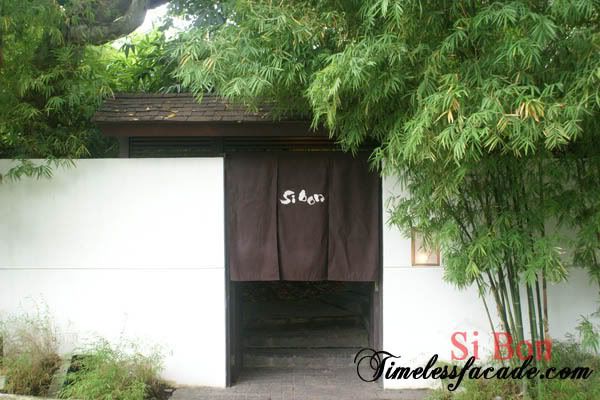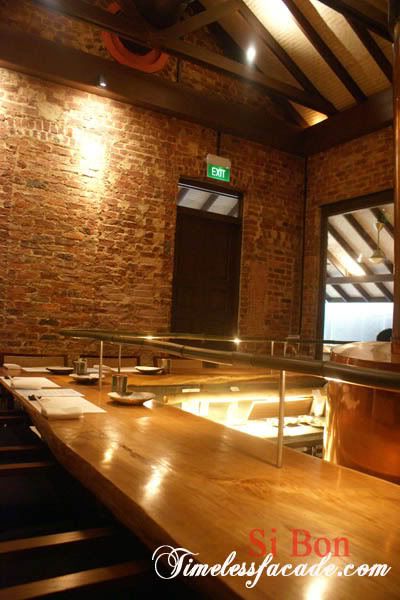 Exterior & Interior
Hidden in a reclusive recess within the Amara Sanctuary Resort at Sentosa, Si Bon occupies a small restored colonial chapel that once housed a nursery (It happens to be the oldest chapel on Sentosa by the way). Seats are scarce, with the counter seating only 13 diners indoors and the charming al fresco area, complete with a water feature and bamboo garden, allowing for only another 10. The interior of the place exudes olden charm stemming from its soaring pointed ceiling and exposed unevenly laid brick walls - a reference to the building's historic origins.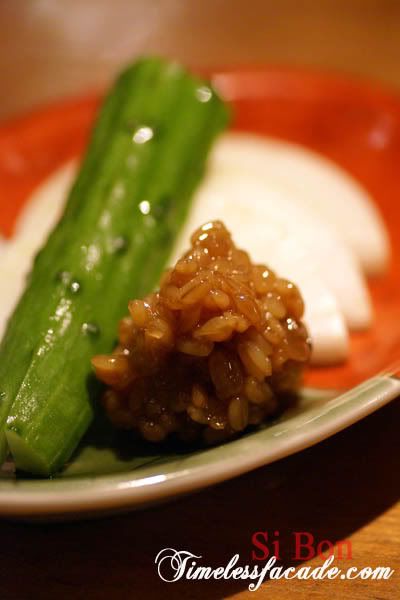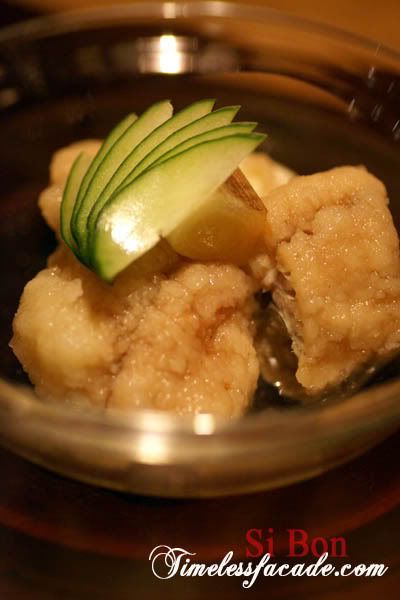 Appetiser
Personally I thought that the appetisers were great. The miso beans were very savoury and complimented the crunchy and bland radish slices very well. On the other hand, the fish pieces were dipped in a salty yet sweet sauce that made got my appetite going.


Prawn
Served with a dollop of what looked like ketchup (someone please tell me what is it cause I have no idea), the prawns were fresh and crunchy with a light and crisp batter coating that didn't threaten to overwhelm or held any oily residue aftertaste.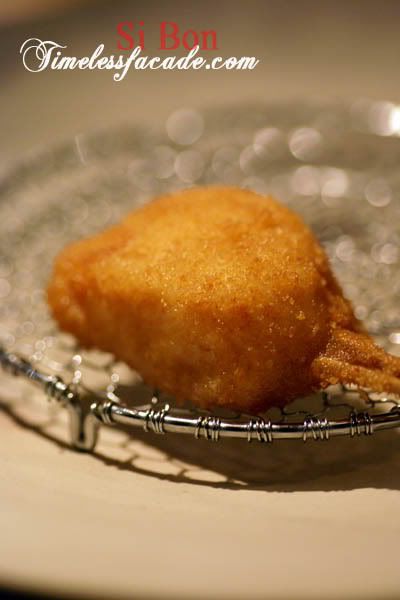 Scallop
One of my personal favourites of the meal, the scallop was nothing short of excellent. Huge and bursting with flavour (sweet and salty all at once) while the batter came across as light and crisp. A pity it was only 1 piece.


Eel
I'm not exactly a big fan of eel and this one wasn't exactly outstanding. Served with a dash of wasabi atop, the eel came across as rather tasteless and had to be eaten with soya sauce, which just made it, well, salty. I must comment that the wasabi was rather strong though.


Pork Loin
In my excitement to taste the food, I forgot to take a picture of the pork loin before I started eating so please bear with the shot of my half eaten piece of loin. That said, the loin came served with a piece of mint leaf and had to be eaten with mustard sauce. The pork was succulent and juicy with a somewhat moderate tinge of mint taste from the leaf. Nice and refreshing.

There was actually another shiitake mushroom dish before this but I forgot to take a shot of it as well. But it was great and very juicy. There was cuttlefish stuffed in the centre of the mushroom which gave it a nice salty taste.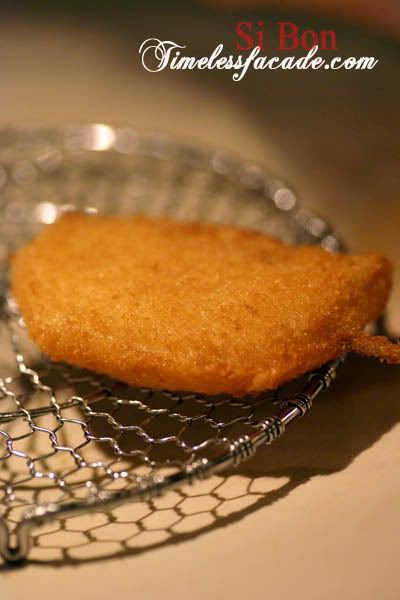 Lotus Root
Interestingly, the lotus root had japanese curry powder and chicken thrown along with it - all nicely wrapped up in a light batter casing. Eaten with black sauce, this dish was crunchy and crispy with hints of curry powder. Not exactly my cup of tea though but something different I must admit.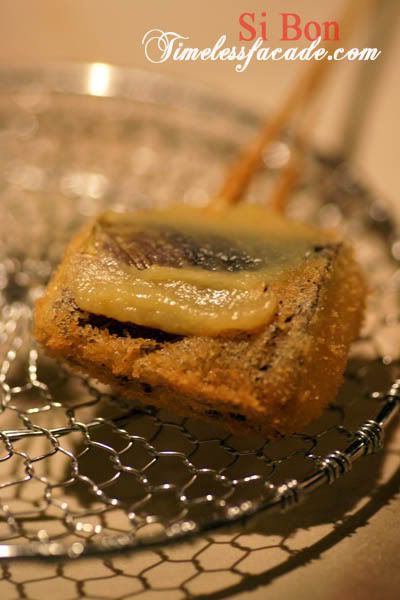 Egg Plant
I usually baulk at the taste of egg plant, but not this one. Topped with white miso and eaten with no sauce, the egg plant was seriously good. Nice and smooth with a tinge of sweetness from the white miso paste.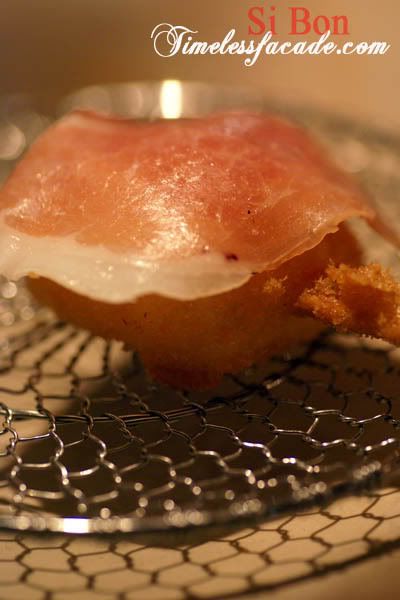 Enoki Mushroom
Another most interesting concoction, the enoki mushroom was deep fried together with cream cheese and came served with a slice of parma ham atop and drizzled with lemon juice to jazz things up a little. The cream cheese sang in harmonious symphony with the mushroom, resulting in a smooth, creamy and an ever so light sourish aftertaste. I couldn't quite make out the taste of the parma ham in the equation though.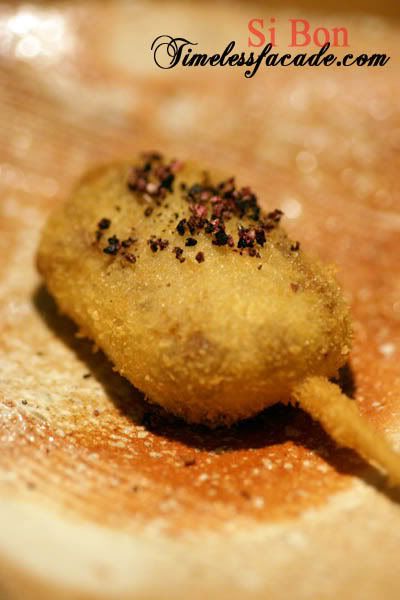 Wagyu Beef
I personally swear by this and I am nothing short of amazed by how wonderful the wagyu beef turned out. Expect nothing less then the best Australian wagyu beef with its excellent marbling and tenderness, dusted with the lightest batter and deep fried till an even crisp. Very full of flavour I must say. Please note that this was an additional order outside of the set and cost a seemingly exorbitant $18++/stick.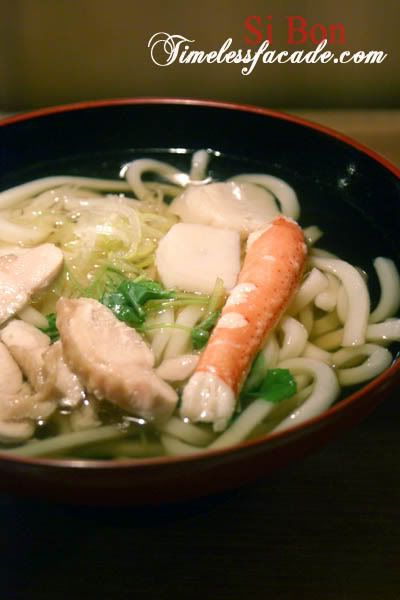 Udon
The udon came as an option on the set menu and although I'm not fan of udon, I have to say that it had me hooked. Full of bite and accompanied by slices of chicken, scallop and a stick of snow crab, the udon came across as nice and light on the palate.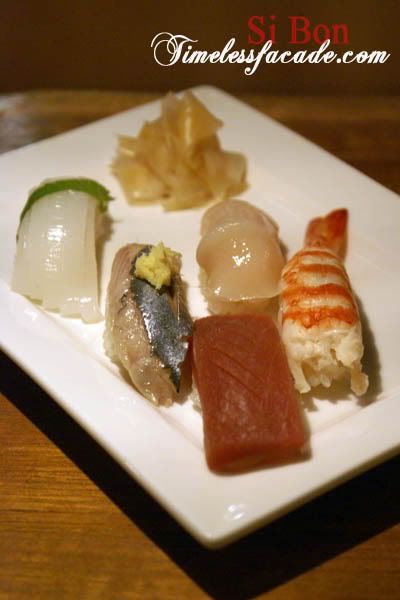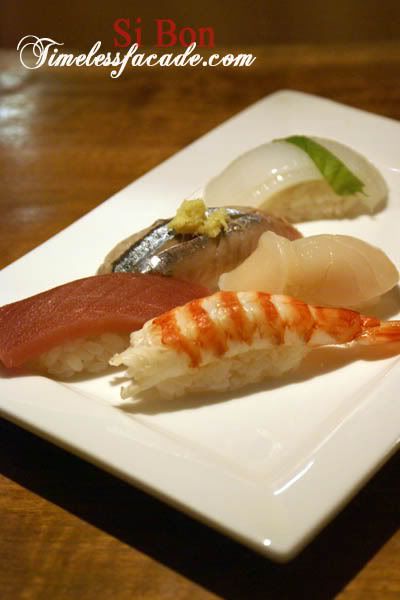 Nigiri Sushi
One of the other options in the set besides udon/soba and steamed sushi, the nigiri sushi required a top up of $20++, which netted me a plate of 5 sushi pieces. I can't say I enjoyed this very much because I'm not exactly big on raw stuff but hey I made it through. Everything was very fresh so no complaints.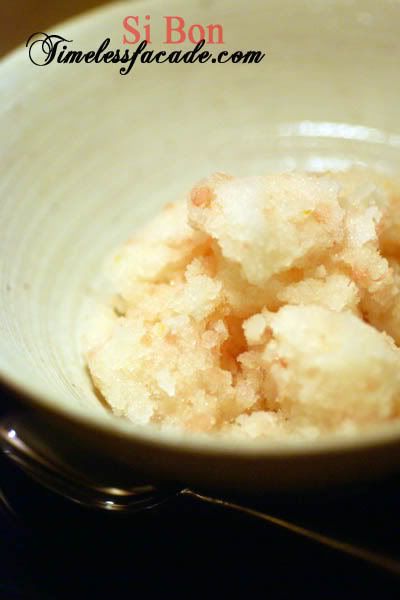 Grapefruit Sorbet
This is the first time I'm eating something like this and its somewhat intriguing. The sorbet had grapefruit pulp in it and overall the palate cleanser cum dessert was sweet and sour with a bitter tinge.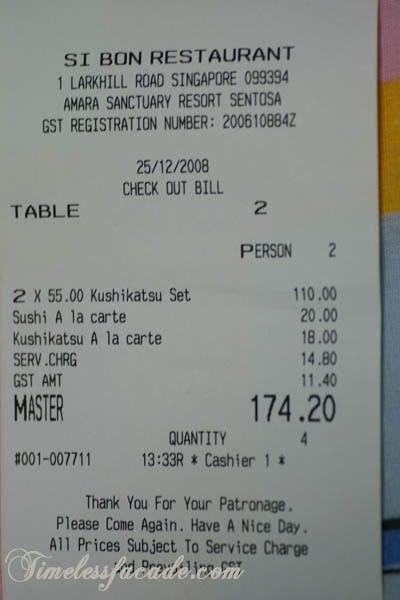 Bill
$174 for a 2 person lunch is definitely a high price to pay, especially when you are eating satay sticks lookalike. But the quality of food is apparent and the experience, eye opening. Top that with excellent customer service and an out of the country ambience and you have a top notch restaurant that is worth many revisits (provided you have the money of course). From what I understand from the chef, Si bon flies in its ingredients from Japan, except the wagyu, but that is about to change next year when Singapore lifts its restriction on Kobe beef. Till then, I'll be patiently awaiting.

Let me end off my post with a shot of the sticks before they are dusted with batter and deep fried.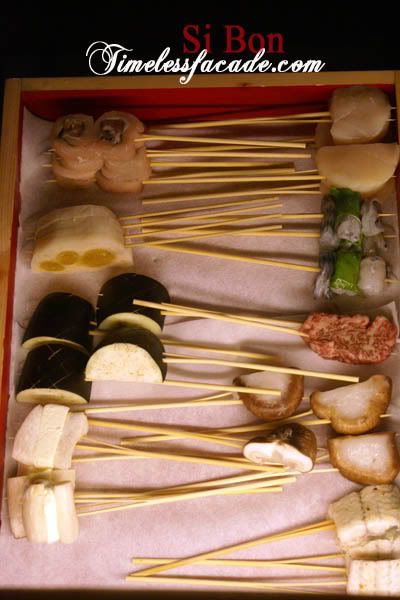 Likes: Great food, great service, great ambience
Dislikes: Very expensive, seating is limited
Final Verdict:
Ambience:9/10
Service:8.5/10
Food:8.5/10
Value for money:6/10
Overall:8/10
Address:1 Larkhill Road @ Amara Sanctuary Sentosa
Contact: 6276 9896
Opening Hours:
Tues - Sun
Lunch 11:45 - 2:30
Dinner 6:00 - 9:30.