Was back at Yan Ting again but this time round it was a little different. First of all, it was for dinner and second, it was an invite, courtesy of flickr and of course the folks from St Regis. The agenda of the day was to sample a couple of courses from their $108++ CNY menu.


I'm really not a big fan of XO sauce but this one strike me as fragrant and spicy of course. I cower at the sight of chilli so to be honest, I spent more time trying to extinguish the fire in my mouth then actually trying to figure out what went into it. Oh and the spice killed my tastebuds momentarily. Thank god for tea.


We started off with an small appetiser of yam and carrot cake, which were tasty without coming across as too oily. However I did find both cakes a little too soft and mushy for my liking. They also lacked a certain silkiness in the texture which I personally like.


Yu Sheng (鱼生) is a staple in any CNY meal especially in recent times with the growing affluence of Singaporeans ( I had never heard of Yu Sheng when I was a kid). Honestly, I am not a big fan of this dish and see it more of a symbolic gesture (and waste of money!) then anything else. To be fair though, Yan Ting's offering didn't seem as syrupy sweet as some others that I've tried.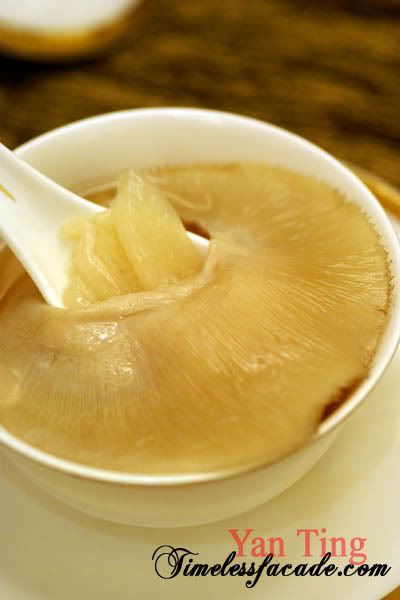 Double Boiled Shark's Fin with Three Treasures
The 3 treasures in this dish refers to shiitake mushroom, dried scallops and bamboo pith. The limelight however, remains on the huge (包翅)pectoral/dorsal fin that was of reasonably good quality that didn't "disintegrate" easily when consumed. The broth was light on the palate with the sweetness from the mushroom and dried scallops permeating through.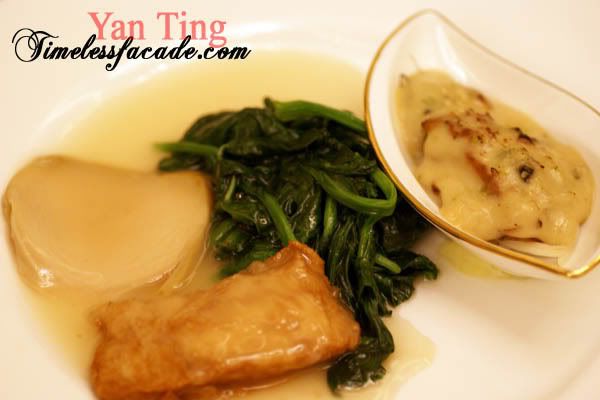 Prosperity Oyster with Braised Sliced Abalone

According to Yan Ting's manager, Danny, the oyster is sourced specially from Hong Kong and is of the semi dehydrated variant which boasts a strong oyster taste sans the raw fishy taste. Though served with a layer of cheese and bits of bacon and fa cai, I still didn't quite take to it though, preferring fresh oysters anytime. The sliced abalone was quite a size and didn't come across as too chewy. Nice but overall lacking a little in finesse.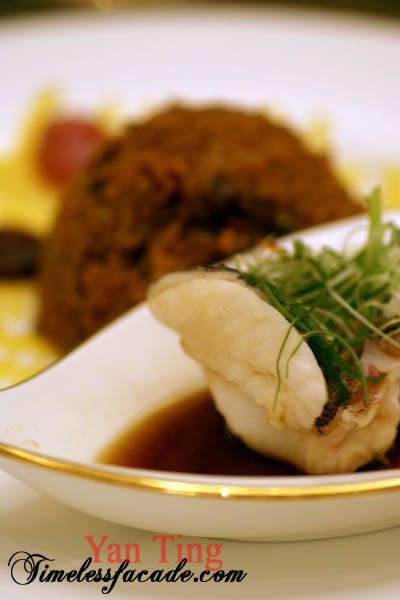 Steamed Coral Trout 'Tong Sing' Grouper accompanied with Wok Fried Glutinous Rice with Wind Dried Sausages
First things first, the Tong Sing Grouper (东星班) was a major disappointment. At $150/kg on the ala carte menu, I had expected sweet delicate meat that could carry itself with just a dip of soya sauce. What I tasted though was rather coarse and bland meat. And bones, save for those in a whole fish, are a no no in a fine dining restaurant in my humble opinion.
I thought that the rice was quite well done. Not too oily and didn't clump together. The sausages seemed to have minimal fats which is definitely a healthier option yet managing to retain their flavour. Very good.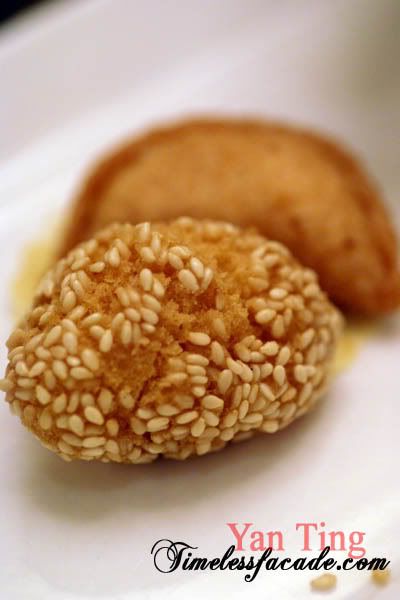 Traditional Azuki Bean Paste with Crispy Glutinous Rice Cake

I don't really fancy bean soup but according to the manager, the tangerine peel that goes into the soup is about 30 years old. Someone please tell me if the age of tangerine peel will actually affect the taste? Had a go at the water chestnut and nian gao as well, which were coated with flour and deep fried. Something nice and sweet to end up off the meal.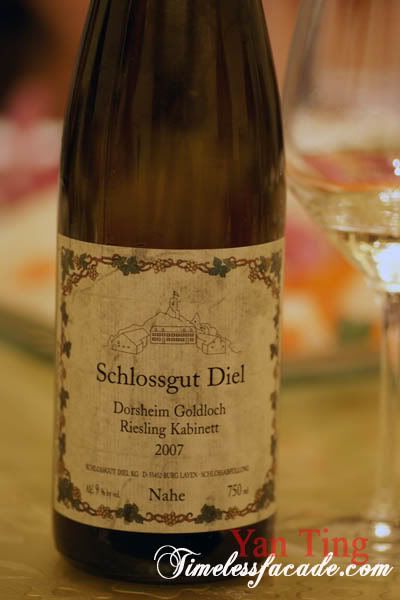 Wine for the evening

Overall a most filling meal coupled with great company and service. Food quality is good but seems to be lacking in finesse for some of the dishes. Thanks to St Regis and Flickr once again for the invite.



Likes: Good food
Dislikes: Certain dishes lacking in finesse

Final Verdict:

Ambience:8/10
Service:NA
Food:7.5/10
Value for money:NA

Overall:7.75/10

Address: St. Regis Singapore, 29 Tanglin Road

Contact: 6506-6888

Opening Hours: 11.45am to 3.30pm, 6 to 11pm