Returned to Yan Ting for a pre planned dinner in the short space of about a week after the invitational
CNY menu tasting dinner
hosted by Flickr and St Regis. This decision was actually driven in part by the fact that we could get a 25% discount off the total bill.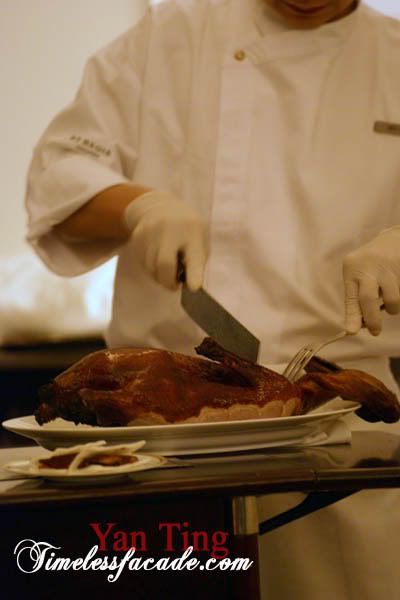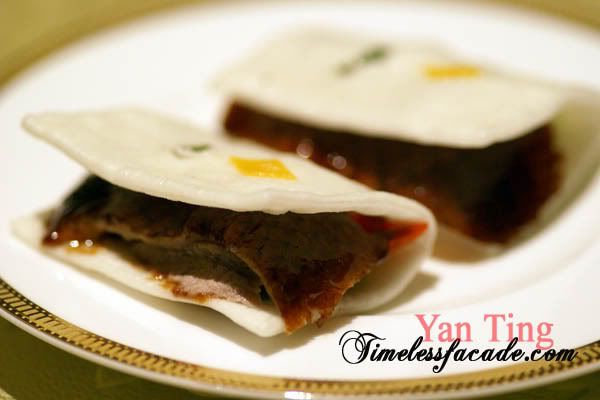 Peking Duck
We started off with an order of the ubiquitous peking duck and opted to have the meat diced up and served with lettuce. The relatively lean skin had a nice crisp that resonated with every bite and came wrapped in a rather interesting flour skin that reminded me somewhat of Chinese steamed buns (馒头). However its thickness meant that you got more chewy flour then crispy skin with every mouthful. A good dish to kick start the dinner nonetheless.

I thought that the diced meat served with lettuce was rather run off the mill though. There was nothing really exciting about the meat, which had been chopped into fine cubes and came across as rather salty when eaten on its own. That's where the fresh lettuce leaves come in. Still very edible but certainly not my choice for the "second dish" in future.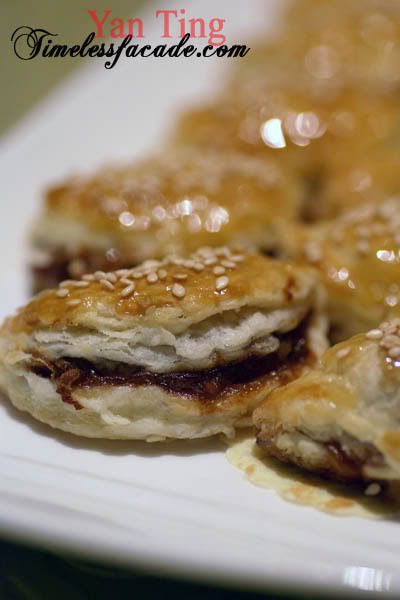 Char Siew Pastry
Yan Ting doesn't actually serve char siew sou for dinner but the manager graciously acceeded to our whimsical demands (actually it was just 1 guy and no, it wasn't me) to heat up the oven and bake it for us. Well, it didn't turn out as good as the
previous time
I had it, which I believe was due to a shortened baking time. Nevertheless, Yan Ting made it happen and I for one, am grateful for that.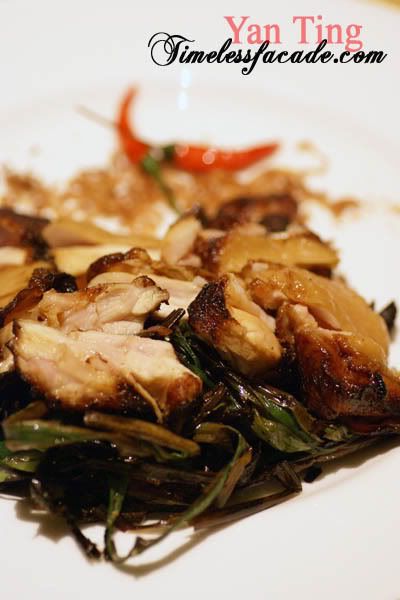 Chef Chan Signature Baked Spring Onion Chicken
This dish honestly didn't live up to its name in my humble opinion. The baked chicken was crisp at the sides and reminded me uncannily of pandan chicken sans the strong pandan taste and excessive oil. However I found it a tad too bland for my liking and overall a rather normal dish.


Claypot Chicken with Basil and Golden Garlic
The claypot chicken with basil and garlic, or better known as 三杯鸡, was evidently the more popular dish as compared to the signature baked chicken. The pieces of chicken were lightly savoury and tender without coming across as too moist or dry. I haven't actually tried the "authentic" 三杯鸡 from Taiwan so I am in no position to gauge if its anything like the real deal.


Deep Fried Prawn filled with Fresh Mango
The prawns weren't deep fried per se, but wrapped in beancurd skin then deep fried, resulting in a nice crackling exterior that almost overwhelmed the taste of the prawn within. The mango pieces were a tad sourish and honestly, it didn't exactly jell very well with the beancurd skin. Sweet mangoes might have done the trick though. Still rather tasty though.


Pan Seared Scallop filled with Shrimp Mousse
Though the scallops were quite a size, I found them pretty normal, save for the rather intriguing shrimp mousse portion of the description, which I found out to be just shrimp paste later on. I couldn't quite make out the taste of the scallops due to the strong influence from the mousse. I did like the crispy and salty strands of deep fried flour that came alongside though.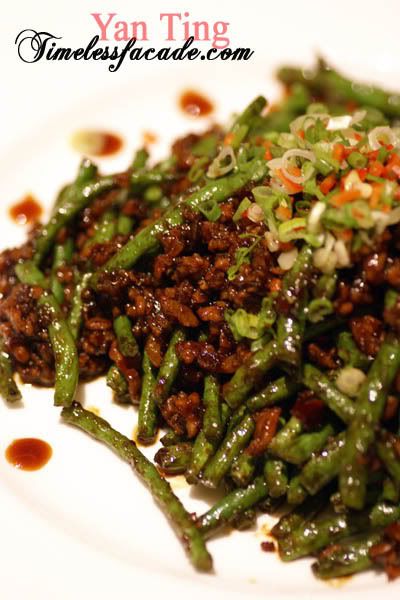 Wok Fried French Bean with Minced Pork and Chilli
This dish had a nice wok hei to it and came with a generous amount of minced meat as well as bits of salted fish. A tinge of sweetness contrasting with the mild saltiness of the fish. Simple yet very nicely executed.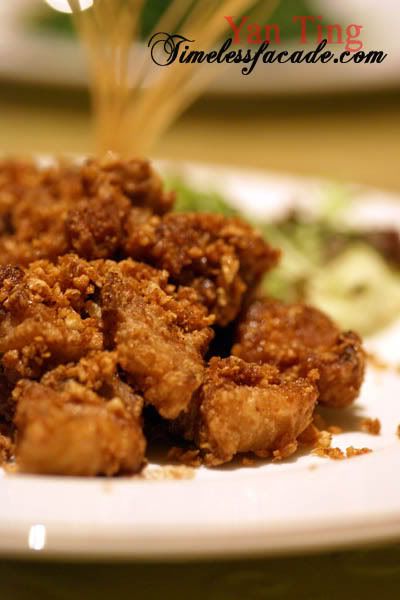 Crispy Garlic Pork Ribs
The pork ribs were crispy but a tad too dry for my liking. And being pork ribs, there were bits of bone in it which marred this lazy man's experience quite a bit. The garlic taste was quite strong which can work either way depending on whether you are a fan or garlic or not.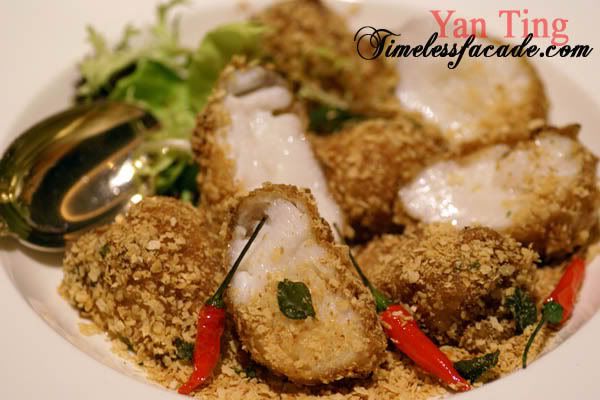 Deep Fried Cod Fillet coated with Crispy Cereal
We chose this in favour of steamed fish by the weight primarily due to cost concerns. Thats not to say that the cod fish wasn't good. On the contrary, I liked it quite a fair bit. The fish was fresh and smooth with an almost creamy aftertaste while the accompanying cereal added a nice moderately sweet dimension to the fish coupled with a solid crunch.


Dou Bei
Dou Bei is purportedly the "better" cousin of dou miao (豆苗) and to be honest, this is the first time I'm actually trying it out. It didn't actually taste very different from dou miao though, coming across as a little bitter. The only differences were that it was a wee bit softer (but this could be due to cooking methods) and leafier.


Bill
Dinner cost about $484 ($363 after discount) for the 9 of us, which included desserts and expensive tea ($5/pax). Considering the environment, service and decent quality of food, I would say that the price was generally still reasonable. Believe it or not, I liked this dinner better then the
previous one
.
Likes: Nice place, great service
Dislikes: Certain dishes can be improved
Final Verdict:
Ambience:8/10
Service:8/10
Food:7.5/10
Value for money:6.5/10 (without discount)
Overall:7.5/10
Address: St. Regis Singapore, 29 Tanglin Road
Contact: 6506-6888
Opening Hours: 11.45am to 3.30pm, 6 to 11pm