The choice of venue for our reunion dinner this year - Crystal Jade Golden Palace, at which I've had a
rather positive dining experience
before. There were 3 sittings this year and we chose the one wedged right in the centre, 730pm. But trust me, you want to get there before 730pm because thats when the mad queues start for the second seating.
The interior is rather grand with its high wooden ceilings and supporting pillars coupled with hidden ambient lighting and antique looking chairs to pair with the white cladded tables on a bed of red carpet. The walkway leading up to the seating area is equally impressive in its own right - elegant and flanked by glass wine cellars.


"Fatt Choy" Salmon Raw Fish
This was one of the better yu shengs that I've eaten and is probably on par with the one I had at
Yan Ting
. Not cloyingly sweet with a nice mix of crunch and munch. Its probably the first time that we have managed to clean up an entire plate of yu sheng.
Double Boiled Shark's Fin Soup with Seafood in Coconut
Its not the first time I'm trying shark's fin soup served in a coconut but this is the first time I'm trying one with such a dominant coconut taste. The soup was probably boiled in the coconut itself as the coconut meat tasted rather sourish and soft. However it was still quite decent as the soup, besides having the sweetness from the coconut, had a balanced salty aspect as well. Ingredients were sparse however, with merely a sprinkling of scallops, prawns, sea cucumber and sharks fin.


Peking Duck
This has got to be one of the worst peking ducks I've tried in a fine dining Chinese restaurant. The crepes were way too thick and biting on one felt exactly like chomping down on flour. The skin itself, though crisp, came across as rather fatty and oily. It got so bad that I had to resort to scraping the fats off the skin and eating it without the crepe.
The second dish fared better though but didn't come across as remarkable. Shredded duck meat and fresh beansprouts topped with a gooey, albeit a little too starchy, savoury sauce on crispy fried noodles (Sheng mien). I would have appreciated a little more of the gravy though.


Braised Australian Sliced Abalone with Baby Cabbage
Judging from the thickness of the abalone slices, we probably got about 2 whole pieces of 2 head abalone, which would have been great save for the fact that it wasn't fresh abalone, but dried ones from Australia. And the execution wasn't exactly stellar. The abalone had been cooked for too long, resulting in a softer then acceptable texture.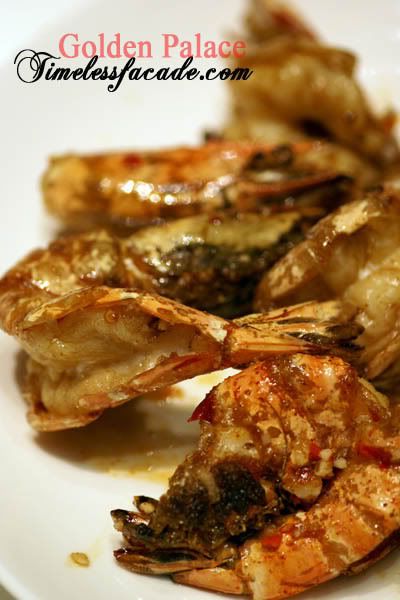 Deep Fried Live Prawn with Pepper & Salt
The prawns were literally a case of hit and miss. Though rather large and very fresh, some had copious amounts of salt while others were void of any - a blatant lack of quality control?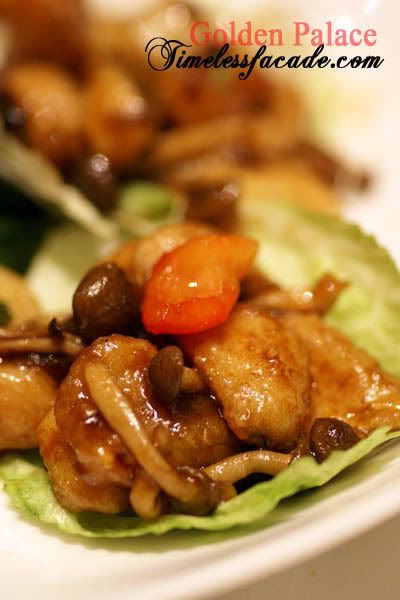 Sauteed Promfet Fillet with Mushroom & Preserved Vegetables
The promfet fillets were lacklustre at best. Overly coated with flour, the fish's texture came across as rather gelatin and tasted bland. A total waste of a good fish. Did I mention it was oily as well?


Sweetened Mashed Taro with Gingko
Fortunately the mashed taro or orh nee, was almost as good as the
last time I had it
. Smooth and not too sweet but a tad dry.
Bill
The total damage for 5 pax came up to about $962, which is about $192/pax - a total rip off if you ask me, especially when the quality of food is anything but stellar. Comparing this with our previous CNY dinner at
Imperial Treasure Teochew Restaurant
, prices were similar but the food for this one was really a joke. Service was generally acceptable but there was this auntie who waited on our table that really excelled and it was only right that we presented our appreciation to her in kind. 2010 CNY eve, Imperial Treasure here I come!
Likes: Nothing
Dislikes: Food during CNY eve was terrible & expensive
Final Verdict:
Ambience:7.5/10
Service:7/10
Food:6/10
Value for money:4.5/10
Overall:6.25/10 (Please note that all ratings are only for the CNY eve set dinner)
Address: #05-10 The Paragon, 290 Orchard Road
Contact: 6734 6866
Opening Hours: Daily: 11.30am - 3pm, 6 - 11pm