To be honest, I can't believe that I've never tried Din Tai Fung (鼎泰丰) even though its rather prolific and alot of people have actually tried it. I guess I've been put off by the ridiculously long queues at each of its outlets during meal times. So imagine my glee when I found the crowds wanting at one of its outlet one afternoon.


The Place
The place is reminiscent of a typical Chinese restaurant except that this outlet had most of its seating in the open atrium of the shopping mall, which poses a genuine threat of uninvited aerial missiles from the shoppers above.


Tofu
For $3.30, I honestly didn't expect much. But I certainly wasn't prepared for the onslaught of the minature tofu. I kid you not. The tofu looks small enough to be devoured in just 1 large mouth. Taste wise, it had a high egg content and tasted very normal.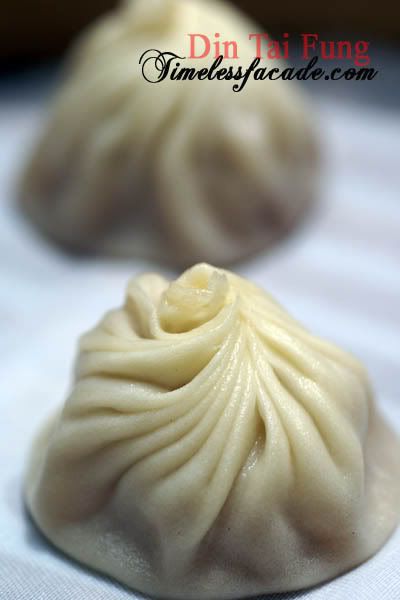 Xiao Long Bao
The dish that Din Tai Fung is known for, its Xiao Long Bao. I can't say that I didn't like it, but it wasn't that much of a mind blowing experience that I had anticipated. The rather dry skin enveloped a mouthful of light broth that flowed out with every nibble. Also, the XLBs didn't carry the strong pork taste which I personally disdain.


Fried Rice with Prawns & Egg
The rice grains were plump and moist, which made for a nice texture. However it lacked the quintessential wok hei and portions were minute to say the least.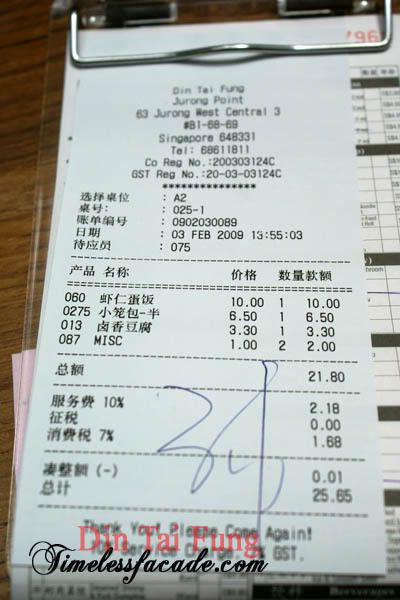 Bill
I was stuffed at the end of my $26 lunch, but prices here aren't cheap and probably higher then your basic Crystal Jade outlets for the portion sizes. Food quality is decent and service is efficient but rather curt. So much for the legend. But I might just have another go at this place if the crowds are nonexistent.



Likes: Food decent
Dislikes: Portions are tiny for the price

Final Verdict:
Ambience:6.5/10
Service:6/10
Food:6.5/10
Value for money:6/10

Overall:6.25/10

Address: #B1-70/71 Jurong Point Shopping Centre

Contact: 6861 1811

Opening Hours: 10am - 10pm

Website: http://www.dintaifung.com.tw/en/area_a_list.asp?AreaCountryNO=5