For Italian gourmet lovers, it is said that no trip to Bangkok is complete without a visit to Zanotti, a fine dining Italian restaurant in the Thai capital's business district. Zanotti is ranked among the top 20 Italian restaurants in Asia and is apparently one of, if not THE best Italian restaurant in Bangkok. Reservations are a must at this restaurant and the smart casual dress code is strictly enforced.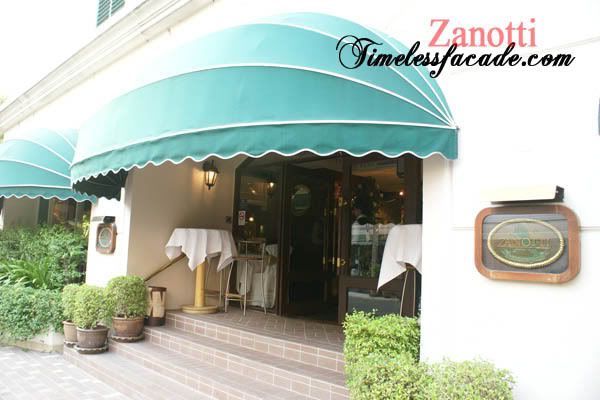 Exterior & Interior
Located on the ground floor of a condominium along Sala Daeng Road, just about a 10 min walk from Silom (MRT) or Sala Daeng (BTS) station, Zanotti's facade is reminiscent of Jack's Place in the olden days. Ahh the nostalgia. The interior comes across as homely with carefully chosen art pieces adorning the walls. Honestly, the Italian restaurants in Singapore do a better job in this aspect, especially the fine dining ones.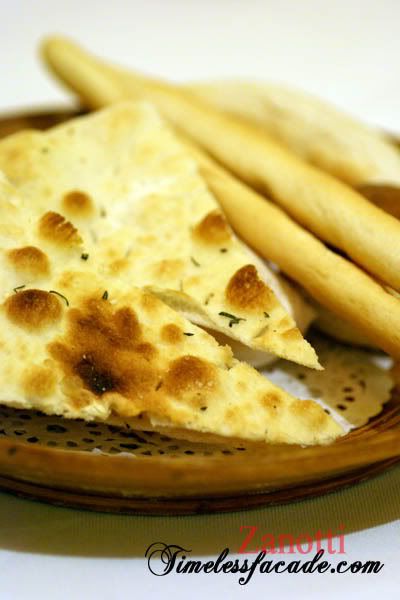 Complimentary Bread & Bruschetta
There was an assortment of bread, all freshly baked and served warm. Focaccia, breadsticks, baguette, cocoa walnut bread and the likes. A great way to start off the meal but watch the intake because flour fills you up real fast.
The bruschetta came in a tiny tapas like serving and wasn't particularly good or anything.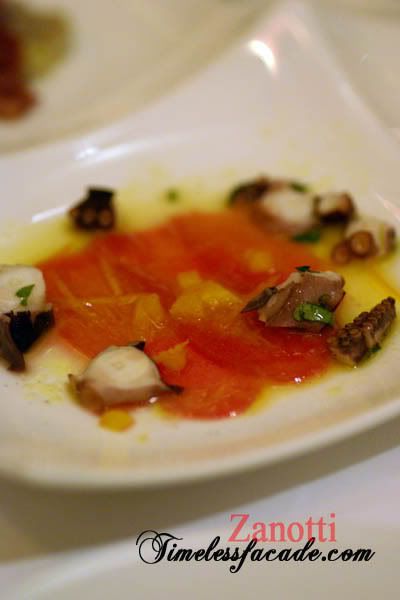 Tuna Carpaccio Seasoned with Orange Drops and Served with an Octopus Mosaic
I thought that the acidity and zest of the orange drops brilliantly countered the rawness of the tuna, making for a sublime sensory experience. I wasn't too taken by the octopus though.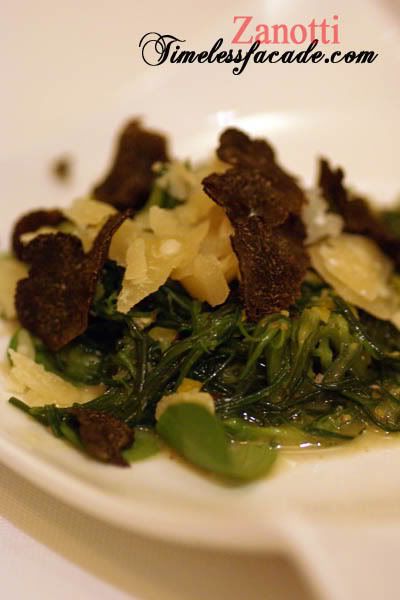 Seasonal Vegetable BarbaBuc in Pistacchio and Truffle Sauce
I will readily admit that this appetiser did the trick for me. Generous amounts of black truffle and lightly savoury vegetables with a creamily smooth aftertaste due to the slices of mozzarella cheese, whats not to like?


Italian Boiled Cotechino Salami on a Bed of Grappa Marinated Chestnuts
Its the first time I'm having boiled salami and the initial weirdness aside, it tasted a lot like luncheon meat, albeit a lot softer. The chestnuts in grappa were a little too sweet for my liking.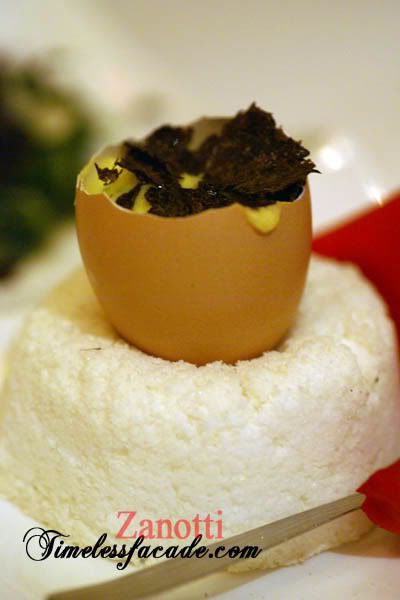 Egg Surprise Flavoured with Truffles and Herbs Served in Its Own Shell
The egg was really surprising in a good sense. Served up in an egg shell with its topped removed, the egg had a slush creamy like texture. Very much like scrambled eggs, just a lot creamier and softer. Spring onions and black truffles ensured that it didn't get too nauseating and provided a subtle fragrance at the same time. Very well executed.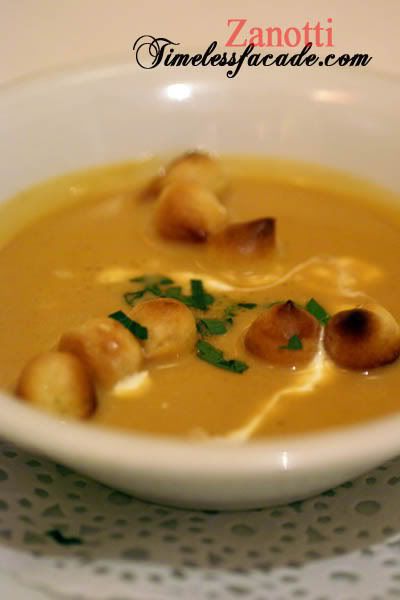 Lobster Bisque Soup
The lobster bisque didn't come across as too rich yet packed enough flavour to entice. Throw in a few lobster cubes and flour droplets and you have a nice satisfying bowl of soup.


Ravioli filled with Boraggine and Robiola Cheese in a White Truffle Sauce & Stawberry and Champagne Risotto
The ravioli came in a cheesy heart shape, probably due to Vday (They celebrate Vday in Thailand as well?) and was stuffed with Boraggine which is a herb like spinach that didn't quite suit my palate because of its blandness. And the Robiola cheese didn't help one bit.
Equally disappointing was the risotto, which wasn't al dente and came across as too soft. There was no champagne taste as well but the strawberries proved to be a lifesaver, infusing a little zest into an otherwise plan and boring dish.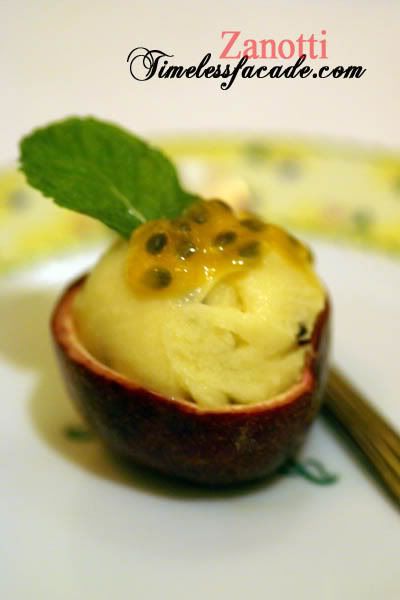 Passion Fruit Sherbet
A nice cold sweet yet sourish interlude before the mains.


Fresh Atlantic Black Cod Steam Baked in Fata Pepper with Datterino Tomatoes and Zucchini
Aside for the novelty of having to unwrap the plastic that covered the fish, there was really nothing interesting about this dish. Sure, the fish was fresh and firm without the tomato sauce being too overwhelming but it just didn't shine. And portions were tiny.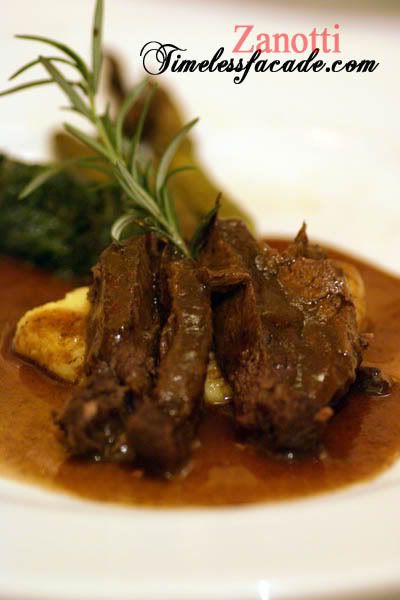 Braised Venison Marinated with Barolo Wine and Herbs Served with Polenta in Traditional Northern Italian Style
Sheer disappointment on this one. The venison was very soft and had a rather dry texture. Somehow or rather it tasted more like lamb to me then anything else. Check out the dainty servings as well.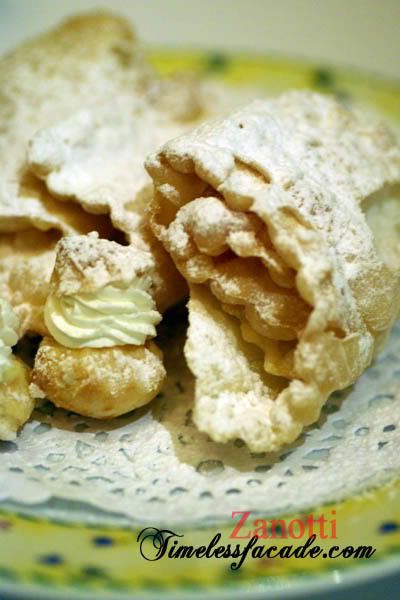 Chiacchiere
This is the first time I'm having this and I must say I wasn't too impressed. It tasted like deep fried flour to me with coatings of icing sugar.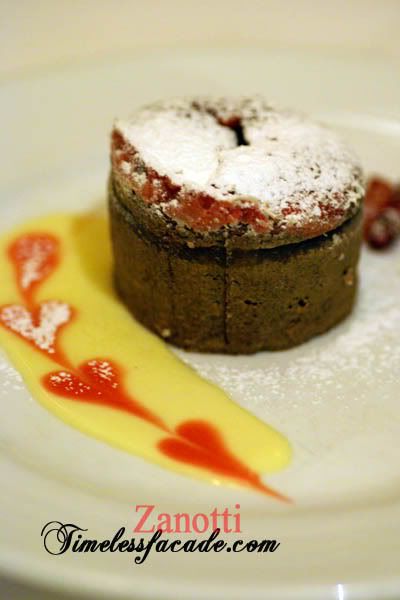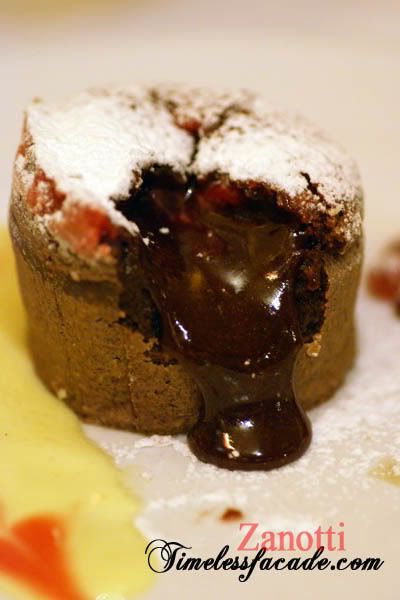 Chocolate Cake
A staple dessert in most Italian restaurants nowadays, the chocolate fondant had a crisp outer shell encrusting viscous molten chocolate that oozed ever so slowly and tantalizingly. Just watch for the excessive sugar content.


Tiramisu
I will outrightly declare my love for Zanotti's tiramisu. This has got to be the best tiramisu I've eaten in a long long time. The mascarpone cheese was rich, smooth yet lightly coagulated. Sponge to cheese ratio was very optimal as well. A most excellent sweet ending to the meal.


Bill
Dinner worked out to be about $145/pax which isn't too expensive considering that its a special set menu meant for "hijacking" wallets (not that we wanted it though). Ala carte promises to be cheaper but if you want a good deal, go for the set lunch (<$20). Service was good but they should have informed us about the set menu only restriction and we would have gladly rescheduled our reservation. It wasn't until we were at the restaurant before they informed us, which defeated the purpose really.
Likes: Tiramisu
Dislikes: Mains could be better
Final Verdict:
Ambience:7/10
Service:6/10
Food:6.5/10
Value for money:6/10
Overall:6.25/10

Address: 21/2 1st Floor, Saladaeng Colonnade Condominium, Silom Rd., Silom Bangrak, Bangkok 10500

Contact: +66 2 636-0002

Opening Hours: Lunch 11:30 – 14:30 Dinner 18:00 – 22:30

Website: http://www.zanotti-ristorante.com/