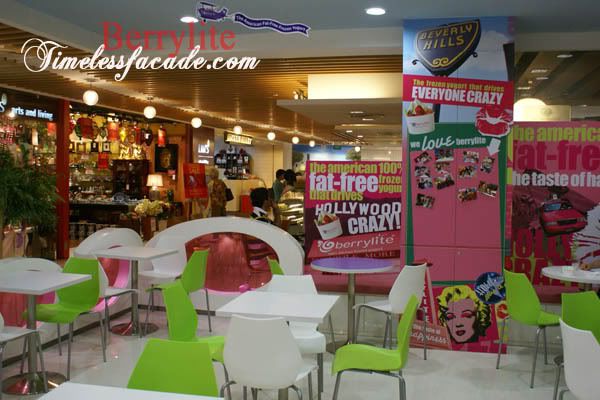 Had a go at Berrylite, a newly minted frozen yogurt (froyo for short) place at Parkway Parade. Occupying a small "al fresco" space at basement 1 of the shopping mall, this small yogurt joint is decked out in plastic furniture and attention grabbing posters, which would probably put their target audience in the teenager bracket.

Stawberry Froyo with 3 Toppings ($5.10 for Small)
I couldn't quite decide between the peach or strawberry offerings but in the end I opted for the latter with double toppings of lychee and one topping of watermelon (buy 2 toppings get 1 free). The froyo was more of the ice cream variant in terms of texture, very much like that of
Yoguru
. I was told that there are differences but I honestly can't differentiate them apart save for perhaps, the flavours? (I am definitely not a yogurt person) What I liked about it was the choice of fruit toppings that complement Berrylite's tagline of 100% fat free yogurt. So think of it as guilt free ice cream with fruits.
ps: I think the name berrylite is rather catchy in the sense that the word berry is obviously playing on the phonics of the word very, which embodies the product attribute that they are trying to sell to the consumer - froyo that is very light and healthy.
Likes: Fat free ice cream tastealike!
Dislikes: Not exactly cheap
Final Verdict:
Ambience:NA
Service:NA
Food:7/10
Value for money:6/10
Overall:6.5/10
Address: #B-83J Parkway Parade (I think they have/used to have another stall at Boon Lay?)
Contact: 11am - 10pm daily
Opening Hours: 11am - 10pm daily
Website: http://www.berrylite.com.sg/