It was the usual weekly dinner with my folks again and the venue of choice was The Chinese Restaurant at Raffles Town Club. Apparently this is a members only restaurant so I didn't harbour any hopes of a fantastic meal even though prices aren't exactly the cheapest around.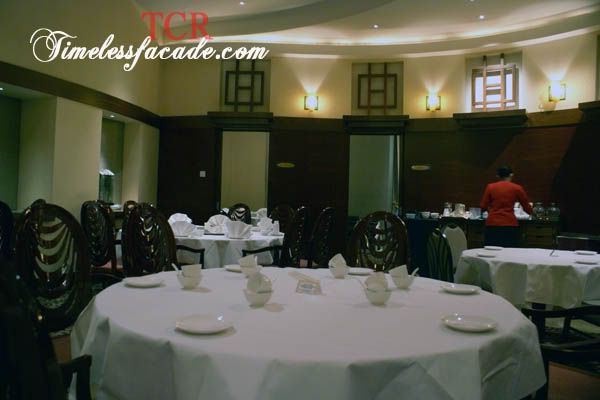 Interior
In the glossy pages of the club magazine, the restaurant looked like a blast. However reality is harsh and the interior turned out looking more dreary then glam. What was rather amusing was that the restaurant required us (the customers) to switch off our cell phones during our meal. Fortunately, it wasn't strictly enforced though.


Smoked Salmon with Passion Fruit & Vegetable Salad
There were only 2 slices of the smoked salmon, which was quite pathetic if you ask me. And the salmon was way too salty but I guess not having the overwhelmingly raw taste is a plus.


Braised Superior Shark's Fin with Bean Sprout
The broth was a tad too starchy but the fins were relatively generous, though of the mediocre variant. Adding to the woes was the overdose of salt, which made the soup rather heavy.


Braised Seasonal Vegetables with Bean Curd Stick & Conpoy in Chicken Stock
This dish was a major turn off. The spinach wasn't properly washed and I could hear the resounding crunch of sand/sediment with every bite. The bean curd stick tasted like flour but to give it credit, it was well deep fried and topped with shreds of deep fried dried scallops.


Sauteed Scallop & Fresh Prawn in Sichuan Sauce
This was probably the best dish of the evening as the scallops were crunchy and sweet while the prawns fresh but a tad small. The bed of broccoli wasn't over or undercooked but the sichuan sauce came across as mildly spicy and very normal.


Steamed Sea Perch with Chilli
I couldn't quite make out the chilli in this dish. What I could taste was black bean sauce. And lots of it. The meat was firm, a tad too firm actually, from being overcooked.


Braised Vermicelli & Mian Xian with Dried Seafood
This dish was well fried with a discernible wok hei taste and the noodles weren't too soggy. However too much of it rendered me nauseous.


Dou Hua
Soft and silky without any traces of egg, the dou hua left a layer of sediment on my tongue after every mouthful, which served to irritate me to no end.


Bill
I thought $215 for an unsatisfactory meal for 4 was expensive and if given a choice, I would never return, ever again. There is a strict dress code as well, which adds to the annoyance.



Final Verdict:
Ambience:7/10
Service:7/10
Food:6/10
Value for money:6/10
Overall:6.5/10

Address: Fourth Storey, Whitley Wing, Raffles Town Club

Contact: 6357 3338

Opening Hours:

Mondays - Saturdays
Lunch – 11:30am to 2:30pm
Dinner – 6:30pm to 10:30pm

Sundays & Public Holidays
Lunch – 10:30am to 2:30pm
Dinner – 6:30pm to 10:30pm

Website: http://www.rafflestownclub.com.sg/03_w&d_chinese.html