The
last time
I stepped into Desire was back in early 2007. More then 2 years later, I was back to renew my acquaintance with this fine dining restaurant, especially after I had heard good things about their new chef.
Exterior & Interior
The place needs no reintroduction but still retains its old world Victorian charm that drew me to it in the first place. The interior does look a little aged as compared to 2 years ago so some restoration is probably in order.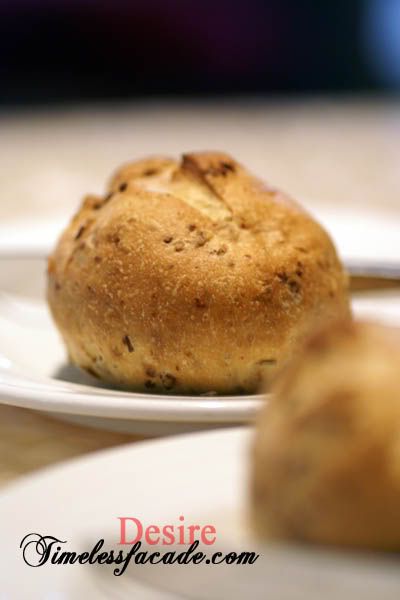 Complimentary Bread
I thought that the onion bread was excellent. Warm and crusty on the outside yet soft and fragrant on the inside. The onion gave it a nice mild flavour and I succumbed to temptation by requesting for seconds.


Tuna Ala Nicoise
Fresh greens topped with grilled tuna, quail eggs, black olives and anchovy dressing. The tuna slices weren't well grilled enough but at least there was no overwhelming raw taste. A decent enough salad.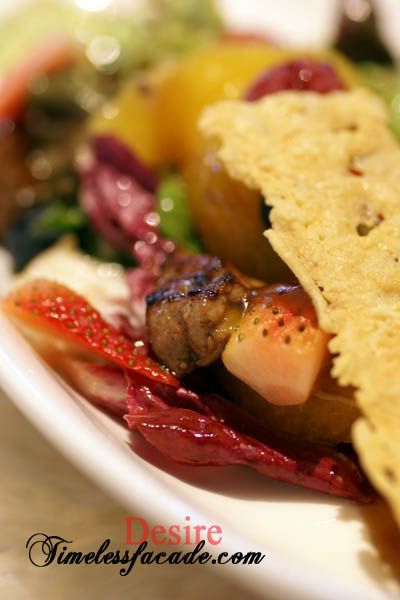 Foie Gras & Fruit Salad
I personally preferred the foie gras salad even though there were only 2 miserable cubes of foie gras - the sin amongst the forest of healthy fruits and greens. The precious cubes of foie gras were quivery with a nice crisp exterior and the salt granules served to put a lid on the richness of the liver.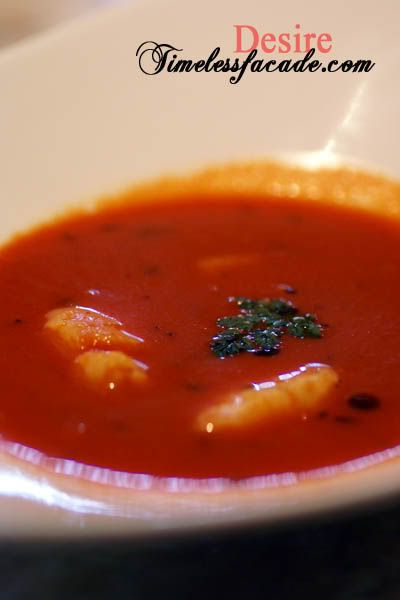 Tomato Soup with Cod Fish
This is the first time I'm having cod fish paired with tomato soup and I must say that it was quite interesting as cod fish has quite a strong oily aftertaste. The tomato soup was a little too sharp for my liking and the somehow the flavours were too distinct from each other to be cohesive. Not something I would order again.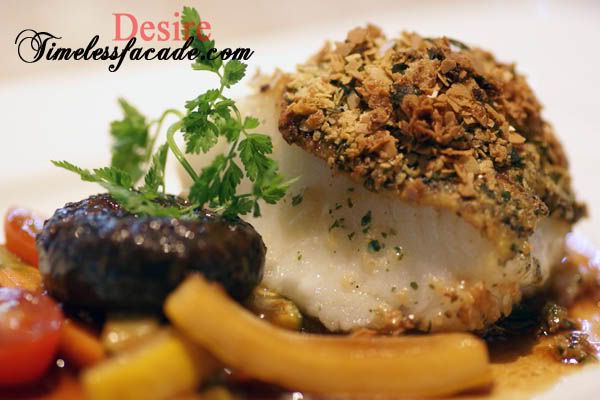 Baked Cod Fish
Cod fish is probably one of the few species of fish that I actually like and can consume quite a fair bit of. And Desire's rendition was rather oriental in orientation. Crisp skin topped with mildly sweet cereal flakes amidst soft luscious flesh. The lone stewed mushroom tasted like those right out of a claypot. Very delectable dish to say the least.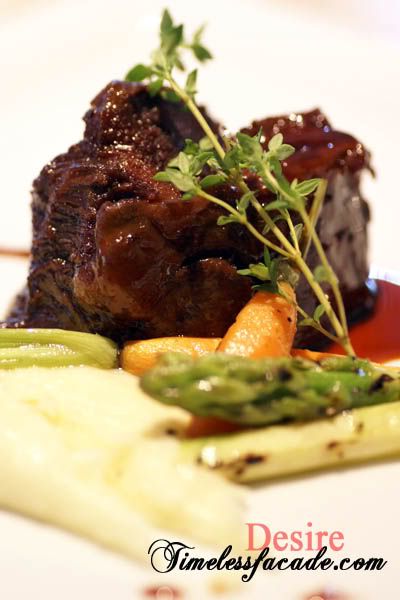 Sous Vide Beef Cheeks
Although the beef cheeks were melt in the mouth tender, I didn't really find anything really outstanding about it. The veal jus was a little too weak and failed to bring out the true potential of this dish. Alas!


Mint & Lemongrass Jelly
Sour stuff have never been my cup of tea so I shall reserve my comments on this dessert.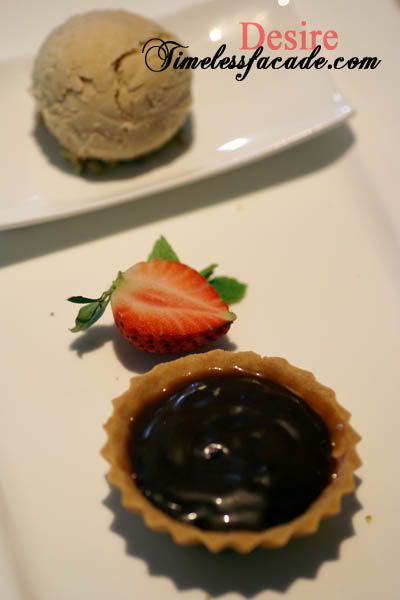 Chocolate Fondant Tart
One tiny flaw marred what would have otherwise been an excellent tart. The crust had a nice oven baked aroma and taste but lacked a little more butter in my humble opinion. The chocolate was lusciously thick and coagulated yet smooth and a joy to bite into. Accompanying alongside was a scoop of smooth hazelnut ice cream that tasted like rocher and didn't melt at an exponential rate.
Lunch cost to the tune of $98 for 2 set lunches ($38++ and $45++ respectively). For $7++, you get a choice of an additional appetiser or soup. Food quality is rather impressive and coupled with good service and ambience, makes for a most enjoyable lunch. If you do intend to do dinner at Desire, watch out for the steep prices.
Final Verdict:
Ambience:8.5/10
Service:7.5/10
Food:7.5/10
Value for money:6.5/10
Overall:7.5/10
Address: The Scarlet Hotel, 33 Erskine Road
Contact: 65113323
Opening Hours:
Daily: 6am - 10am, 12noon - 2.30pm, 7pm - 10.30pm
Website: http://www.thescarlethotel.com/