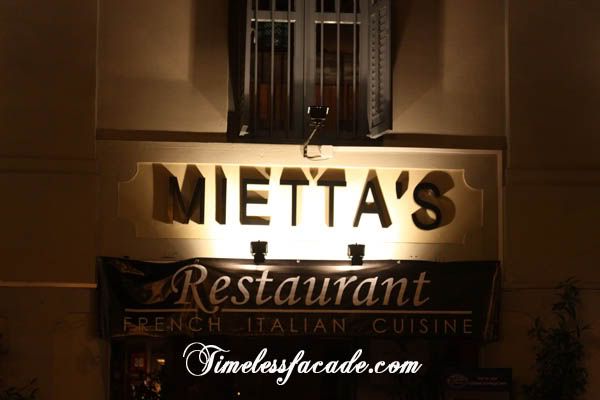 April's monthly dinner was decided at Mietta's, which literally translates to Sweet Little One. Owned by Angelo Sanelli, who was one half of the business partnership of the popular Michelangelo's and helmed by the former executive chef of Zambuca, Dennis Sim, Mietta opened with little fanfare just a few months ago.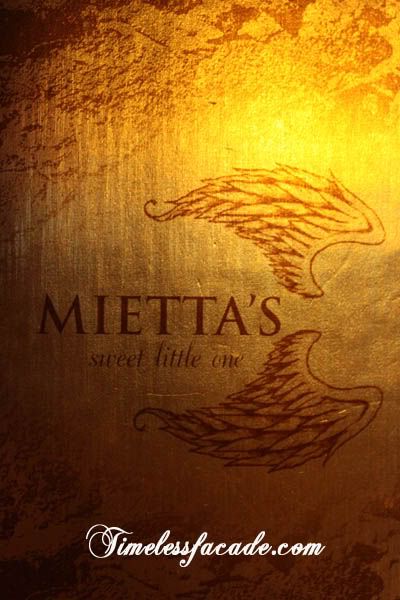 Interior & Menu
Located towards the end of Arab Street, just opposite Golden Landmark Hotel, Mietta takes up 3 units of shop space in this predominantly Muslim neighbourhood, which is why no pork is served as a form of respect (though alcohol is still sold). The interior is rather homely and cozy with ambient lighting and tables spaced decently far apart for a nice quiet dinner.


Complimentary Bread
This was the exact same bread I had at
Zambuca
. I enjoyed it back then but this time round it failed to wow me, probably because it was left sitting in the cold for quite a substantial period of time. My fault though. I was late.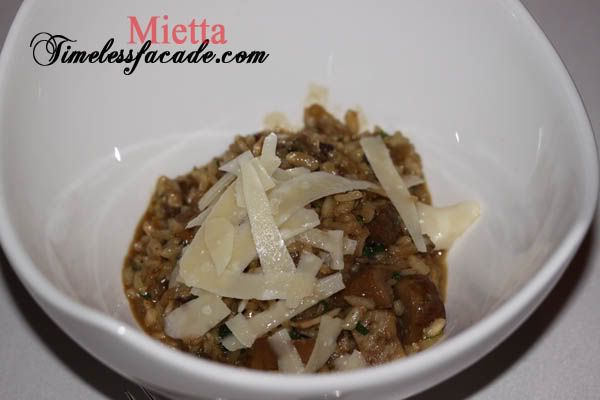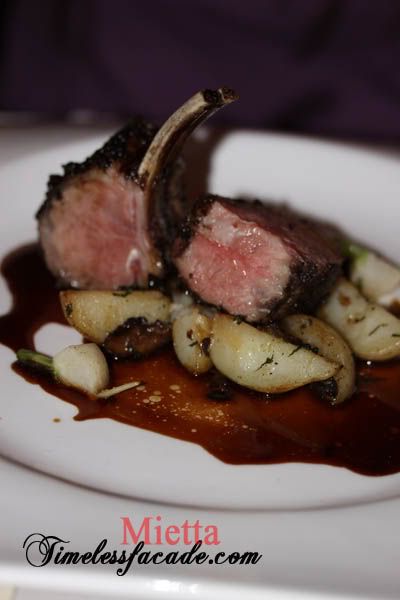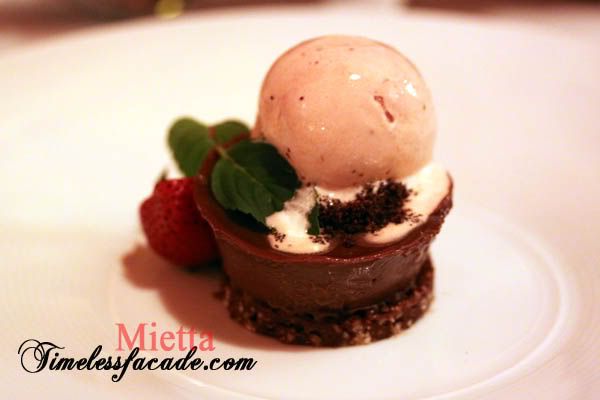 Stuff I didn't get to try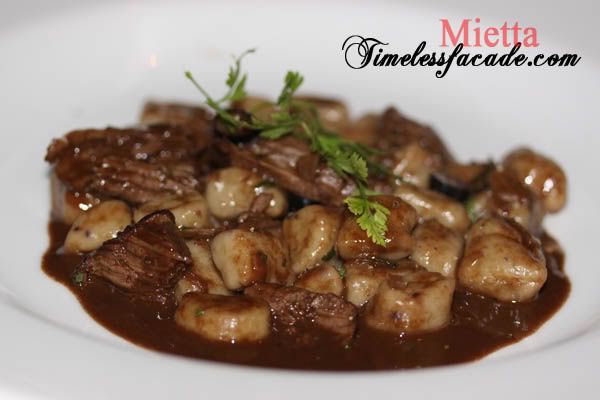 Blueberry Gnocchi, Served with Braised Venison in a Red Wine, Bitter Chocolate Jus
I had this at
Zambuca
the last time as well and Chef Dennis graciously agreed to do this dish just for us that evening. The gnocchi was interesting and soft but I thought that the venison wasn't flavourful enough, which was attributed by Chef Dennis as not having enough time to allow the venison to rest and absorb the jus. The jus itself was a tad bitter from the chocolate but the blueberries didn't seem to feature or contribute much to the taste.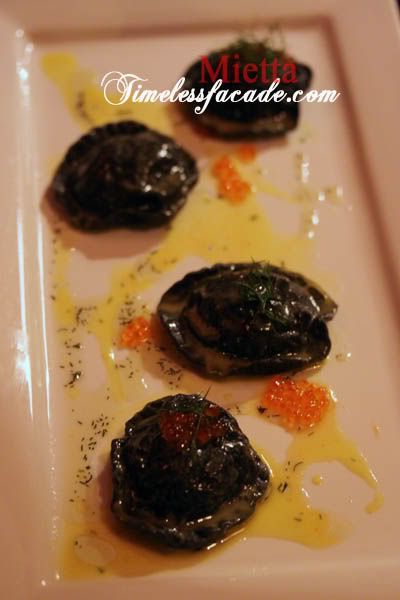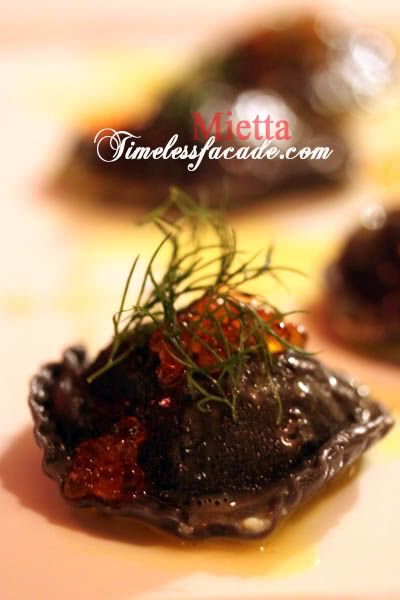 Squid Ink Ravioli
According to the chef, the ravioli is made in house and daily servings are limited. We therefore jumped at the chance to try it out. In all honesty, I didn't think too much of it. The ravioli skin was thin but the filling of scallop and prawn mousse tasted too smooth and bland. The saffron and dill jus was of the light variant and overall this dish lacked flavours.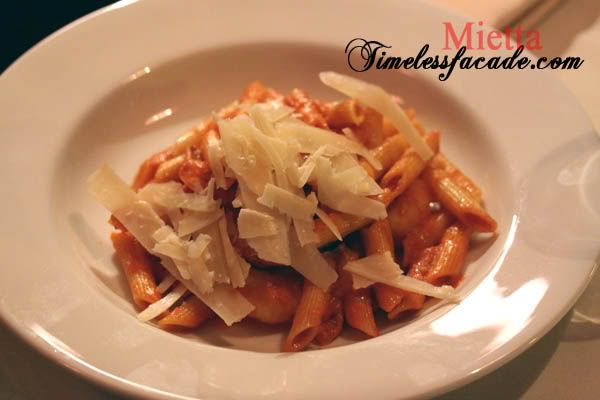 Penne Vodka
I opted to have prawns to go with my penne and it was a great decision in my humble opinion. The crystal prawns were huge, fresh and sweet. I counted 5 large prawns with my penne which I thought was pretty generous. The penne itself was al dente without the tomato sauce being too overwhelming but there was no taste of vodka. I know its evaporated but whats the point of using vodka if there is not going to be any vodka taste? Nevertheless, I enjoyed this dish quite a bit.


Cinnamon Panna Cotta with Girottine Cherry
The panna cotta was a disaster honestly. The pudding was way too firm and had a gingery taste that I personally didn't like. Needless to say, I took 1 mouthful and left the rest to stand.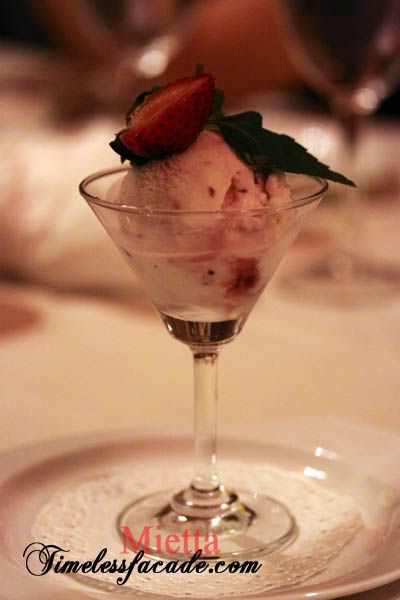 Strawberry Ice Cream
What made this ice cream stand out was that it was for diabetics. And it was ordered on purpose, as a comparison to the normal ones that we usually eat. And honestly, I thought it was good. The texture was more like frozen yogurt and it was still sweet probably from the fructose.


Tiramisu
Comparisons were inevitable between Mietta's rendition of this classic Italian dessert and that of
Zanotti's
, as both offerings fell into the generously covered with mascarpone category. Though good, Mietta's mascarpone cheese was a little too bland in comparison while the sponge was a little too wet. But interestingly, chocolate chips were added for a nice bitter twist.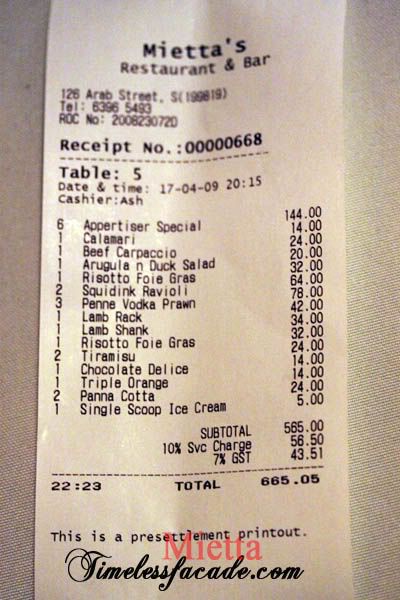 Bill
The 9 of us chalked up a bill of about $665, which bordered on the expensive range. Food is a case of hits and misses and I understand that stuff like the lamb rack is good so take your chances. Service staff were very friendly and humourous and definitely one of the highlights of the restaurant.
Final Verdict:
Ambience:7/10
Service:8/10
Food:7/10
Value for money:6.5/10
Overall:7.125/10
Address: 126 Arab Street
Contact: 6396 5493
Opening Hours:
Lunch: 11am - 2pm (Closed for lunch on Sat)
Dinner: 6pm - 10.30pm