It was an exciting evening, one that promised avant garde cuisine from Chef Paco Roncero - a one Michelin star prodigy of the haute El Bulli in Spain. Having experienced the wonders of Chef Edward Voon
2 weeks ago
, who was an understudy of Chef Paco, I naturally had high expectations of the dinner.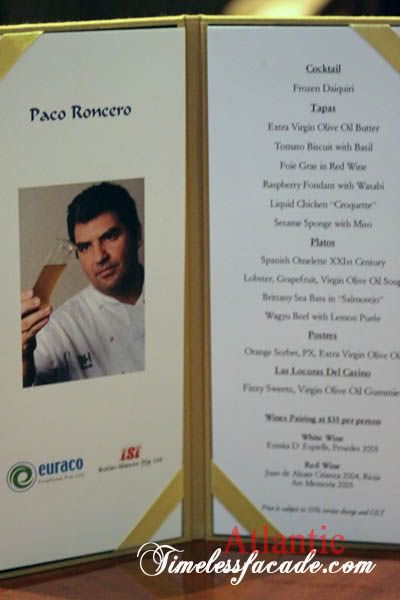 Menu
Complimentary Bread
The focaccia was as good as I remembered it to be. Soft with pockets of sun dried tomatoes, mint and other herbs - wonderful. And drawing from my past experience, I left the french loaves untouched.


Frozen Daiquiri
I have a low tolerance level for sour stuff so this appetiser wasn't my cup of tea. I was practically cringing with every sip I took. But what was interesting was the top layer of egg white, which came across as smooth, foamy and a wee bit sweet.


Tomato Biscuit with Basil, Extra Virgin Olive Oil Butter, Foie Gras in Red Wine, Raspberry Fondant with Wasabi, Liquid Chicken Croquette & Sesame Sponge with Miso
The presentation was sparse to say the least and nothing looked particularly appetising in all honesty. However, that impression took a drastic U turn when I popped the liquid chicken croquette into my mouth. It was extremely flavourful and melted in my mouth upon contact. The bread crumbs gave it a nice crispy texture. Amazing.
I didn't quite take to the raspberry fondant though, a frozen and caramelised raspberry with a hint of wasabi on the top. Interesting.
The tomato biscuit got me really intrigued. It was a reddish looking biscuit that came with a heavy tomato taste but I couldn't quite taste the basil. Great as an appetising snack.
Weirdly enough, the sesame sponge came looking like a bunch of black dried strands of hair. However it was fluffier then any sponge that I had ever eaten and very porous with a strong sesame taste.
This was a very different take on the classic foie gras with red wine dish. The red wine came in the form of a layer of jelly that encased the smooth foie gras and melted in the mouth, leaving a nice red wine aftertaste.
Last but not least, the extra virgin olive oil butter was a throwback to what we had the
last visit
, except that it came served in a tube.
Spanish Omelette XXIst Century
A 21st century rendition of the spanish omelette, one that tasted as interesting as it looked. Served up in a glass with a spoon, the whole concoction was like smooth whipped potato with a base of olive oil and onions. I could also make out salt granules in it.


Lobster, Grapefruit, Virgin Olive Oil Soup
My portion of fresh and sweet lobster was relatively generous but I didn't find it extraordinary. The olive oil soup tasted rather muted in my opinion.


Brittany Sea Bass in "Salmorejo"
I personally attest to the quality of the sea bass, even though I'm not exactly a fish fan and I'm sure all of my dining partners would agree. Very well seared with the outside crisp and the flesh sweet and firm yet moist. Salmorejo apparently is a soup based on tomato and bread that originated from southern Spain, very much like tomato gazpacho.


Wagyu Beef with Lemon Puree
This was your run off the mill wagyu beef. No surprises, nothing. However it was one solid piece of steak. Done to a perfect medium well, the beef was very tender and homogeneous. A sprinkle of salt on the outside ensured a nice complement to the natural sweetness of the meat. Topped with mushrooms, I would profess an audacious sounding claim that it rivaled that of Mortons.

Orange Sorbet, PX, Extra Virgin Olive Oil
I took quite a fancy to the orange sorbet primarily because it wasn't too sour and came served on a base of crumble, which provided a nice crunch.


Fizzy Sweets, Virgin Olive Oil Gummies
Interestingly shaped like little
kuehs
, the olive oil gummies initially tasted of olive oil but chew on further and a subtle lychee taste kicks in, replacing the dominant olive oil taste. The chocolate crispies look a like fizzy sweets on the top ensured hyperactive crackling and popping in the mouth and endless thrill.
Bill
Dinner wasn't cheap, standing at just over $600 for the 4 of us. Overall based on the two dinners that I've eaten, I thought Chef Paco's creations carried more finesse than that of Chef Edward but the latter seemed more adventurous in his creations.
A Parting Shot
Something else happened that night. Someone in my group proposed and I played witness to the entire scene. Congratulations my friend!




Final Verdict:
Ambience:8.5/10
Service:8/10
Food:8.5/10
Value for money:6.5/10
Overall:8/10

Address: Penthouse (62nd – 64th Floors), Republic Plaza Tower 1

Contact: 6737 3388

Opening Hours: Daily: 12noon - 2.30pm, 7pm - 10.30pm

Website: http://www.tower-club.com.sg/index1.html