It was yet another rare opportunity to indulge in a leisurely lunch, this time round at Sage The Restaurant, which I've had the good fortune to dine at twice previously. See my previous entries on lunch
here
and dinner
here
.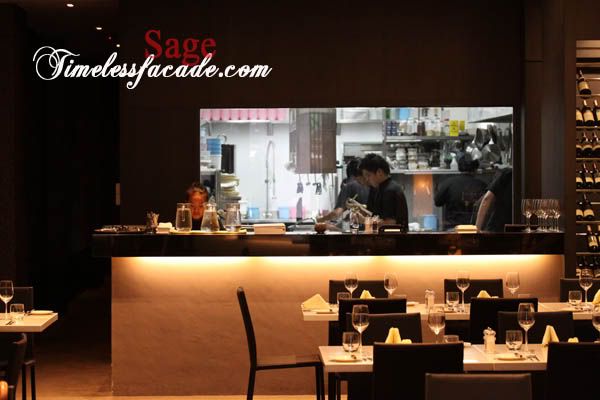 Interior
Taking root at its new premises along Mohd Sultan Road, a stone throw from its old location at Robertson Quay, Sage still boasts an open kitchen (though not as open as the old one) and a much bigger sitting capacity. Decked out predominantly in black, Sage oozes simple chic through the appropriate usage of ambient lighting.


Complimentary Bread
The bread was rather elastic with a nice chewy texture and carried a faint taste of herbs. Rather enjoyable but certainly not the best I've had by a mile.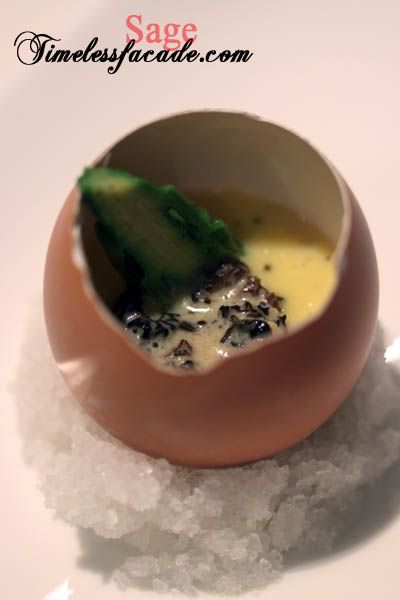 Mushroom (Cappuccino of wild mushrooms with truffle infused scrambled eggs,
asparagus and morel cream)
The lunch set doesn't come with the side of truffle infused scrambled eggs so we had to get the restaurant to specially do it for us, at an additional cost of course. The soup was nothing short of excellent. Frothy and runny with a nice mushroom taste that wasn't too rich or bland. Simply delightful! Special mention goes to the truffle infused scrambled eggs as well, which were smooth and creamy to say the least, with a nice aromatic truffle fragrance to boot. However, I still prefer the truffle eggs from
Zanotti
.
Crab & Tomato
The tomato did a great job in keeping a lid on the fishiness of the crab, resulting in a light and tangy mixture that did the job.


Foie Gras (Sautéed duck foie gras with fig compote on apple, pecan and raisin crumble, emulsion of verjus and beurre noisette )
I've always liked Sage's rendition of this immensely unhealthy dish and I'm glad that it was as good as I remembered it to be. Quivery on the inside and crisp on the surface with a light sprinkling of saltiness. Sitting on a base of raisin, apple and pecan crumble amidst a light buttery, tangy yet sweet sauce, the foie gras was simply wonderful.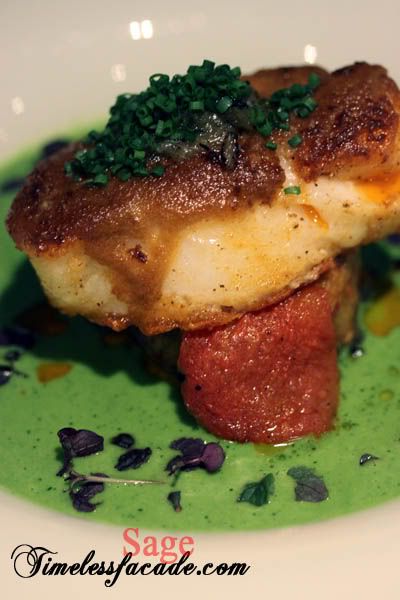 Cod (Roasted fillet of cod topped with prawn and cognac butter on gratin of salt cod confit with sun dried tomatoes and russet potatoes, emulsion of basil pesto and clam broth)
The cod skin was hardened while the meat, soft but firm. What was good was the prawn and cognac butter, which provided a smooth texture harbouring a mild "prawny" taste. And the clam broth was strikingly green with a hint of clam, making for a light and wonderful flavours of the sea dish.


Beef Bourguignon Au Gratin (Pot Roast Beef Braised in Red Wine with Mushrooms, Vegetables Gratinated with Parmigiano Reggiano)
I didn't quite enjoy this dish. For starters, it didn't look like your traditional French beef bourguignon. The beef was cooked just right and the whole dish came across as creamy and smooth but way too salty for my liking. And it got really nauseous after a while.


Chocolate Fantasy (Ivory white chocolate crémeux and dark bittersweet chocolate velouté
with raspberry sorbet crunchy chocolate pearls and nougat )
As pretty and mouth watering as my dessert looked and sounded, it was hardly outstanding. The only consolation was the raspberry sorbet, which provided a nice balance to the chocolaty sweetness.


Chocolate Fondant (Manjari chocolate fondant filled with melted dark chocolate ganache,
fresh raspberries and Grand Marnier sabayon with vanilla bean ice-cream )
Surprise surprise. The chocolate fondant wasn't my choice of dessert this time round. And I'm glad I gave it a miss. The conspicuous absence of chocolate in its molten form proved a major disappointment. Luckily the vanilla bean ice was made from real vanilla beans and had a nice smooth texture that provided some enjoyment.


Bill
Lunch was rather pricey at almost $150 for 2 pax. The truth be told, not everything is great here at Sage. The desserts were a washout and so was my beef bourguignon. But stuff like the mushroom capuccino and foie gras shone through. Service was very good and attentive and that might just weigh in on my opinion about a return visit.
Likes: Chef Jusman makes excellent sauces, good service
Dislikes: Desserts can be improved
Final Verdict:
Ambience:7/10
Service:7.5/10
Food:7/10
Value for money:6/10
Overall:6.875/10
Address: No. 7 Mohamed Sultan Road
Contact: 6333 8726
Opening Hours:
Lunch: 12noon – 2:30pm (Wednesday to Friday)
Dinner: 6:30pm – 10:30pm (Tuesday to Sunday)
Closed on Mondays & Public Holidays
Website: http://www.sagerestaurants.com.sg/