Had been itching to try out this new cafe - Spruce, after seeing quite a few reviews of it online as well as in various publications. Apparently their chef was from Wine Garage, which made really good burgers. Reservations were a pain though as the place was almost always full, till I got lucky one evening and managed to squeeze in a reservation for an outdoor table.
Al Fresco Seating & Interior
Outdoor seating probably isn't the best idea especially when Spruce is located just up a tiny hill next to lush greenery along Tanglin Road. But hey, if bugs are your best pals, then by means go ahead. Read. The bugs are suicidal. They do kamikaze stunts like crashing into your drinks, table and food. After a couple of minutes, we surrendered and requested for a seat indoors, which was promptly given to us (Whatever happened to the reservations?).


Roasted Mycofarm Mushrooms with Herbs
We initially wondered if mycofarm was some special type of mushrooms but after googling, it turned out to be the name of a farm in Singapore. On hindsight we probably shouldn't have ordered this side dish. The mushrooms tasted very normal but were literally drenched in oil. And it was definitely not olive oil.


Creamy Macaroni and Cheese
Now this side dish fared much better. Simple comfort food for the masses. Small macaroni shells evenly coated with a nice smooth creamy and cheesey layer. Not too overwhelming. The bits of burnt mozzarella cheese on top provided a nice crisp texture.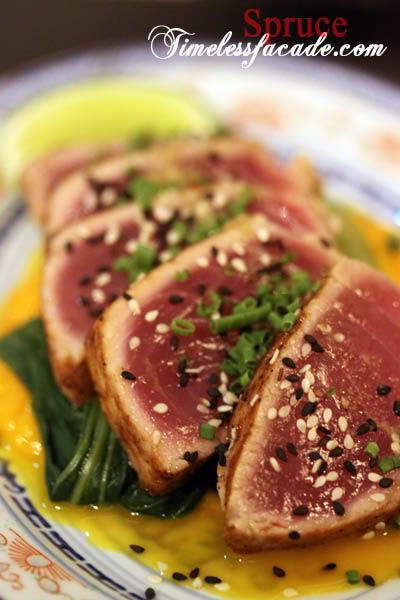 Seared Tuna with Steamed Bok Choy, Carrot and Ginger Broth
Make no mistake. This was a main. 5 slices of tuna tataki with a clump of bok choy going for $22. The tuna was disappointing to the say the least. Not pan seared till lightly charred on the outside while uncomfortably limp on the inside. Being less then generous on the salt didn't exactly help matters as well.


The Spruce Burger with Hand Cut Chips
The burger was good though a tad small. The beef patty crumbled with ease when I poked my fork into it, leading to us coin it "burger crumble". Corny I know. The patty was probably one of the best I've had in a long while. A little moist without the beefy taste overwhelming. Simple and unadulterated. I thought the buns could do with a little more toasting though. There is an option of topping up $2 for a slice of bacon to go along with the patty.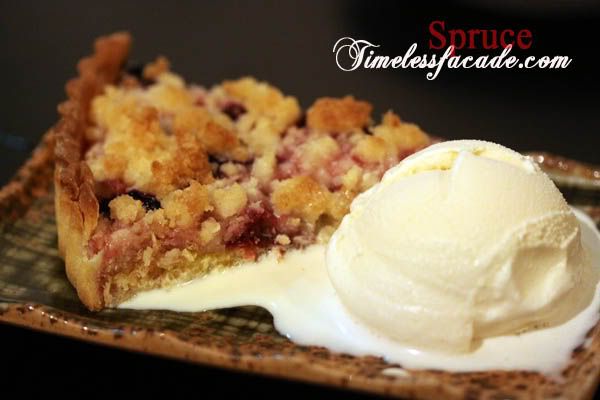 Cranberry, Blueberry and Coconut Tart Ala Mode
I thought this tart sounded really interesting and healthy with all the berries so I had a go at it. Well I wouldn't say it was fantastic but at least it was decent. I could make out the taste of blueberries and cranberries and strands of coconut in between. Lightly sweet. Unfortunately, the accompanying scoop of ice cream melted really fast and was your run off the mill vanilla ice cream.


Yogurt and Buttermilk Panna Cotta with Seasonal Fruit
This dessert was actually more yogurt then panna cotta, smooth and semi liquid. The layer of blueberry was sweet and complemented the yogurt quite well. It was topped with this brownish looking muesli bars that stuck to my teeth when I chewed on it. Nice but majorly irritating.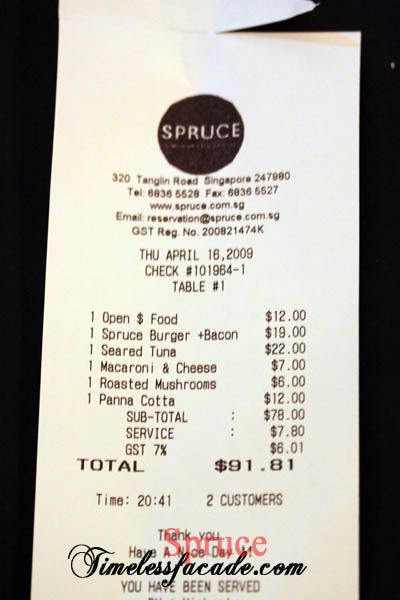 Bill
Generally speaking, prices aren't really over the top but food quality could be improved quite a bit in general. Service in general was good but there was this young waiter that stood out with his earnest attitude and attentiveness. Pity I didn't catch his name. Spruce is worth a try, just for the burger, but probably not worth a return. By the way, parking is free.
Final Verdict:
Ambience:7/10 (I would have given 7.5 if not for the bugs)
Service:7/10
Food:6.5/10 (7.5/10 for the burger)
Value for money:6.5/10
Overall:6.75/10
Address: 320 Tanglin Road, Phoenix Park.
Contact: 6836 5528
Opening Hours:
Weekdays: 10.30am - 10.30pm
Weekends: 8.30am - 10.30pm