The soft patter of raindrops. Light jazz music amidst the soft incessant buzz of the place. Sipping tea with finger food at a leisurely pace while time flittered by. This was the life I had envisioned at
Marmalade Pantry
and the dream proliferates at TWG.
Cleverly perched on a "suspended" standalone area within Republic Plaza, you have to walk up a short flight of stairs from the first floor which will lead you to the sales area with its shelves of gourmet tea as well as the restaurant. TWG can only take about 30 people or so and oozes cosy warmth with its intimate dining area, huge glass windows with translucent curtains coupled with a glass ceiling.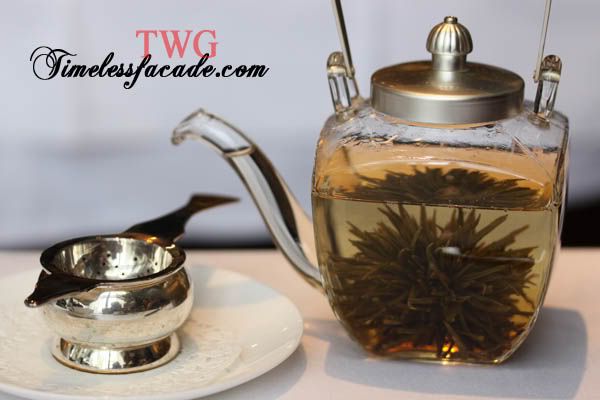 Imperial Rose

I am honestly not a tea connoisseur but the Imperial Rose, which is a specialty brew of TWG, tasted very much like a Chinese tea, 铁观音.


Sandwiches
This came as part of my tea time "Celebration Set". 8 half slices of bread sandwiching prawns, crab meat, foie gras and smoked salmon respectively, it appealed to my visual senses with its presentation. However, even though the bread was nicely toasted, I didn't quite take to them. The crab meat and prawns sandwiches were passable but the smoked salmon was way too salty and the foie gras just didn't come across as appetising, both in smell and taste.


Salmon A La Russ
I can't say much about the smoked salmon except that it was salty and came topped roe. However, the brioche that was served alongside was interestingly good. It actually tasted like croissant - flaky and buttery.


Macarons
Another component of my tea time set, we chose praline, lemon and napolean tea macarons from the 6 or so varieties TWG carries. Personally I still prefer their vanilla macaron, something which they didn't have at that point in time.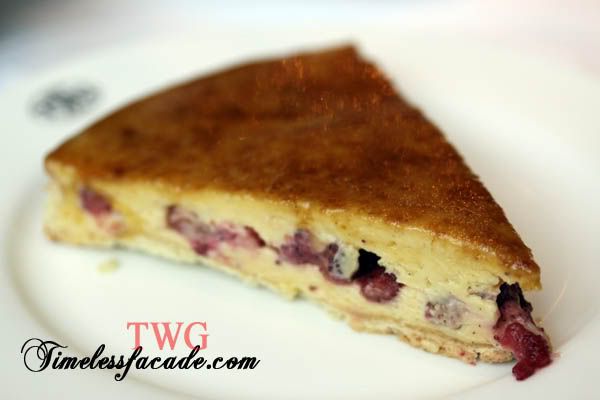 Strawberry Tart
Insipid as it looked, the strawberry tart came highly recommended by the staff. And I was rather impressed. It was essentially vanilla bean creme brulee sans the caramelised layer with bits of strawberries sandwiched in between and served on a tart base. A stellar example of never judging a book by its cover. Best of all, it was part of my set as well.


Crumble
I didn't have much of the crumble so I shall reserve my comments. The ice cream sounded interesting though - Napolean Tea cheesecake ice cream, which was apparently very well received by the aspiring
tai tai
who sat across from me.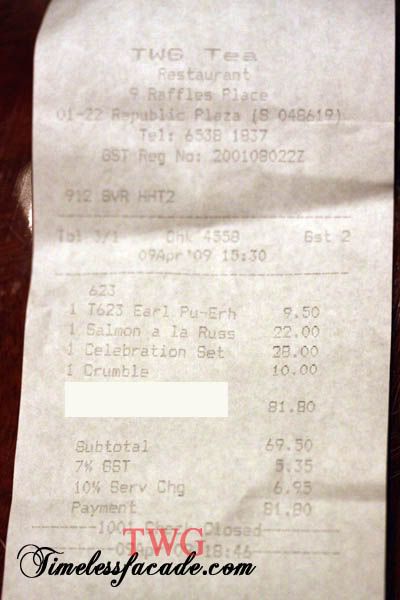 Bill
A 3.5 hr tea session cost us about $82, which probably isn't the cheapest place to chill out but for the delightful ambience and earnest service, its probably worth it to dig deep into your pockets just for a relaxing afternoon at this place with your partner or alone with a book.
As the first signs of dusk seeped through the windows and I played observer to the throngs of working people frantically crossing the street to catch the next train home, I was reminded of my own reality - one that had no affinity with this almost surreal lifestyle.



Likes: Very nice place with good service. Variety of tea is extensive.
Dislikes: Don't open on weekends, rather pricey


Final Verdict:
Ambience:8/10
Service:8/10
Food:6.5/10
Value for money:6/10
Overall:7.125/10

Address: #01 - 22, Republic Plaza

Contact: 6538 1837

Opening Hours: Monday-Friday, 10:00 am - 8:00 pm

Website: http://www.twgtea.com/