Attended the annual food bloggers lunch at Gunthers, the eponymous modern fine dining French restaurant helmed by Chef Gunther Hubrechsen, who trained under Chef Alain Passard at the 3 Michelin star L'Arpège in Paris and had a 5 year stint with Les Amis. Opened in August 2007, Gunthers has consistently garnered rave reviews from various media for its refreshing twist to classical French food.


Interior
The whole place isn't big actually, even more so the private dining room, which was slated to accomodate 24 of us. And because it was a long table, there wasn't much room to manoeuvre around which made it quite cramp (for me at least). Decor came across as simple and minimalist with dark wall tones and carefully placed spotlights - not so much the romantic ambience, but more for business.


Complimentary Bread
The complimentary bread tasted like normal baguette to me, just a little chewier on the inside. Nothing special.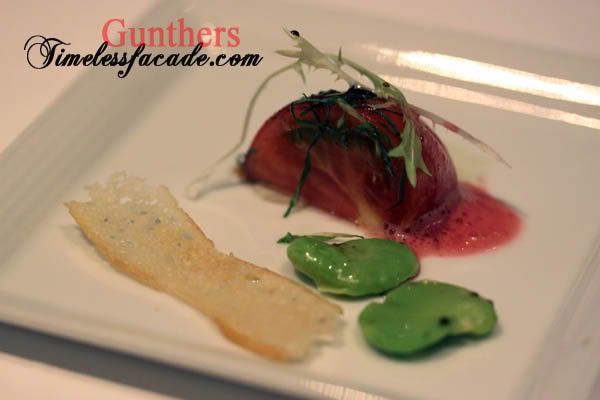 Amuse Bouche
I didn't quite take to the amuse bouche, which was a slice of tomato drizzled with a vanilla bean foam served with fava beans and a slice of ciabatta. The foam and vanilla beans seemed more for decoration then anything else and the tomato taste overwhelmed.


Cold Angel Hair Pasta, Oscietra Caviar
One of Gunther's signature dishes, this was quite tasty but I would have preferred my pasta to be more al dente. The chopped chives and truffle oil gave it a smooth savoury taste coupled with a fragrant truffle aroma while the chilliness of the pasta contributed a nice refreshing sensation. Apparently this dish goes for $60 in the ala carte menu, but portions are definitely much much bigger.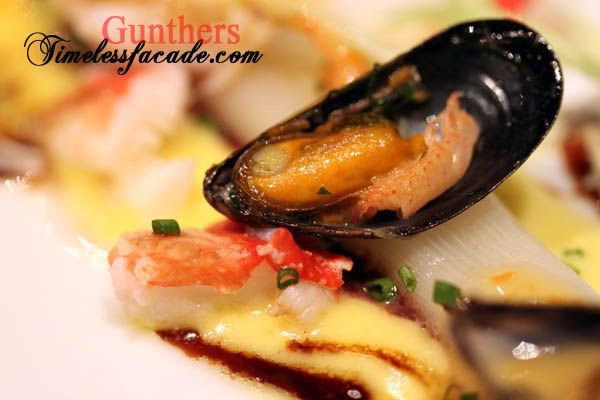 Poached White Asparagus, Bouchot Mussels
White asparagus is essentially asparagus that comes from the process of etiolation, which is the deprivation of light. No chlorophyll can be produced without sunlight hence there is no green colouring in the plant. As such, it is slightly milder in flavour and a little more tender then normal green asparagus. I thought that Gunther's rendition of this vegetable was a little lacking. The single stalk of asparagus was poached until it became overly soft and mashy. The accompanying sauce was excellent though, with a hint of cinammon that went very well with the tiny morsels of seafood.


Grilled Cote de Boeuf, Japanese sweet-corn, sauce Bordelaise
The beef was done to a perfect medium rare with a nice slightly charred exterior that hinted strongly of salt. There was one small fault though. The red wine/vinegar reduction seemed a little too rushed, resulting in a lightly sour note as you chew on the meat. I liked the grilled sweet corn that came alongside. It provided a sweet refreshing punctuation in between intakes of beef.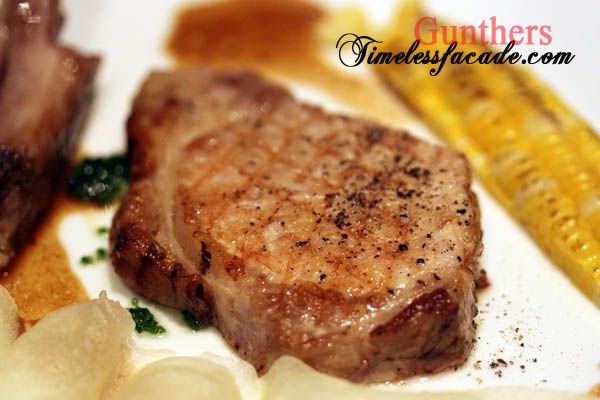 Roasted Black Pig from Spain (Pata Negra)
The pork was a substitute for the Grilled Cote de Boeuf in case anyone didn't take beef. But that's not to say that this dish was lacklustre in comparison. On the contrary, this was one quality piece of meat from the Black Iberian Pig, which is known for its ability to accumulate fat under its skin and between the muscular fibres. Read. Exorbitant prices. Execution wise, I thought that the pork was evenly roasted to produce a tender yet succulent piece of meat that literally left me wanting for more. The only complaint I had was that the meat was overly salty.


Fine Apple Tart a la Dragées, Havana Rum Raisin Ice Cream
Apparently Gunther's signature dessert, the apple tart's crust reminded me of the crust found in the Chinese red bean paste pancake, save for the toppings of nuts on top. The stuffing of apple chunks weren't too soft but lacked the sourish aftertaste in my humble opinion. The rum and raisin ice cream was interesting but somehow I don't remember rum and raisin tasting anything like this, or am I just a die hard alcoholic?
As this was a special arrangement by Gunther's for this particular event, we were fortunate to have been able to try out so many dishes for $45 nett/pax. I would like to end off with a thank you to the organisers for the invite. Cheers.
Final Verdict:
Ambience:7/10
Service:7/10
Food:7.5/10
Value for money:NA
Overall:7.16/10
Address: 36 Purvis Street, #01-03
Contact: 63388955
Opening Hours:
Monday to Saturday - 12pm to 3pm
Monday to Sunday - 630pm to 1030pm
Website: http://www.gunthers.com.sg
Chef Gunther