Cassia is a tree that is related to Cinnamon and from which the spice, cassiabark, is derived from. It also happens to be the name of the newly opened Chinese restaurant at Capella Singapore, which offers traditional Chinese cuisine blended with haute Cantonese techniques. In short, modern Chinese cuisine. The place is helmed by Executive Chef Ooi Soon Lock, who had stints in HK, Malaysia and Ritz Carlton Singapore.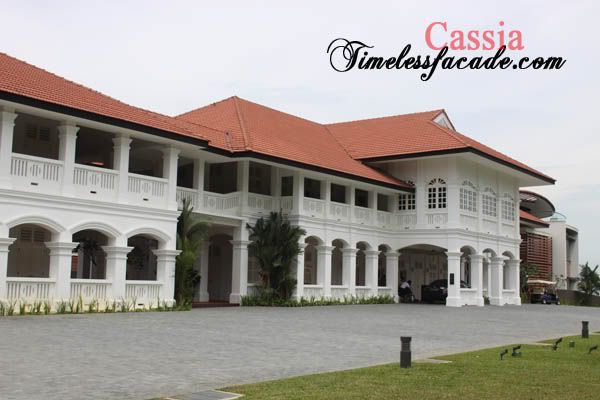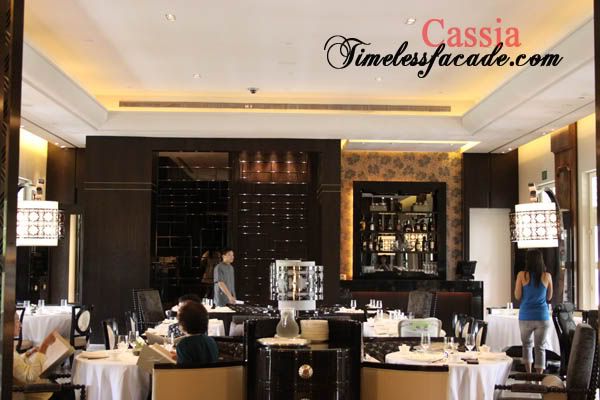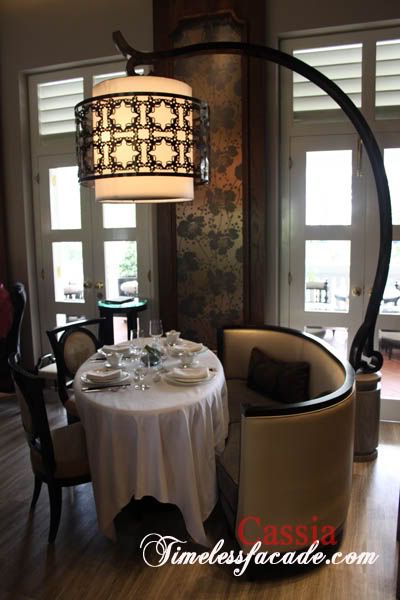 Exterior & Interior
Located at the upmarket Capella Hotel at Sentosa (where rooms start at $650/night), Cassia sits on the 3rd story of this stunning colonial style hotel complete with a sprawling driveway. The restaurant in itself is another work of art, with its lime stone lined entrance and intricately cut black lamp shades that provide a nice warm glow to the place. Seats are comfortable with plush cushions and the cutlery reads Narumi and Christofle - really expensive stuff.


Amuse Bouche
Served chilled, the amuse bouche of dragonfruit, pork belly and mango was quite a novel way to start off. The pork was surprisingly firm with a mild hint of barbecue sauce but the fruits didn't quite feature in the overall taste.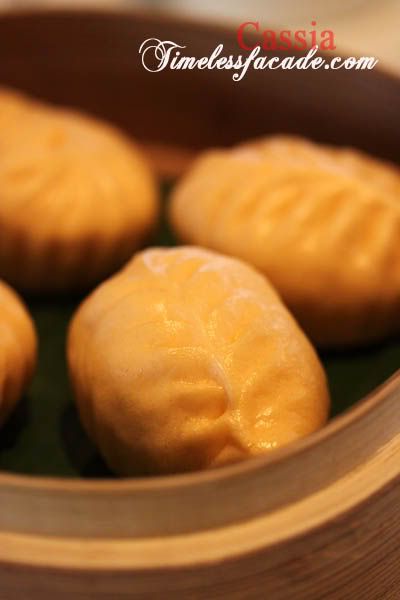 Steamed Milk Custard Bun with Salted Egg Yolk
The custard bun didn't come in the customary bun shape but in a oblong dumpling shape. It was evidently hand made from the nips in the skin. The custard filling was smooth with traces of egg yolk sediment but reminded me uncomfortably of
kaya
(coconut jam). There was an overload of flour as well.
Deep Fried Spring Roll with Prawn, Garlic and Mozzarella Cheese
I thought this dish was quite decent, with the spring rolls crisp without coming across as too oily. The prawns were crunchy but I couldn't quite make out the taste of cheese though. Nice as a finger food.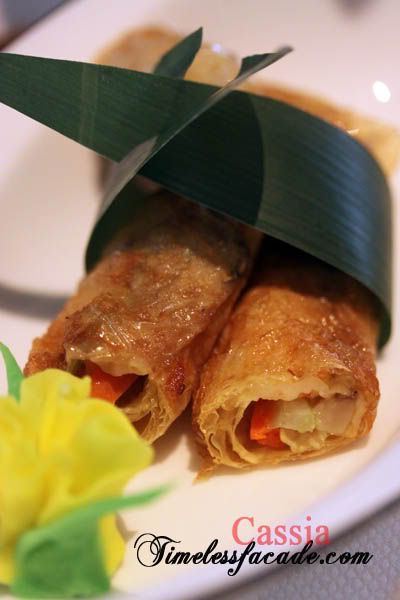 Pan Fried Bean Curd Skin Rolls with Chicken and French Foie Gras
Foie gras is the key here but sadly, I couldn't quite make out any in the rolls. The beancurd skin was limp and not the least bit crisp but at least the prawns were evident and crunchy. Now where's my foie gras?

Wok Fried Carrot Cake with Crisp Garlic in Pi Fong Tang Style
Honestly, I have no idea what constitutes Pi Fong Tang Style but I do know this. The carrot cake was too soft and mashy. And honestly, it could really do with a little more flavour. On the upside, it wasn't excessively oily and deep fried garlic is always nice, albeit irritating as it tends to stick to your teeth when chewing.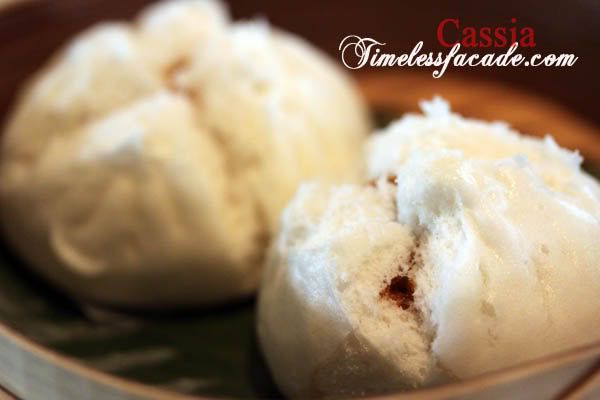 Steamed Barbecued US Berkshire Pork Buns
I must admit that I enjoyed the pork buns aka
char siew bao
. The
char siew
filling wasn't cloyingly sweet and the meat pieces were plump and juicy. The skin was soft and moist too, just that there was a little too much flour.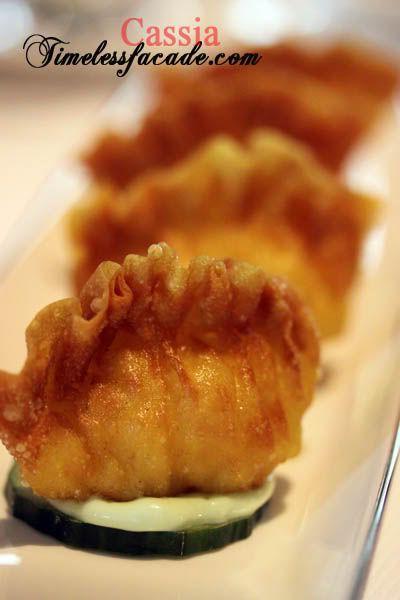 Crispy Prawn Dumplings with Wasabi Mayo
Comfort food to say the very least, the crispy prawn dumplings weren't out of the ordinary but competent enough to warrant a decent grade. The wanton skin was crackling crispy and the prawn huge and sweet. It was served on a cucumber spread with a thick layer of wasabi mayo that didn't threaten to overwhelm.


Steamed Crystal Shrimp Dumplings with Bamboo Shoot and Celery
The quintessential dim sum dish -
har gao
. The skin was thin and slightly elastic while the whole prawn was fresh and crunchy. The addition of bamboo shoots and celery gave it an extra crunch but thats about it.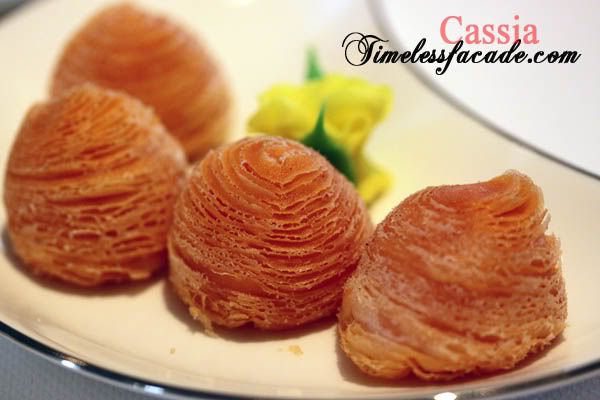 Deep Fried Thai Papaya Puff
This is actually quite interesting stuff and I must admit that its the first time I'm having something like that. The pastry was flaky and inside was mashed papaya that came across as mildly sweet. Would probably be more suitable as a dessert in my humble opinion.


Pan Fried Australian Minced Wagyu Beef Bun with Truffle and Water Chestnut
I have mentioned this countless times and I shall say this again. Mincing wagyu beef is a blatant and shameful waste of good beef. And this was no exception. The bun was speckled with sesame seeds and then pan fried till the seeds turned golden brown. There was no inherent beefy taste and in its place, a strong taste of spring onion. The water chestnut gave it a nice crunchy texture though. In case you are questioning where the truffle went to, I have that same question in mind.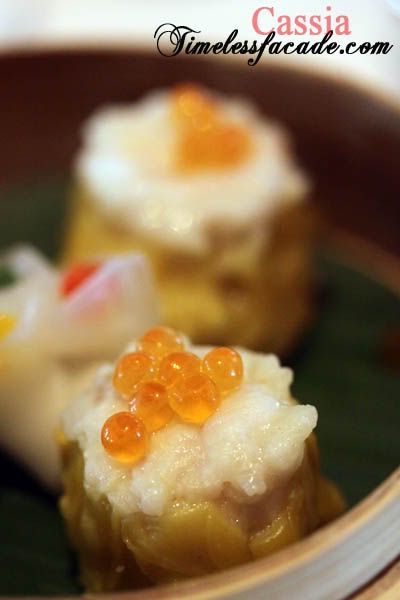 Steamed Sui Mai Dumplings, topped with Norwegian Salmon Roe
The filling in the
siew mai
was probably part pork, part prawn paste, hence the noticeable absence of the porky taste. However, the salmon roe proved to be a little too fishy for me and this dish in general. I wonder if the roe could have been better utilised?
Baked Farm Egg Tart
I thought that the egg tarts were quite decent, albeit rather smallish in size. The crust wasn't too flaky and had a oat aftertaste (oat flour?) while the custard was quivery and not too sweet. Nice, but not that nice.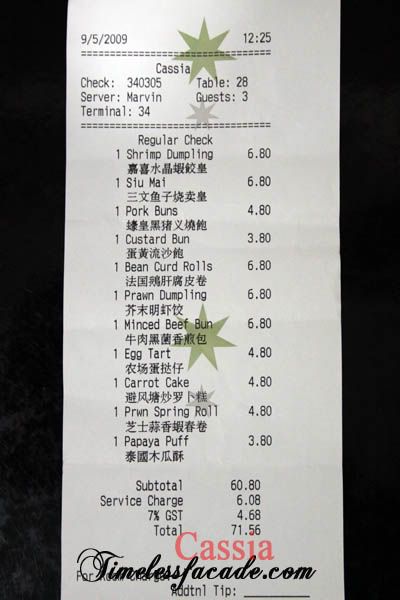 Bill
An uninspiring and partially filling dim sum session set the 3 of us back by about $72, which isn't alot of money. Food hovers around average to slightly above average but with the quality and quantity, I'll be hard pressed to find a reason to return. Maybe only for the ambience and exclusivity? And even if I do, I'll probably just stick to the dim sum. I mean, with prices like $12/pax for tea or $5/bowl of rice, one would be either have to be obnoxiously rich or simply deranged to actually do dinner.
Final Verdict:
Ambience:8/10
Service:7.5/10
Food:6.5/10
Value for money:6/10 (for dim sum only)
Overall:7/10
Address: 1 The Knolls, Sentosa
Contact: 6591 5050
Opening Hours:
Lunch: 12pm - 2.30pm
Dinner: 6.30pm - 10.30pm
Website: http://www.capellasingapore.com/cassia-restaurant.php