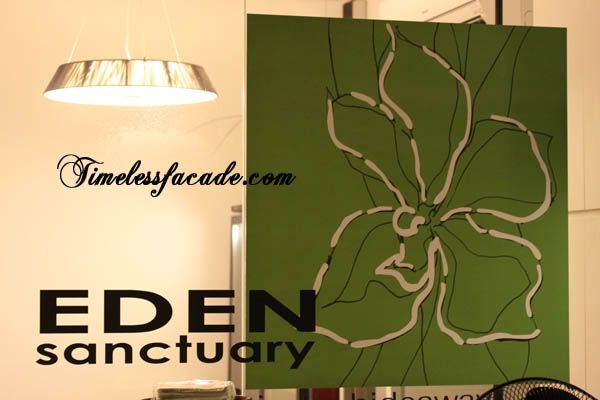 It was a long time coming and I finally made a trip to try out Eden Sanctuary, the younger sibling of
Eden Cafe
at Club Street, which has since ceased operations. Like its sibling, Eden Sanctuary promises simple healthy cuisine with floral and herbal influences.
Wedged right at the end of the upmarket Rochester Park, Eden shares the compound with Body with Soul, a health care centre that offers physiotherapy treatment, nutrition advice and the likes. So in a certain sense, both outfits complement each other. Eden comprises mostly al fresco seating with probably about 3 -4 tables indoor. The entire place exudes laid back comfort amidst the shadow of the HDB flat towering behind, a small oasis next to the urban jungle.


Uplift & White Wine Tea
Creamless Mushroom Soup
This has got to be the healthiest mushroom soup that I've ever drank. Its essentially 4 types of mushroom and chicken stock blended together and served with 2 small strips of wholemeal bread. Not that it tasted bad. In fact, I found it very satisfying with chunks of mushroom and the pure unadulterated mushroom taste sans the creaminess.


Pear Rocket Salad
The salad was huge and could have passed off as a main for a relatively moderate eater. Its a simple salad with slices of pear, orange, arugula, feta cheese and drizzled with a calamansi, apple cider vinegar, olive oil and honey concoction. The sauce was noticeably light and all in all the salad was a good way to start off.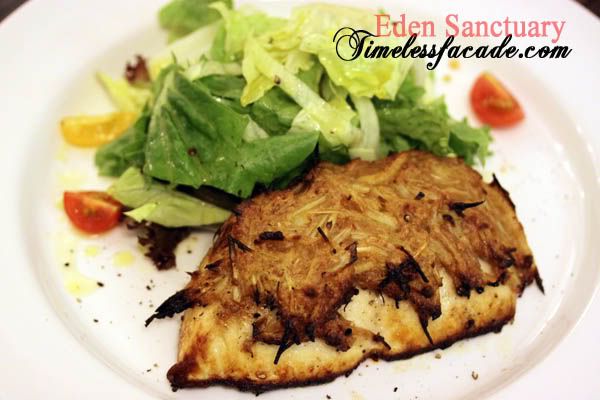 Ginger Leek Peanut Butter Fish
To be honest, the fish didn't look the least bit appetising. However, it was actually quite good even though I really hate ginger to the core. At least the ginger wasn't too prominent in the peanut butter sauce. Whats interesting is that the sauce is coated onto the butter fish and baked, leaving a semi solid paste that hinted of ginger and peanut butter.


Tarragon Garlic Chicken
Tarragon is actually a relative of the sunflower family and carries a somewhat bitter anise flavour to it. This was not very evident in the chicken and I couldn't quite make out any garlic as well. But to give credit where its due, the chicken was deboned thigh meat that came across as very tender and juicy. Great execution but probably a little too light for my preference.


Tofu Cheesecake
The sour cream in this cheesecake is replaced by tofu, which gives it an interesting tofu taste and ups the health factor. Throw in a base made solely from digestive biscuits and you have a light yet tasty cheesecake that wouldn't pose too much of a problem to your health.


Chocolate Banana Oreo Cheesecake
As sinful as this dessert sounds, its actually not that rich. On the contrary, it was rather light on the palate even with the bananas and chocolate. You get the nice soft texture of banana coupled with a mild chocolaty sweetness amidst layers of foamy light cheesecake. Very good!


Bill
With a 10% discount, the bill came up to almost $109 for a soup, a salad, 2 mains and 3 desserts, which is a little on the high side but take away the cost of the teas and the price drops to a more manageable $90. Food quality is decent and I can forsee future visits when my health conscious side appeals to me.
Final Verdict:
Ambience:7/10
Service:7/10
Food:7/10
Value for money:6.5/10
Overall:6.875/10
Address: 44 Rochester Park
Contact: 67771189
Opening Hours:
Sunday to Thursday & Public Holiday - 930am to 10pm
Friday, Saturday & Eve of Public Holiday - 930am to 11pm
Website: http://www.edensanctuary.com.sg/