53 - the newly opened dining collaboration between lawyer turned chef, Michael Han and the Les Amis group. Chef Han, who trained at the prestigious Fat Duck in England, brought along Fat Duck's 2nd pastry chef, Leoandro, to helm 53's pastry department. What makes this restaurant stand out is that there is no ala carte menu, which means the chef decides, to a certain extent, what you eat.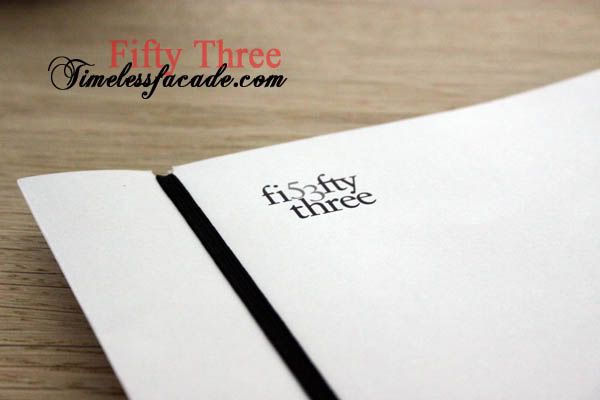 Interior & Menu
Aptly located at 53 Armenian Street, the restaurant is situated in a double story shophouse with the private dining room and kitchen located on the first level and the main dining hall and wine cellar on the second. The place is tiny and sparsely furnished with simple tables and chairs and the main dining area can probably only accommodate about 5 tables for a total capacity of 20. Hence reservations are of utmost importance. Try making them at least 2 weeks in advance.


Iced Water
I thought that the sky juice (no still or sparkling nonsense) deserved a mention because the serving jug has a piece of charcoal in it, which is said to remove the harmful particles in water and allow good minerals that are essential to the body to pass through. Reminds me of charcoal tablets.


Potato Crisps
A most interesting appetiser, the potato crisps were served on a charcoal holding stand and dusted with vinegar. The crisps were, well, crisp and not too dry with a light sourish hint of vinegar. Great way to start off.


Complimentary Bread
The complimentary buckwheat (from Manitoba, Canada) bread came served in a sack that promised to keep the bread warm for 20 minutes. The secret lies at the bottom of the sack, which contains pebbles that are heated before the bread is served and dissipates heat to keep the bread warm. Ingenious! The bread looked like a muffin but outside was hard while inside was rather spongy. Served alongside was a dish of buttermilk butter that was sprinkled with buckwheat. Very nice!


Air Cured Wagyu and Hibiscus, Beetroot and Apple
I thought the pairing of cured wagyu and beetroot was rather interesting, if outlandish. 53 proved me wrong though. The wagyu had a nice salty tinge to it while the beetroot gave it a mild sweetness. Nice subtle contrast. The beetroot sorbet added an almost surreal chilling dimension to the dish. Mind boggling!


Scallop and Buckwheat, Chicken "Oysters" (+$10)
I'm guessing the chicken pieces look like oyster hence the name? And they were probably the best chicken pieces I've eaten in a long long time. They were extremely tender and tasty but the less then generous portions kept my cravings in check. The scallops were seared to perfection with the right texture and came across as very flavourful as well.


Beef Cheeks and Onion, Pearl Barley and Watercress
This dish was a little of a let down. I couldn't quite make out any inherent beefy taste and the beef cheek was all shredded and almost pulp like. It was just salty with a little sweetness, probably from the barley. A nausea inducing dish.


Barramundi, Blackberries and Green Beans
The fish was freshly sweet with the skin nicely crisp but a tad salty. I am guessing the extra salt is useful and delightful in contrasting the sweetness from the blackberry and pear jam thats smeared alongside. And the whole dish was topped with a slice of amazingly thin Ciabatta that rendered me speechless.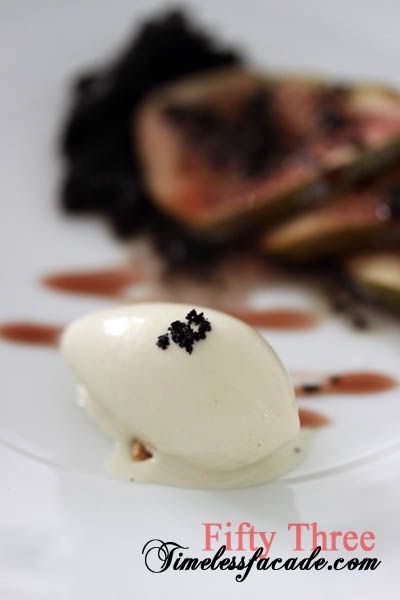 Szechuan Peppercorn Ice Cream, Roasted Figs and Olive Puree
I've never been a fan of figs but this one was surprisingly acceptable to me (I only managed to finish 1 slice though). What was interesting was the ice cream, which came across as very "perfumy" so to speak with a mild numbing sensation from the szechuan peppercorn. The little black speckles atop were actually olive sprinkles that gave it a light savoury taste. Very interesting combination.


Chocolate Caramel, Enoki and Raspberries
Another interesting piece of dessert. The chocolate caramel was gooey and came with enoki mushrooms which surprisingly accentuated the taste of the caramel. Dried raspberry cubes by the side complemented the dash of peanut butter very well and was almost reminiscent of the peanuts in a peanut butter spread. And to top everything off, there was the raspberry sorbet for a sourish and chilled finish.


Apple Risotto and Rosemary
Tiny cubes of apple cooked the risotto way, with constant adding of apple juice - that's how this dessert was made. I thought that it was nice and mildly sweet with a subtle lingering taste of ginger. The risotto texture was crunchy and the rosemary foam was light as air and hinted of rosemary. Interesting to say the least.


Petit Fours
The perfect Gin and Tonic sweet is what 53 calls its petit fours and rightly so. How the sweet works is this. You place it on your tongue and let it slowly dissolve to release the gin tonic taste. When you decide that its too strong for you, just wash it away with water. Quite a novelty I must say.


White Tea
Bill
It was without a doubt, a most excellent lunch that definitely warrants revisits, especially for dinner. But prices are steep, with lunch costing the 2 of us just over $140 and that's with 2 pots of complimentary tea that would have gone for $12++ a pot from the menu. Quality of food is top notch and so is service. And there is an air of exclusivity around it as tables are limited.
Final Verdict:
Ambience:7/10
Service:8.5/10
Food:8/10
Value for money:6.5/10
Overall:7.5/10
Address: 53 Armenian Street
Contact: 63345535
Opening Hours:
Lunch: 12noon - 2pm (Tue-Sat)
Dinner: 7pm - 9.30pm (Mon-Sat)
Website: http://www.fiftythree.com.sg/
And we decided to take a shot of the culinary geniuses behind the restaurant. Chef Michael Han wasn't in town, so we had to settle for his talented pastry chef ;)
Chef Leandro