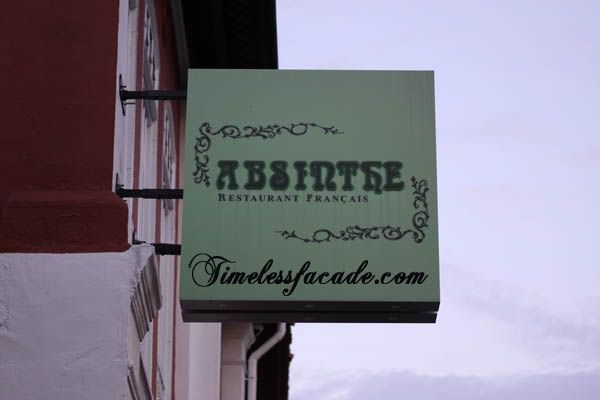 Absinthe - a green alcoholic spirit which was more commonly known as the green fairy because of its purported hallucinogenic effects. It also happens to be the name of upmarket French restaurant jointly owned by the folks from OSO, restaurant manager Philippe Pau and chef Francois Mermilliod of
Flutes at the Fort
fame.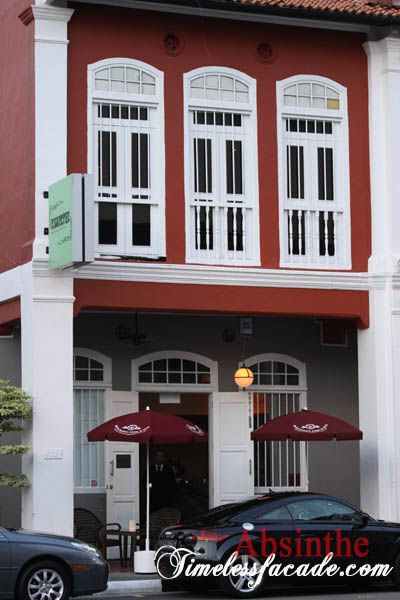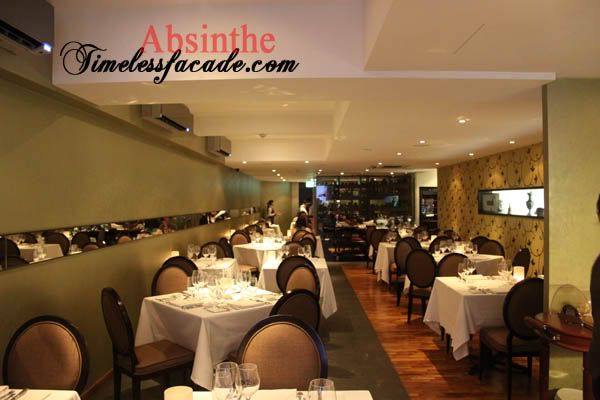 Exterior, Interior & Menu
Sitting pretty at the end of a row of shophouses along Bukit Pasoh Road and playing immediate neighbour to OSO, Absinthe's green signboard, which is a nod to the greenish colour of the alcohol, greets you from a distance. The swanky interior boasts low ceilings and parquet flooring coupled with ambient ceiling lighting for a relaxing dining experience.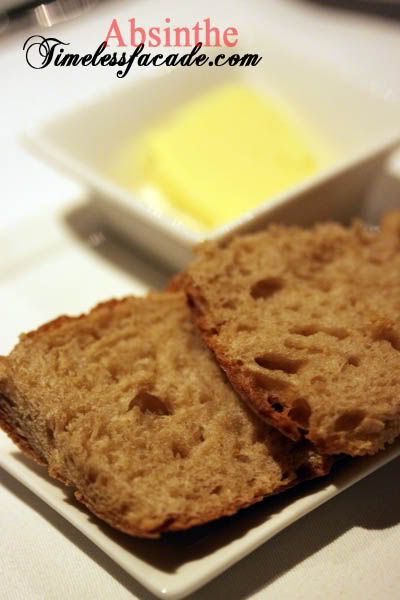 Complimentary Bread
When the first round of complimentary bread hit us, it was actually quite good. Crusty on the outside while retaining its softness and fluffiness on the inside. The second serving was akin to eating stones so I promptly gave up after a few mouthfuls.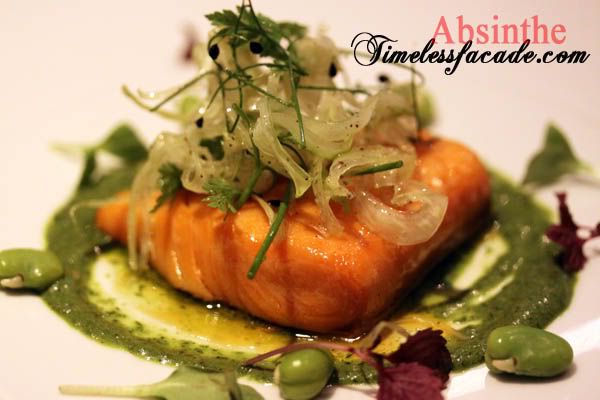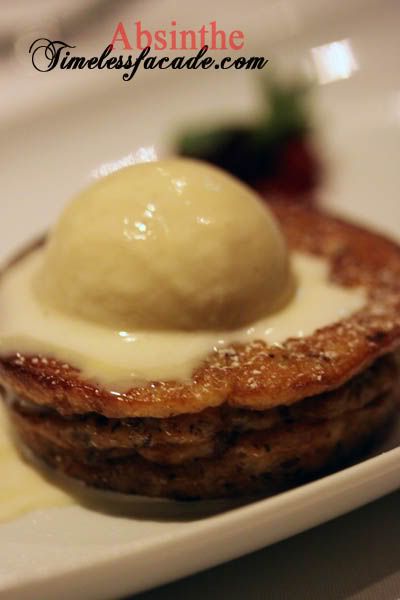 Stuff that weren't part of my degustation
Chilled Ravioli of Lobster with Lime Sabayon, Pink Guava Julienne and Shiso
Very interesting to say the least. This wasn't your typical ravioli. The skin was reminiscent of
har gao
and there were crunchy strands of guava nestled below it on a bed of fresh Boston lobster. The presence of fish roe gave it a nice salty taste while the lime sabayon was savoury with a hint of tartness. Very nice.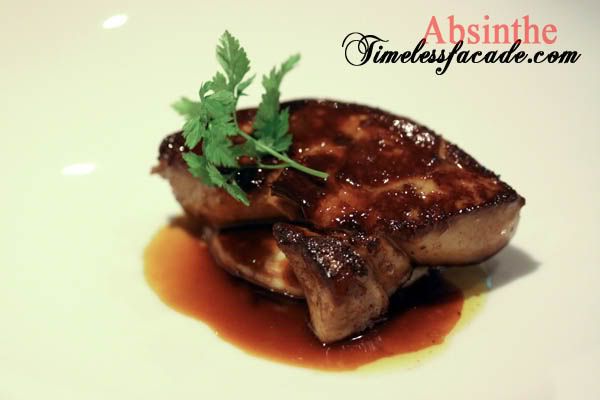 Pan-Fried Foie Gras with Warm Blinis and Wild Hibiscus Flower Compote
I thought that the foie gras was excellent. On par with what I had at
Sage
, if not better by a notch or two. Very well pan fried to a crisp on the outside yet melt in the mouth quivery on the inside with a hint of saltiness. The hibiscus flower compote provided a nice sourish dimension to the foie gras.
Hokkaido Scallop With Sea Urchin Emulsion and Small Herb Salad
Scallops never fail to entice me and Absinthe's rendition came with sea urchin emulsion, which was a first for me. The scallops were done tataki style, well seared on the outside but soft and relatively rare on the inside, which is a refreshing change from the usual seared scallops. I could make out a hint of fishiness amongst the predominantly salty emulsion. Overall another excellent dish.


Pork Belly
The pork belly was a special of the day and I requested this as my main instead of the lamb/fish option for my degustation and I am glad I did. The skin was very crispy, the fats were sinfully melt in your mouth and the meat fibrous with a generous dose of salt. And being pork belly, the ratio of fats to meat is a lot higher then other parts of the pig. Definitely not for the health conscious or faint hearted.


Crème Brûlée, Absinthe Sorbet
Apparently some of the ice parfaits didn't make it past the QC test that evening so I had a choice of crème brûlée instead. I wasn't too impressed by it though. The caramel layer was a little too overtorched, resulting in a rather burnt layer. On the upside, it was milky smooth with raisins in it. What I thought was interesting was the absinthe sorbet, which I had mistaken as lime sorbet at first sight. The sorbet had a very weak absinthe dosage, coming across more like liqurious with its herbal overtones.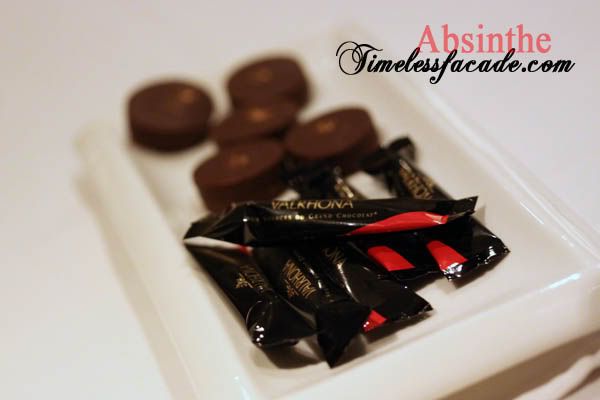 Petits Fours
I thought I used to see these packs of valhorna chocolates being served with hot milk but guess its just eaten straight out of the packet at Absinthe.
The degustation cost $98++ but because I requested to change my main to the pork belly, it cost me another $6++, bringing the total to $122.41 nett. Sure it isn't cheap, but the excellent quality of food and service more then makes up for it. I will definitely be back, but this time I'm aiming the private dining room for 4pax within the wine cellar.
Final Verdict:
Ambience:7.5/10
Service:8/10
Food:8/10
Value for money:7/10
Overall:7.625/10
Address: 48 Bukit Pasoh Road
Contact: 6222 9068
Opening Hours:
Mon-Fri: 12pm-2.30pm, 6.30pm-10.30pm
Sat: 6.30pm-10.30pm
(Closed on Sun)
Website: http://www.absinthe.sg
Facebook: http://www.facebook.com/pages/Singapore-Singapore/Absinthe/56794462597?ref=mf
Thanks to everyone for attending!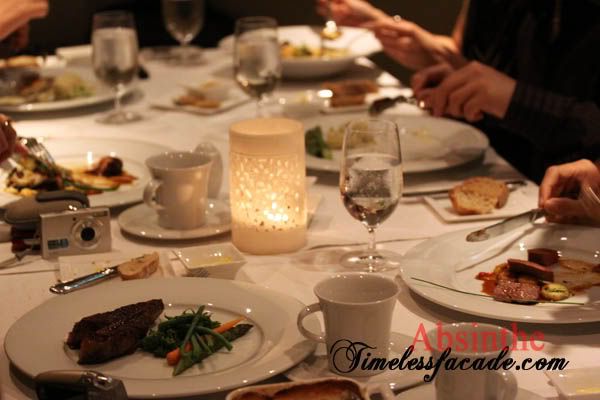 Check out the happy hands at our table