I've always meant to try out Chinese Box, a Chinese restaurant owned and operated by the same folks who holds the rights to Black Angus in Singapore. So when an opportunity to try out their food came knocking, I jumped at it.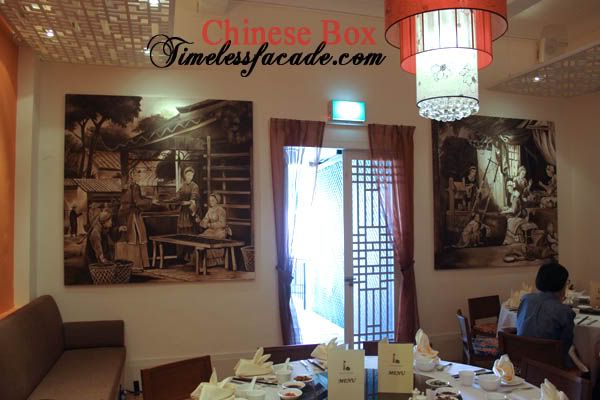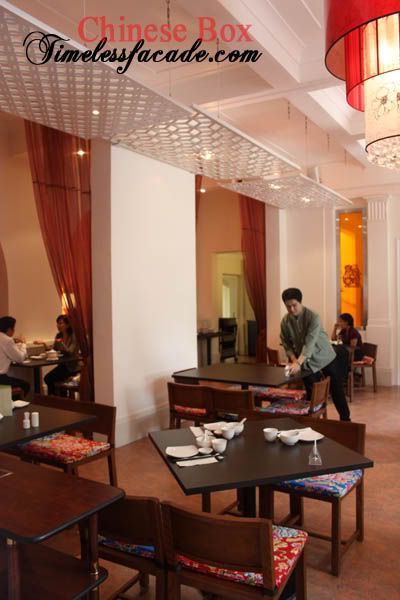 Interior
Opened in January this year, Chinese Box is hidden in the far reaches of the NUS law campus at Cluny Road. Getting there can be quite a headache as there are no clear signs as to how to reach the restaurant even within the compounds of the school itself. Housed on the first level of an old restored colonial bungalow (Black Angus takes the second level), Chinese Box boasts a classical chinese interior with a dash of colonial grandeur. Think white washed pillars, overhanging oriental lamps and and red translucent curtains.


Soft Shell Crab Roll & Vietnamese Mango and Duck Roll
The soft shell crab roll was crisp with a fleeting taste of sourish mango. I couldn't quite make out any taste of soft shell crab though, as it was overwhelmed by the leafy taste of the greens. The mango and duck roll fared slightly better. Drizzled with sweet sauce, it wasn't as leafy as the crab roll and I could still make out a faint fowl taste and texture. Not exactly the best way to start of the meal in my humble opinion.


Poet Drunken Chicken & Taro Strings
Honestly its the first time I'm having taro strings so its quite a refreshing change from the norm. Soaked in Szechuan chilli oil, the strings tasted a little like vermicelli, albeit a little firmer and thicker, making for a nice chewy and fiery sensation. The drunken chicken was well marinated in Chinese wine but came across as a little too salty.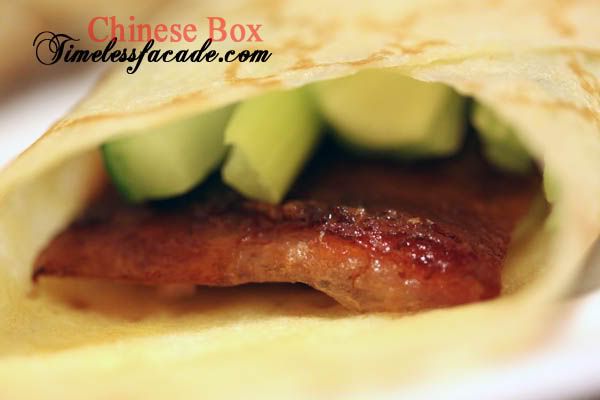 Chinese Box Signature Beijing Duck
Apparently, this is a signature dish of Chinese Box but I honestly thought that though palatable, it was no big deal. The skin was a wee bit crisp and served with meat, all wrapped up in a thin egg crepe, with some cucumber slices thrown in for the works. I have definitely eaten much better ones before.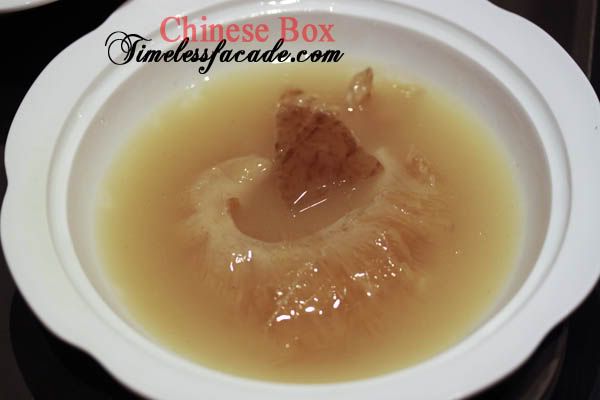 TeoChew TaiPan Superior Thick Shark's Fin Soup
The broth was thick and savoury without coming across as nausea inducing. The single fin was of quite a decent size but its texture reminded me somewhat of vermicelli, which was rather unnerving. I could make out a mild ginger taste in it as well. Decent but could be better.


Pan Fried Cod Fish Fillets in Superior Soy Sauce
Well fried till crisp but lacked the natural sweetness or smoothness of cod. Probably the redeeming factor would be the sweet sauce that came drizzled atop, without which, the fish would have tasted bland.


Signature Golden Roast Duck & Teochew Five Spice Meats Roll
Another signature duck dish, this time served with a roll of
wu xiang
. The duck's skin was rather limp and certainly didn't impress while the wu xiang had a nice crisp exterior belying an overly soft interior that was lacking in robustness of taste.
Stir-Fried Taiwan Pea-shoots
The pea shoots aka dou miao (豆苗) was quite well fried - not too soft yet retaining enough juices and mildly salty.


Signature Golden Tofu Bar with Sauteed Mushrooms
I think the word signature is used to death already. The word raises expectations a few notches and its cruel to be brought back down to reality. I like my tofu savoury with a hint of smokiness but Chinese Box's offering, though smooth, lacked just that. I liked the topping of mushrooms and dried scallops though.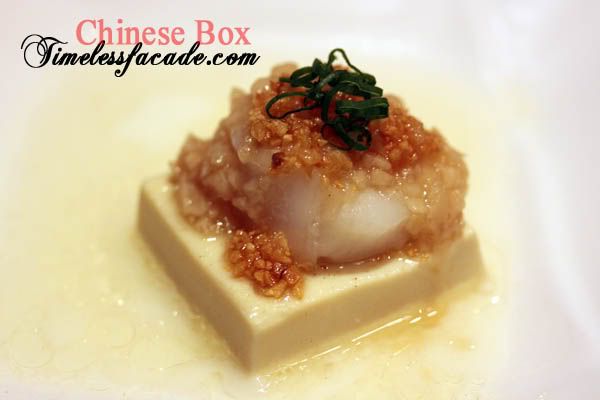 Garlic Steamed Fresh Scallop w/ Tofu
A huge steamed scallop showered with lots of deep fried garlic (a personal favourite) and fresh chopped garlic, served on a bed of steamed tofu. The garlic provided a nice crunch and aroma but covered the sweetness, if any, of the scallop. The tofu was smooth but not exactly soft while the gravy had egg white in it. All in all, I thought that the idea was there, just that the execution and proportions could have been better.


Taro Paste"Orni" w/ Pumpkin & Gingko Nuts
I love this effort intensive traditional Teochew dessert and have been fortunate enough to try out quite a number of renditions in Singapore and overseas. My take on Chinese Box's variation? Smooth but not fragrant, probably due to the exclusion of lard in it. And the taste wasn't robust enough for my liking. On the upside, it wasn't too sweet, which was a good thing.

I would like to take this opportunity to thank the management of Chinese Box for inviting me for this food tasting and to wish them well in their future endeavours.



Final Verdict:
Ambience:7.5/10
Service:7/10
Food:6.5/10
Value for money:NA
Overall:7/10

Address: 1D Cluny Road

Contact: 6219 7877

Opening Hours: 12:00 pm - 3:00 pm, 6:00 pm - 11:00 pm

Website: http://www.chinesebox.com.sg