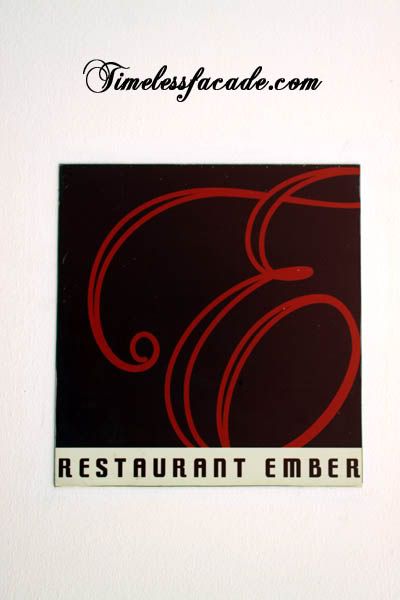 Lunch was at Ember, the European restaurant of boutique hotel, Hotel 1929. Dinner there more then
2 years back
was decent, but prices were rather steep, hence lunch this time round.
Interior
Strangely located at the former red light district of Keong Saik Road, Ember sits just next to the main lobby of Hotel 1929. The interior is smallish, allowing for only a cramp passageway to seperate the tables. Noise level here is still a problem as the ceiling is low and there is no avenue for noise to escape.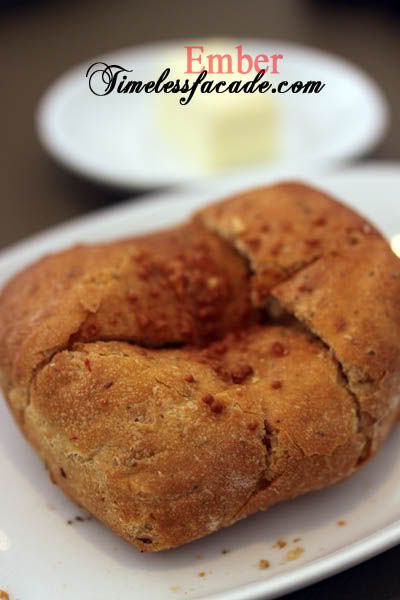 Complimentary Drink and Bread
I personally liked the bread quite a bit. It contained bits of cheese and sun dried tomatoes with crisp crust and tended a little to the savoury side. This is one bread I wouldn't mind having seconds, but alas time wasn't on my side.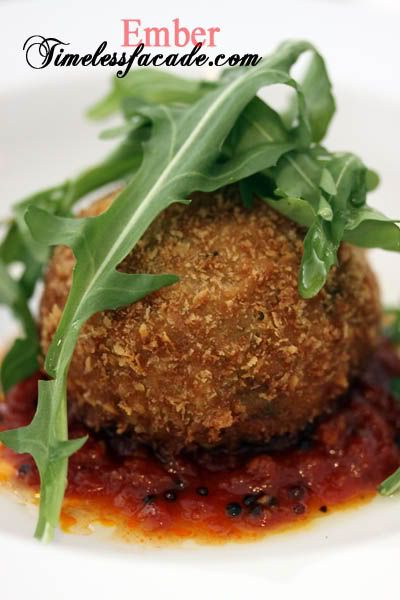 Spiced Crabcake with Tomato Chutney
You get a choice of tomato chutney or oriental sauce for the crabcake and the former was chosen. What I liked about this crabcake was the absence of the overwhelming fishy taste that is rather prevalent in alot of crabcakes. I did think that the crab meat to the tomato/capsicum/herbs ratio could have been higher. ie. more crab meat please.


Pan Seared Scallops with Bacon Beurre Blanc, Mesclun with Hazelnut Vinaigrette
The scallops looked absolutely mouth watering in my humble opinion. Very well seared on the outside (probably a little too well though) yet retaining its tenderness and sweetness on the inside. The bacon beurre blanc (rich butter sauce) was excellent with a nice smooth bacon taste. I might be biased though because I fancy bacon quite a bit.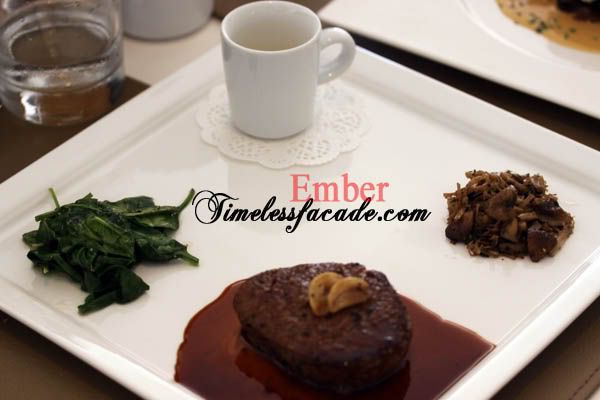 Pan Roasted Beef Tenderloin with Fricassee of Mushroom, Merlot Reduction
I had the tenderloin done medium rare and found it quite good - succulent and sweet. However, I did find the merlot reduction a little too sweet for my liking.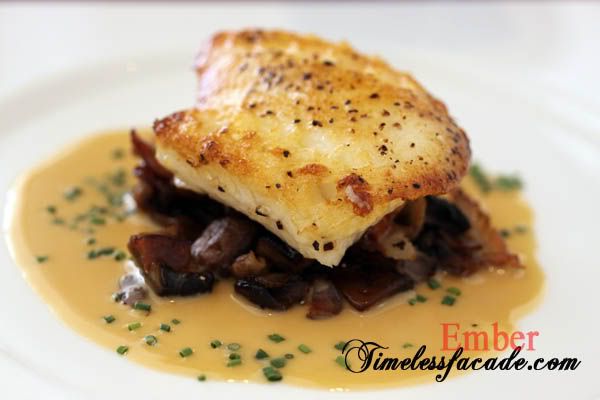 Pan Seared Chilean Sea Bass with Mushroom and Smoked Bacon Ragout, Truffle Yuzu Butter
Ember's ever popular cod fish was sold out so we had to settle for the sea bass, which honestly wasn't bad. Sure, the fish was a wee bit fishy but came with crisp skin and tender flesh. The star however, was undoubtedly the sauce, which was just wonderful - a little creamy with hints of bacon and mushrooms.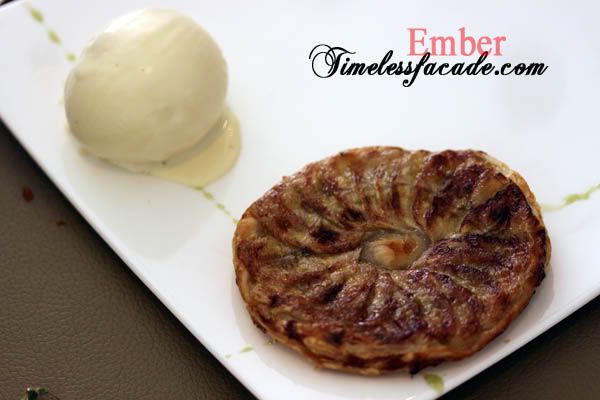 Warm Banana Tart with Homemade Lavender Ice Cream
I had this the last time I patronised and honestly, I couldn't quite take the "perfumy" taste of the lavender ice cream, which reminded me of eating soap, to a milder extent. Nothing has changed since then and I guess its just a personal preference. The banana tart on the other hand, was very edible. Flaky without the taste of banana coming on too strongly.
Goreng Pisang
anyone?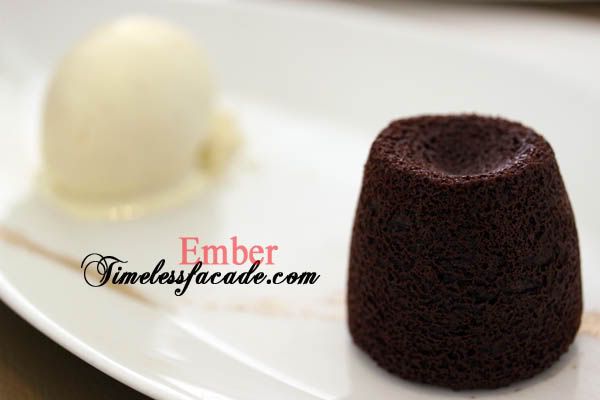 Warm Valrhona Chocolate Cake with Vanilla Bean Ice Cream
One of the best chocolate fondants I've had this year. Slightly hardened crust with a moist and soft center that oozed viscious molten chocolate when broken. Paired with vanilla bean ice cream, it's a great way to end the meal.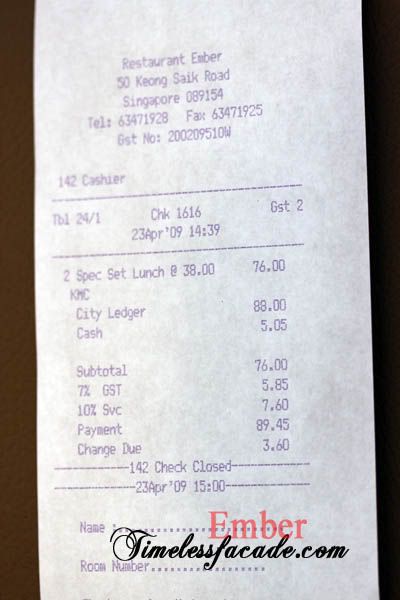 Bill
I must say I enjoyed the food more then I did 2 years back and it cost slightly lesser - $90 for 2 pax. The magic of set lunches. Service was great, except towards the end when the wait staff seemed in a rush to get off work and we felt the pressure to finish up quick. And one thing I noticed, the menu hasn't changed significantly since day 1. I guess practise makes perfect eh?
Final Verdict:
Ambience:7/10
Service:7.5/10
Food:7.5/10
Value for money:7/10
Overall:7.25/10
Address: Hotel 1929, 50 Keong Saik Road
Contact: 63471928
Opening Hours:
Mon-Fri:
Lunch: 11.30am - 2.00pm
Dinner: 6.30pm - 10.00pm
Sat:
Dinner: 6.30pm - 10.00pm(Closed on Sundays)
Website: http://www.hotel1929.com/hotel1929/dining/ember.htm