Another weekend, another Sunday brunch. But its the first time I'm having Chinese ala carte buffet for brunch and expectations were relatively high as Jing @ One Fullerton is under the same management as Majestic Restaurant, which has won top accolades for its Chinese food.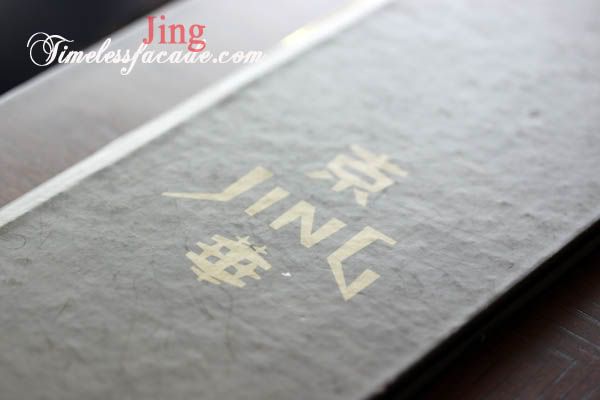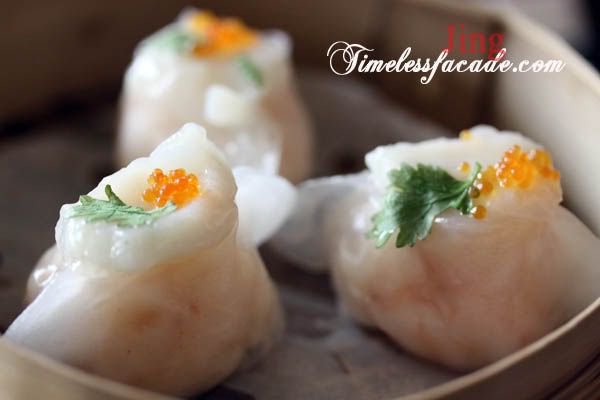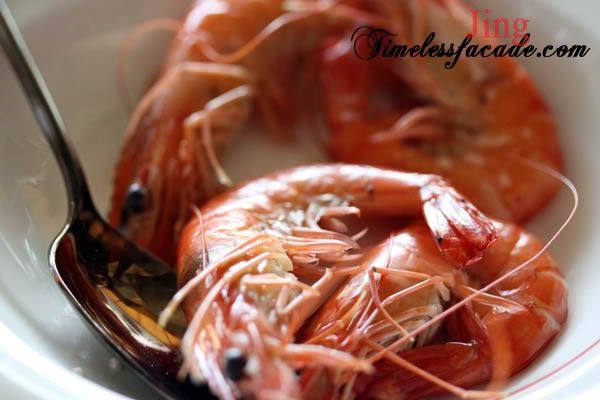 Typical modern Chinese restaurant but what sets it apart is the huge glass windows that allow plenty of sunlight in as well as views of the partially constructed IR just across the river. The booth seats look comfortable for a party of 3 or 4 but unfortunately we were relegated to the center tables. There is the problem of weak air conditioning too.
Variety
You get about 20 odd different types of dim sum , a tiny self service buffet station with duck, fruits and minimal desserts and the standard 4-5 items each of seafood, meat, vegetables, rice, noodles and the likes. There are certain restrictions on certain items. Ie. you get to choose 1 serving of either Chilli Crab or Soon Hock and soups are limited to 2 servings per table. If you are keen on the more premium items like boston lobster or shark's fin soup, be prepared to top up at least $10++ to $18++ more per pax for 1 portion. Drinks are chargable and the only things that are free flow are the Chinese tea and sky juice.
Quality
The quality is merely average in my humble opinion. Nothing quite stands out but nothing really sucked terribly either. If I had to choose, the best dish would probably be the crispy duck from the carving station. All in all, the dishes were palatable but honestly, don't expect too much. Think Crystal Jade La Mian XLB standard.
Service
Average service from wait staff that didn't seem very keen on serving. When I called to make a reservation, the lady on the other end of the phone wasn't particularly friendly either. No big boo boos but could be a lot better.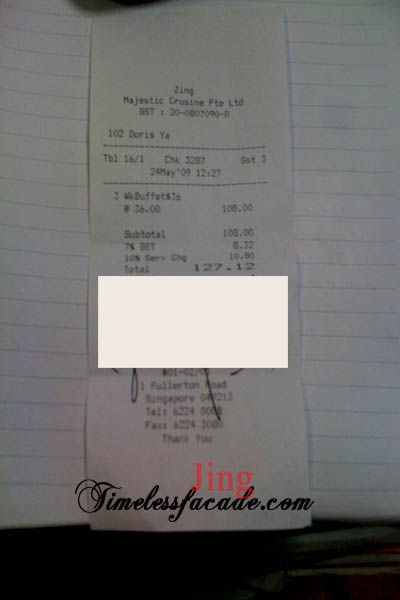 Value for money
At $36++/pax ($42.40 nett), I honestly thought that it was a little over the top. Food quality was generally average, the spread not exactly the most extensive and service, forgettable. I fail to see how Jing could have made a name for itself with such standards.
Final Verdict:
Ambience:7/10
Service:6/10
Food:6.5/10
Value for money:6/10
Overall:6.375/10
Address: One Fullerton, #01-02/03
Contact: 6224 0088
Opening Hours:
Lunch - 11.45am to 3pm
Dinner - 6.30pm to 11pm
Website: http://www.jing.sg/
On a more uplifting side note, desserts at Canele right after lunch at Jing were definitely more enjoyable and I'm surprised at how good they turned out to be.
Le Royale
Black Forest 2009
Barcelona