Was in the mood for a leisurely and luxurious Sunday brunch to whittle my time away and what better place to have it then at the opulent St Regis? Having a sizable discount definitely helped steer my decision though.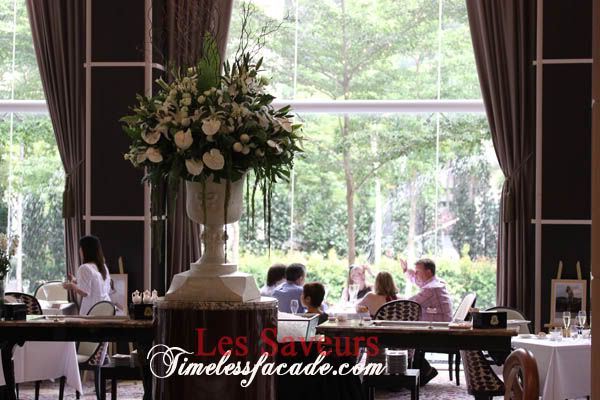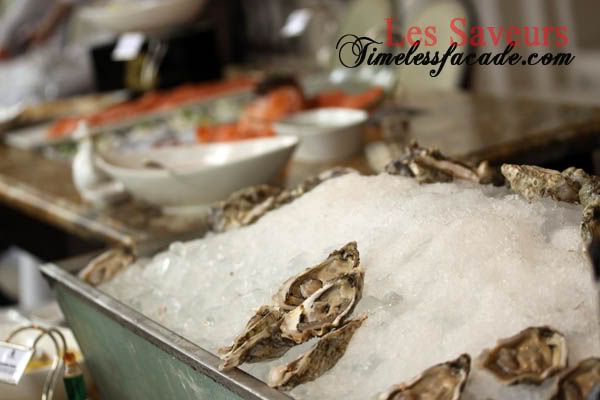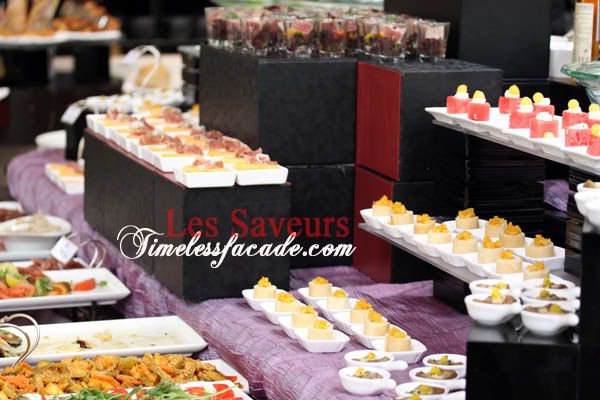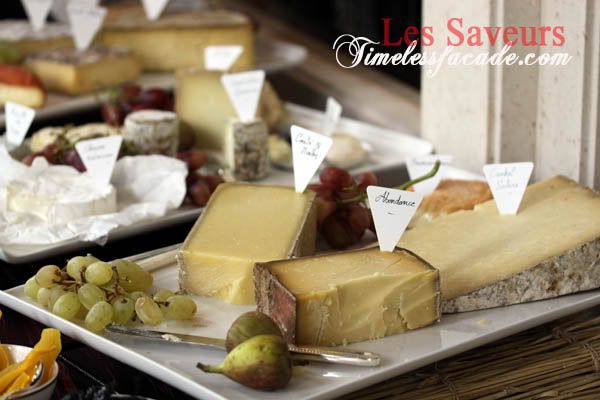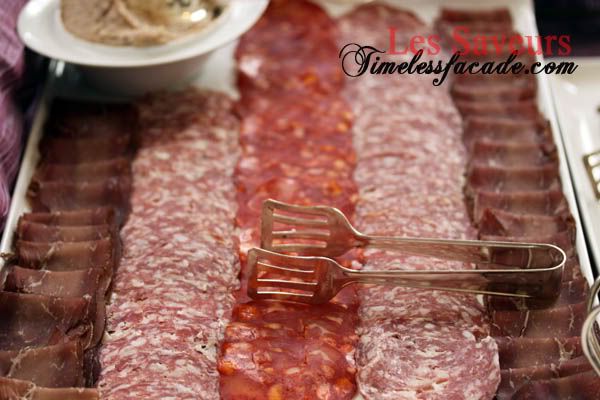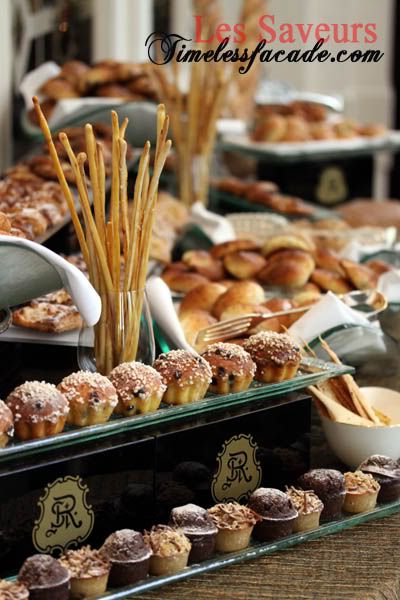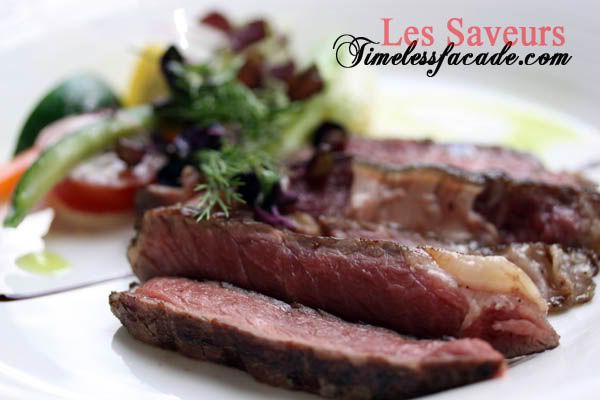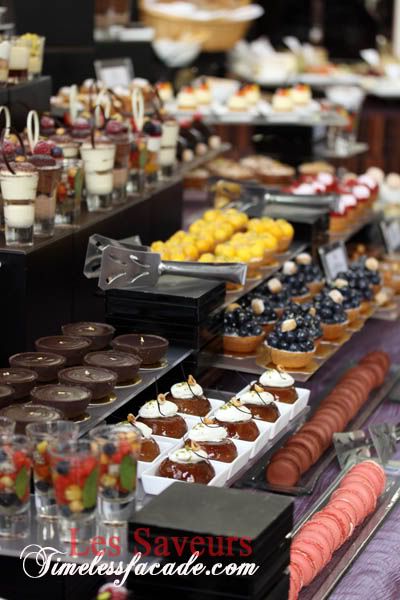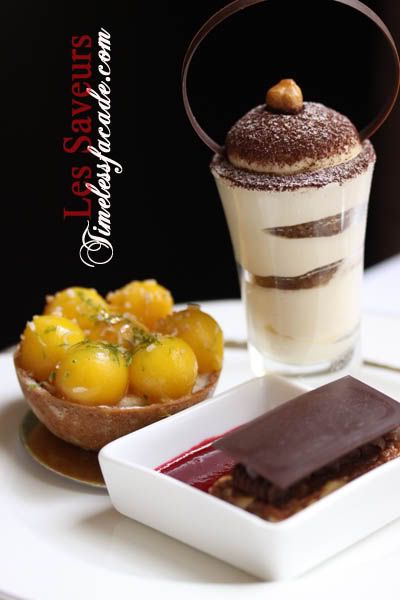 Les Saveurs spots high ceilings with huge glass windows running to the ground, which gives a soaring and almost carefree feeling. Victorian style chandeliers add a sophisticated touch of class and so do the matching chairs and carpet. In short, a great place to relax and enjoy your food. There is a 3 man band just outside the restaurant that will belt out different tunes throughout the brunch to add to the experience.
Variety
The brunch comprises 3 components - The eye catching dessert table and the appetisers table, your choice of a main course from the menu and last but not least, daily chef's specials that are "hawked" from table to table. The daily specials make up quite a substantial portion of the brunch and can range from fried rice to cod fish to foie gras or even shooters. The appetisers table has quite a decent amount of food like foie gras, salmon & tuna sashimi, oysters, air dried wagyu beef and the likes. There is even a small counter where rows of beautifully baked buns, muffins, croissants etc tempt even the most staunch carbo abstainers. And may I add that the dessert counter was so aesthetically and exquisitely presented that I had the urge to start on desserts first before anything else.
Quality
For the most part, food quality was consistently good and no expense was spared in ensuring that. Everything is made bite sized so that you are able to try a wider variety. I particularly liked the macarons, which were almost on par with Pierre Herme's signature macarons that I had the privilege of trying sometime back. Overall, I thought that the food quality far surpassed my expectations and can put quite a few buffets in some reputable hotels to shame.
Service
Professional and seemingly eager but tended to be overwhelmed at times, especially with the restaurant running at full capacity.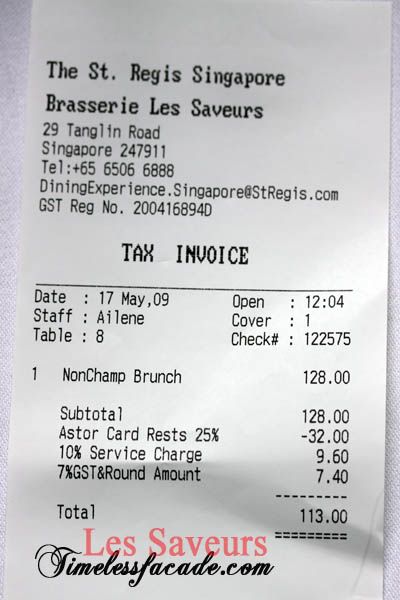 Value for money
At $128++ for the non champagne aka fruit juice/tea option, it is probably one of the priciest brunches in the market right now but food quality is evident. If you opt for the moet and chandon option, it will cost you $158++ while premium champagne like Krug will set you back by a princely $338++/pax. Final words, if you have the cash to blow and 3 hours to spare, Les Saveurs might just be the place for you.
Final Verdict:
Ambience:8/10
Service:7/10
Food:7.5/10
Value for money:6.5/10
Overall:7.125/10
Address: Lobby Level, St Regis Singapore
Contact: 6506 6866
Opening Hours: Daily 6:30 AM - 11:00 PM
Website: http://www.stregissingapore.com/bls