Fancy some place in town with all the dishes on the menu priced at $15 or less? Apparently Oriole, a newly opened cafe/restaurant in town, offers such a value proposition. The name Oriole is interesting because it is also the name of a bird.
Interior
Located at Pan Pacific Serviced Suites in Somerset Road, Oriole is owned by the same owner of Aerin's, Bedrock Grill & Bar (next door to Oriole) and Whitebait & Kale and boasts Singapore's number 1 and number 3 baristas, which makes their coffee a must try! The interior of the place is rather cafeish with dim lighting and floor to ceilings windows. Currently the area surrounding Oriole is undergoing construction so there isn't much of a view to speak of.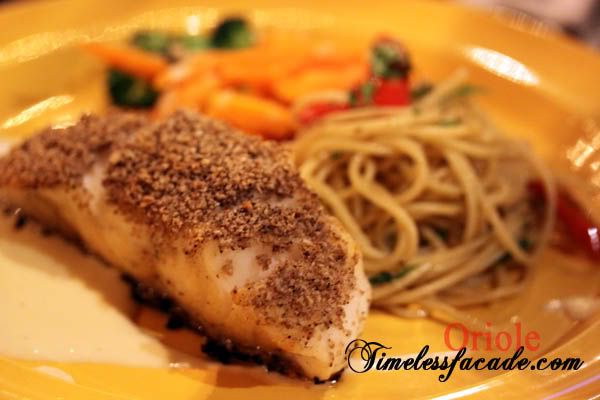 Coffee Crust Cod Fish ($25.50++)
This was a daily special so the $15/dish cap didn't apply, which was rather regrettable really. The fish was smooth but a wee bit fishy and lacked sweetness. There was the problem of the missing coffee taste as well.


Prawn Spaghetti ($15++)
The pasta was tossed in olive oil and came across as a little too soft. I counted 5 crystal prawns to that were crunchy albeit a little small. But at least the whole dish was still palatable, though probably not something that I would order again.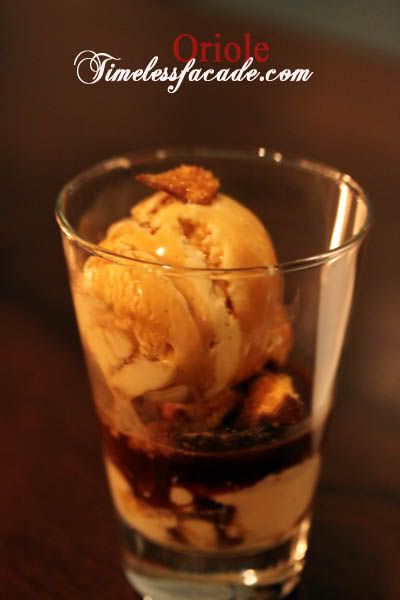 Honey Crumble Affogato ($7++)
This dessert came with a shot of espresso and a scoop of vanilla ice cream, which unfortunately had ice chips in it. I didn't quite take to the honeycomb crunch as bits of it got stuck onto my teeth. Overall this dessert was nothing too fancy or fantastic in my humble opinion.

Chocolate Fudge Cake ($5.50++)
Apparently one of Oriole's popular desserts, the chocolate fudge cake was quite decent in my humble opinion. Warm with pockets of molten chocolate within, it came across as rich and decadent - a sure fire recipe for nausea in the likely event of over consumption. Pity about the lack of ice cream though.


The total bill came up to $62.40 for 2 mains and 2 desserts, which would put Oriole in the Swensens, NYDC etc price range. Food quality is average but the lack of crowds in the middle of Orchard road is definitely a plus. Service was decent to boot.



Final Verdict:
Ambience:7/10
Service:6.5/10
Food:6.5/10
Value for money:7/10
Overall:6.75/10

Address: #01-01 Pan Pacific Serviced Suites, 96 Somerset Road

Contact: 6238 8348

Opening Hours: 11.30am till late (last food order at 9.30 pm)