Braved the mad crowds to visit ION Orchard over the weekend to check out the various new to Singapore shops and more importantly, the gamut of eateries that this upscale shopping mall claims to offer. AOBA caught my attention because of the persistent queues forming even during after lunch hours plus the fact that my stomach was rumbling when we walked past it.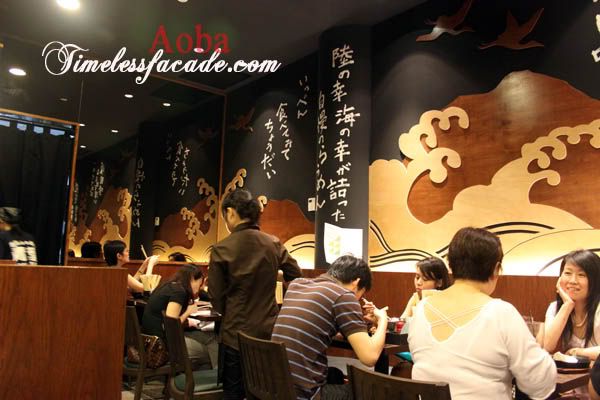 Interior
The place isn't big, with a seating capacity of about 30 people or so, which probably explains the queue. Tables for 2 are spaced uncomfortably close, so any notions of having private conversations can be thrown right out of the window.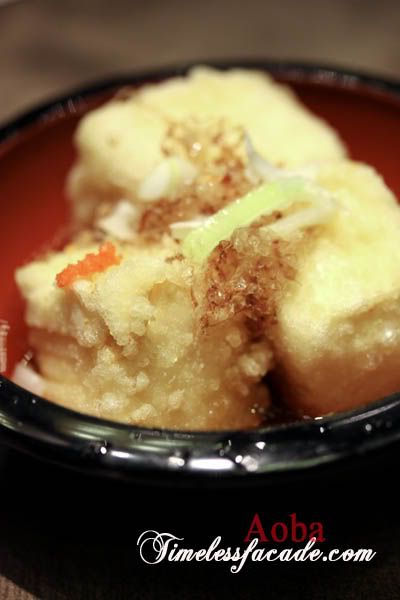 Fried Tofu
It was never my intention to order the fried tofu, but since it carried a 50% discount, cheapo/greedy me conveniently added that to the order. And it was average at best. The skin tasted limp but still palatable.


Ebi Mayonnaise
Small prawns coated with a thick layer of flour, deep fried and drizzled with copious amounts of mayonnaise - a recipe for unhealthy eating. But I'm a sucker for the prawn and mayo combo so this dish turned out fine. Decent but not outstanding. And pretty expensive at that (1 small prawn, $1).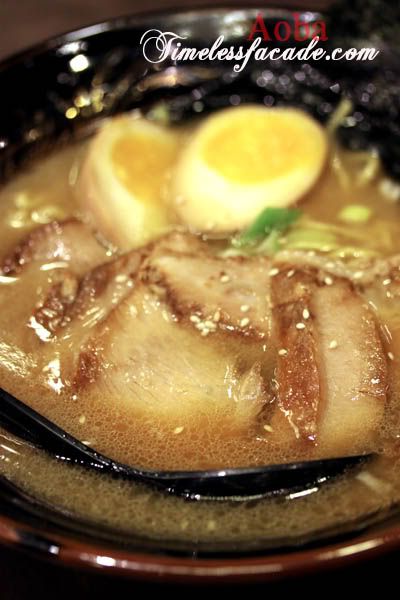 Shoyu Tontoro Ramen
The ramen reminded me of the traditional Chinese yellow egg noodles, albeit a little thinner, chewier and sans the alkaline taste. The broth had a strong taste of pork but came across as a wee bit too salty and too much of it can make you woozy. The pork slices were relatively tender and soft while the egg was nicely done without the yolk being too soft. Portions are small for the price ($16.80++) though.


Shio Scallop Ramen
The scallops were rather tasteless to begin with and while the ramen was of the same variant as my tontoro ramen, the broth was much lighter and free of any pork taste.


Bill
2 bowls of ramen and 2 small sides cost us to the tune of $47, which is rather expensive given the quality in my humble opinion. The long queues to get a table and to pay for our meal as well as cramp dining spaces definitely do not make things better. But for those who are interested in trying AOBA out, they have another outlet within Manpuku at Tampines One.



Final Verdict:
Ambience:6/10
Service:6.5/10
Food:6.5/10
Value for money:6/10
Overall:6.25/10

Address: #B3-25, ION Orchard

Contact: 6509 9394

Opening Hours: Daily: 11am-3pm, 5pm-10pm

Desserts after that at Arinco King (#B4-60) were alot better and it formed the highlight of my meal at ION.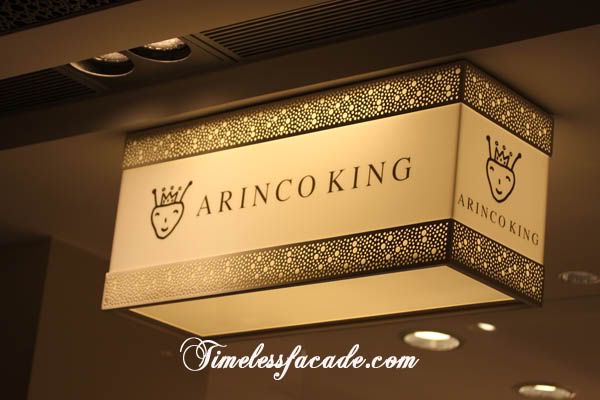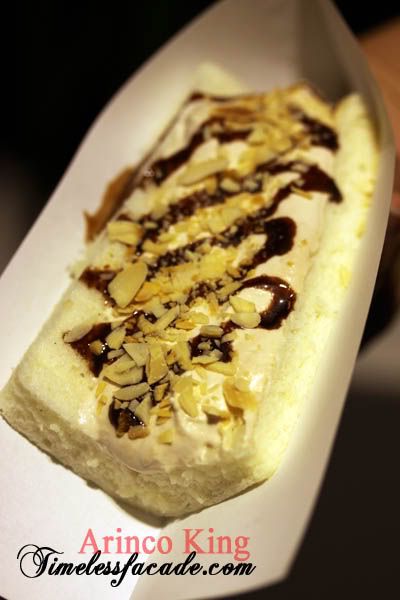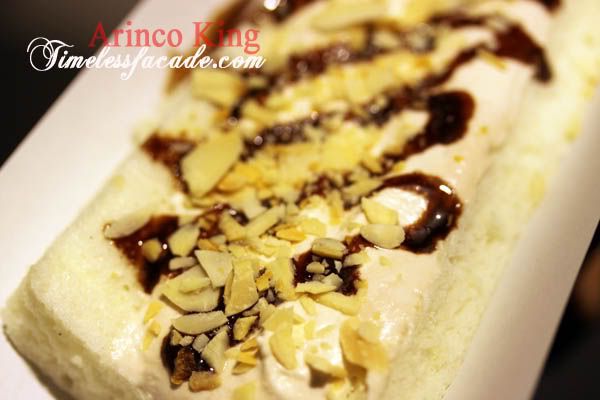 Chocolate Sand ($3.50)
Very light chiffon topped with fresh cream, drizzled with chocolate syrup and almond bits - Very good. Only grouse? It's a buy and go stall, no sitting areas.