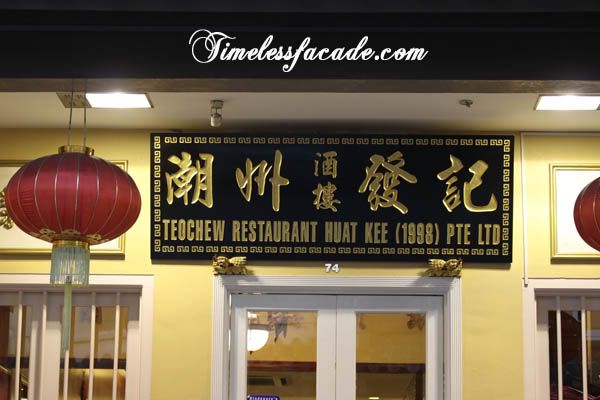 I finally got to revisit
Huat Kee
again, after a hiatus of almost 2 years. I remember waxing lyrical about their yam paste aka orh nee on my
last visit
and I was keen to find out if anything had changed since then.
Interior & Menu

The interior spans two levels and still looks the same, modern Chinese with traces of olden heritage, like a suspended altar at one corner of the dining area on the ground floor.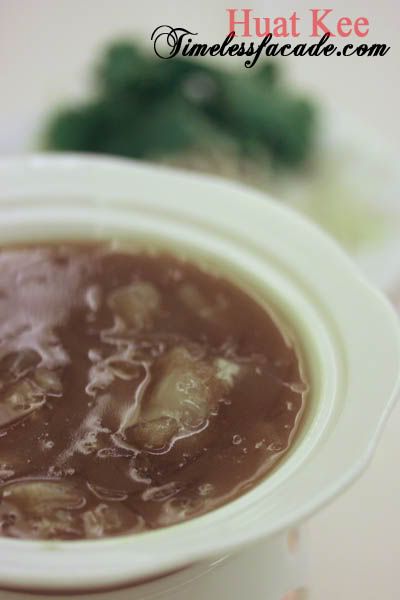 Teochew Style Braised Shark's Fin
The soup was a tad starchy but relatively tasty and topped with fins of decent quality and size. I did think that it could have done with a little beansprouts and dried salted fish bits for added texture and taste.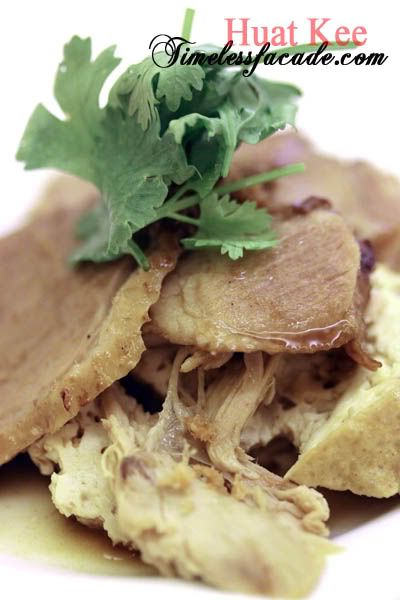 Braised Goose
This is probably a delicacy now, as the AVA has banned imports of fresh goose meat. So what's left in Singapore now is only the frozen meat, which is also expected to run out sometime soon. And because its frozen meat, the goose was lacking in texture but I guess its better then nothing for now.


Teochew Style Prawn Roll
Crisp on the outside and rather tasty without the overwhelming pork taste. I could make out a good mix of liver in it as well and when eaten with a dollop of sweet plum sauce, it was sublimely good. It definitely helped that the rolls didn't come across as too oily.


Sea Cucumber with Goose Web
I am no fan of goose web but I understand that is expensive and alot of effort goes into removing the bones from the web. The sea cucumber was quite a size and not overly soft with a tinge of crunchiness. And the gravy had a strong hint of mushroom, which I personally like.


Pumpkin, Yam Paste & Gingko Nut
The ubiquitous Teochew dessert and one of my must orders whenever I step into a Teochew restaurant, Huat Kee's yam paste aka
Orh Nee
was still one of the best that I've eaten. Very fragrant and smooth without being too sweet or oily.
Concentrated tea to wash down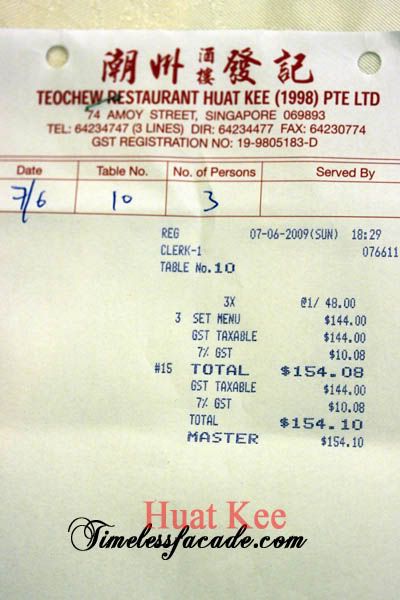 Bill
Dinner wasn't exactly cheap, at just over $154 for 3 pax. Portions aren't big but sufficient and quality is relatively good. But honestly, I would have preferred doing away with the expensive stuff like shark's fin, sea cucumber etc and enjoying the simple Teochew dishes from the ala carte menu. That would have probably shaved the bill by half or more.



Final Verdict:
Ambience:6.5/10
Service:6.5/10
Food:7/10
Value for money:6/10
Overall:6.5/10

Address: 74 Amoy Street

Contact: 64234747

Opening Hours: Daily: 11am - 2.30pm, 6pm - 10pm

Website: http://www.teochewrestaurant.com/