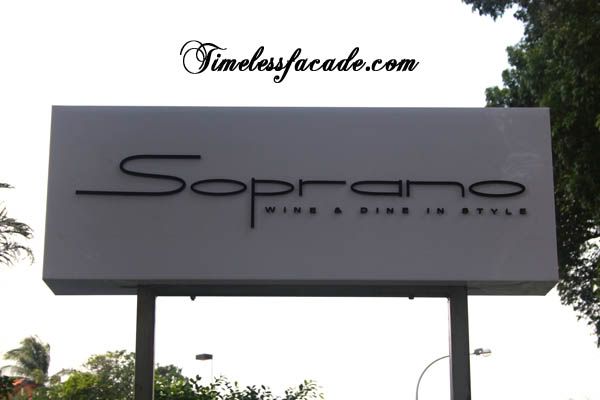 I've always had a thing for reclusive enclaves like that of Portsdown, with its lush greenery and quaint little restaurants that lead you away from the hustle and bustle of everyday life. And the area welcomes its newest tenant, an Italian restaurant specialising in pastas going by the name of Soprano (which in singing terms is a voice that has a vocal range that spans 2 octaves - roughly middle C to Soprano C) that opened just 2 weeks ago. Maybe the restaurant aspires to soar to great heights?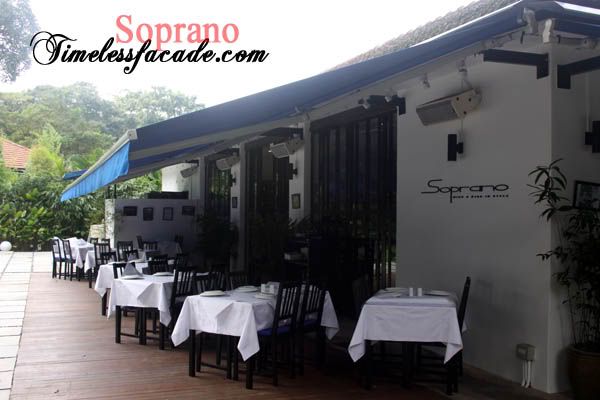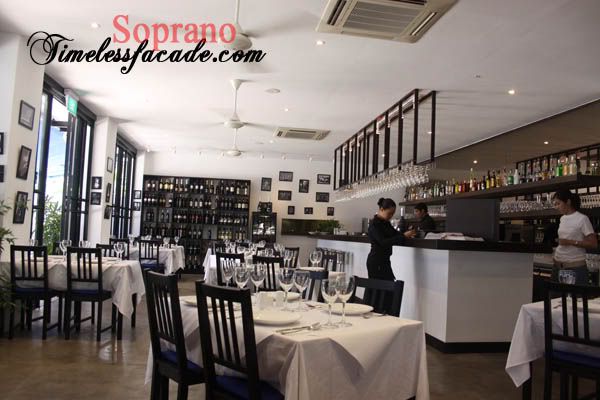 Exterior, Interior & Menu
Located along Portsdown Road just opposite the building that houses Pietrasanta and cooking academy Palate Sensations, Soprano's sizeable compound comes with its own mini carpark, lawn and pool (not sure if it belongs to Soprano though). There is an option of al fresco seating or indoor seating, with the former perfect for chilling out on a cooling/windy afternoon or evening and the latter a life saver on warm days (the air conditioning seemed to be at a minimum when I was there that afternoon though).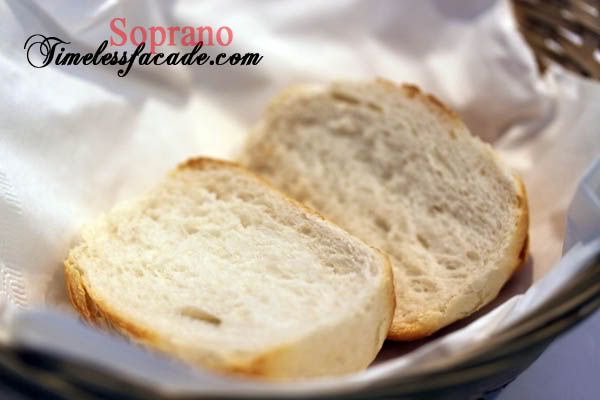 Complimentary Bread & Appetisers
The appetisers consisted of baby onions, onions and a mixture of button mushrooms, olives and capsicums - all of which provided a nice way to start off the meal. The bread on the other hand, wasn't served warm and tasted like ordinary baguette, albeit much denser in the center. Nothing impressive.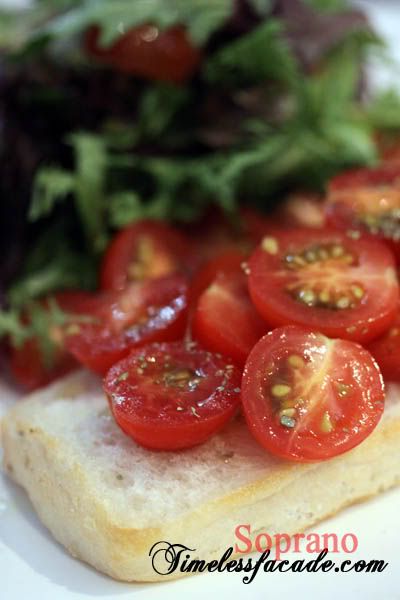 Bruschetta
I am actually quite perplexed by the amount of salad that came with the bruschetta. It formed the bulk of this dish save for generous helpings of halved cherry tomatoes atop 2 slices of ciabatta bread. Shouldn't the bread take center stage here? That aside, the ciabatta was toasted to a crisp and sprinkled with olive oil and fine salt granules, giving it a nice resounding texture marrying the sweetness and plumpness of the cherry tomatoes. Given the price ($9), not something I would order again though.


Linguine Aragostina
For $15 a pop, this was a steal honestly. You get 2 halves of a baby lobster served with al dente linguine in a robust and spicy (check out the cut chillis) tomato base sauce. If you prefer other sorts of pasta besides linguine, the aragostina option is also open to spaghetti. They need to fix the problem with the baby lobster though. It wasn't stale but it wasn't exactly fresh either, coming across as a little fishy.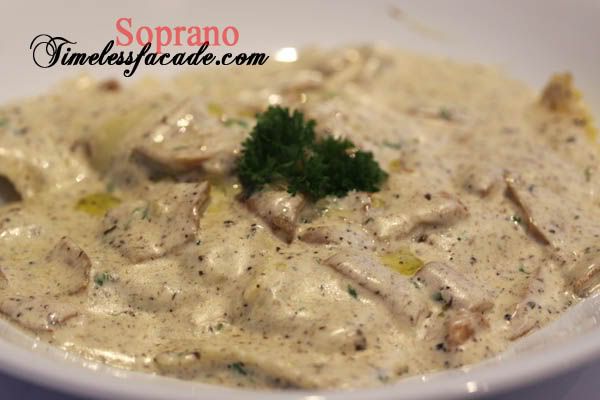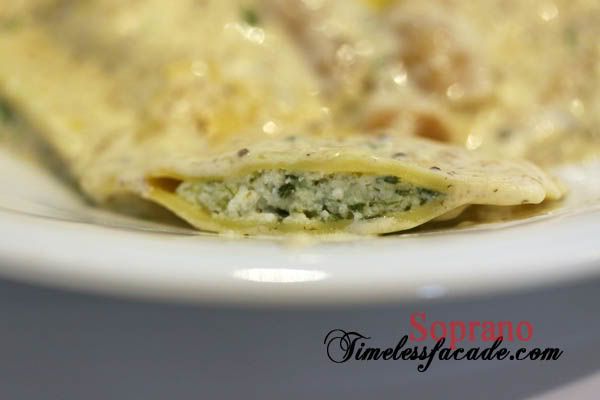 Ravioli Ai Funghi Porcini e Tartufo
This was a cream based pasta and tended to be rather overwhelming after a few mouthfuls. But that wasn't to say that it wasn't good. The ravioli skin was not too thick and came with cheese and spinach stuffing (you can choose what stuffing you would like) in a sea of thick fragrant creamy gravy. I personally thought that the porcini mushrooms tasted great as well - crunchy with a nice woody taste.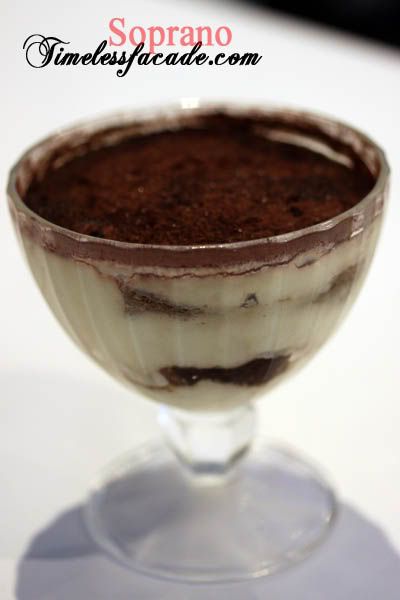 Tiramisu
There was something different about this tiramisu. The mascarpone cheese was really yellowish in colour, probably due to the excess addition of egg yolks. I couldn't quite make out any substantial difference though except it being more dense then usual. The sponge to mascarpone ratio was rather lopsided in favour of the cheese. Whatever sponge fingers there were at the bottom was soaked in weak coffee, which meant that this was a teetotaler's rendition. Overall a decent dessert.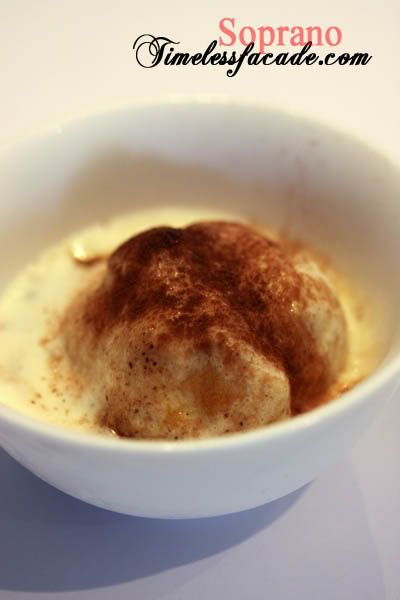 Profiterole
The profiterole was complimentary of Soprano and came stuffed with milk chocolate mousse drenched in chilled liquid white chocolate. I am a sucker for such stuff and honestly this is the first time I'm seeing a restaurant in Singapore serving profiteroles drenched in chocolate, which is the way they do it in France. Simple decadent! I wonder how much this goes for though because desserts are not listed on the menu.


Bill
$52.80 for 2 pax isn't expensive given the portions of food and decent quality (save for the baby lobster). Throw in reasonably good service and a charming environment and you have a serious contender in the portsdown dining scene. Prices for most pastas hover around the $15-$16 range and lets hope they keep it that way. There is also no GST, only service charge, which is definitely a plus and don't be shy to ask for tap water.



Final Verdict:
Ambience:7.5/10 (They need to do something about their air conditioning though)
Service:7/10
Food:6.5/10
Value for money:7/10
Overall:7/10

Address: 7 Portsdown Road

Contact: 64722100

Opening Hours: Daily: 12noon-2.30pm, 6.30pm-10.00pm