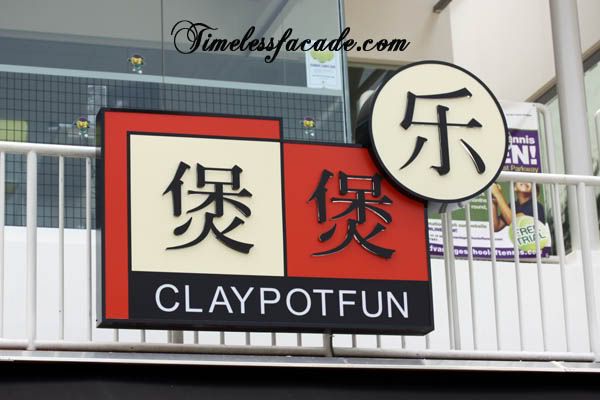 Read a rave review about Claypot Fun in one edition of the Sunday Times so made it a point to try it out one weekday afternoon (The very day the article was published, I attempted to try it out but was put off by the 45min wait for a table). Apparently the outfit is a collaboration between the Jumbo Group, Palm Beach and Seafood International.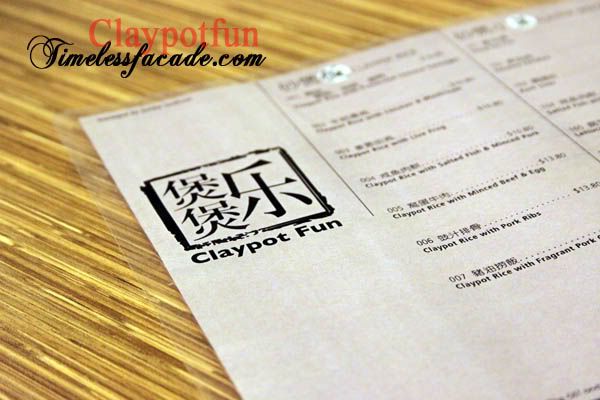 Interior & Menu
This newest entrant to the culinary scene at Big Splash is tucked in between a ramen shop and Starbucks. The interior is tiny and can probably seat about 20 odd pax while the tiny alfresco area can take another 10 tops. You probably wouldn't want to sit outside unless you don't mind the queue forming just behind you. One thing that irks me about this place is the seeming biasness in table allocation. Apparently the booth seats are meant for 4 pax and above and we only had 3, so we didn't qualify. However I spotted 2 people sharing one such booth and when I questioned the waitress, she said that there were 4 people. Well I sure didn't see an extra 2 people when they paid up and left.


Watercress Pork Rib Soup
I thought that the watercress soup was a good start to the meal - light yet savoury. However the ribs were limited to 3 small pieces that looked more like a joke then anything else. Then again, its $5.20, so I probably shouldn't be expecting much.


Sesame Chicken
I'm no fan of sesame chicken and this one wasn't just about to change my mind. The chicken pieces, though soft, were very oily and portion size was small. Overall an average dish.


Claypot Rice with Chinese Sausage
Amidst all the hype about the claypot rice, I was disappointed to say the least. And I'm sure I echo the sentiments of my dining partners as well. Apparently the claypot rice was done (according to the waitress) HK style, which meant no black sauce. In lieu was a concoction of sesame oil and soy sauce, which had to be added by the customer himself/herself or by the wait staff upon request. I noticed that the "sauce" was segregated into 2 layers because oil floats and what went into our rice was mainly sesame oil. That obviously didn't sit well with any of us as the rice was quite oily yet dry at the same time. The Chinese sausages were alright but I prefer mine drier.


Bill
A semi filling lunch for 3 cost to the tune of $44, which sure isn't cheap for the quality of food. Sure the place utilises pseudo rooster motif bowls and other utensils from yesteryear but nostalgia can only take you so far. Having said that, I'm no expert on claypot rice so take your chances. As for me, I'm happier spending half that amount for the claypot rice at Chinatown.
Final Verdict:
Ambience:6.5/10
Service:6.5/10
Food:6.5/10
Value for money:6/10
Overall:6.375/10
Address: #01-11, Blk B Playground @ Big Spash
Contact: 6440 7975
Opening Hours:
Sun-Thu: 11am - 11pm
Fri-Sat-PH Eve: 11am - 1am