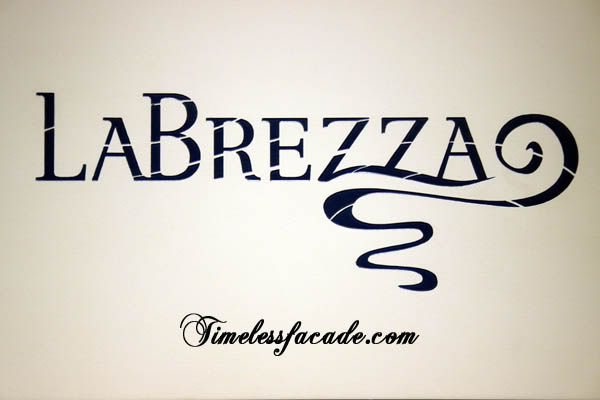 The 50% lunch discount that La Brezza dangled to all Astor card members was to good to resist and I ended up having lunch there one fine afternoon. What's weird is that La Brezza, which means sea breeze in Italian yet serves Mediterranean food, is relatively unknown in the culinary circles even though it has been around for quite a bit.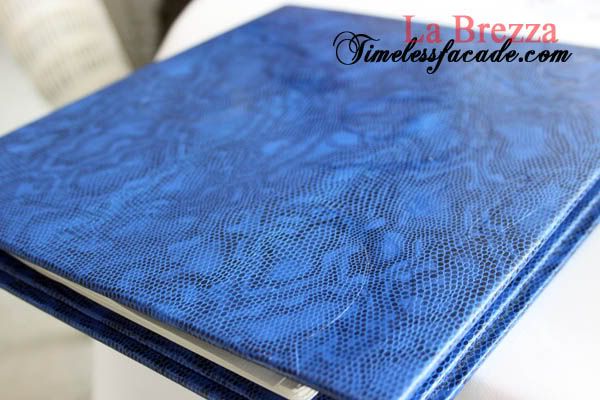 Interior & Menu
Located on the second floor of the posh St Regis, La Brezza looks out into the hotel's swimming pool and boasts floor to ceilings windows to allow sunlight in. The bright and cheery ambience is accentuated through the use of white wicker chairs and striped blue/white curtains, which also give the place a laid back feel. The sofa couple seats are positioned with their back facing the wall, which allows both parties to have a full view of the pool.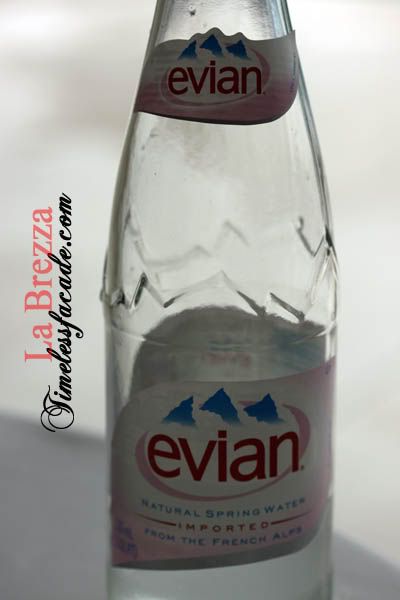 Complimentary Bread and our drink for the afternoon
I didn't think too much of the complimentary bread although there was quite a variety and it came served in a pretty white porcelain bowl with blue markings on it. And surprise surprise, we had bottled water with our set lunch, which makes me wonder if they even serve sky juice.


LaBrezza Salad
There was no mention of chicken in the description but I'm glad that they added it in. The generous serving of chicken breast slices were very well marinated and grilled, coming across as succulent and soft. The greens were fresh with a touch of light dressing and shaved cheese atop. Great way to start off!


Tomato Mozzarella
I am honestly not a big fan of raw tomatoes except when they come in the guise of bruschetta. But to be fair, this dish proved to be quite decent. The tomato slices were fresh and juicy and went well with the chilled and light burratina cheese, which helped to keep the acidity of the tomatoes in check.


Grilled Salmon
The chef's favourite for the day - grilled salmon. Well grilled till the skin boasted a nice crisp, the salmon did come across as a wee bit too dry for my liking. I did like the polenta on the side though - smooth and creamy .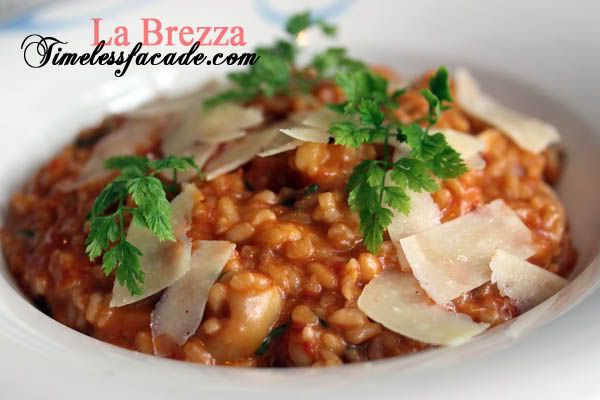 Frutti Di Mare
Frutti Di Mare, or fruit of the sea, over risotto was my choice of main. The risotto was creamy and done al dente without the sauce being too overwhelming. Coupled with a generous serving of seafood, I must say I enjoyed this dish quite a bit.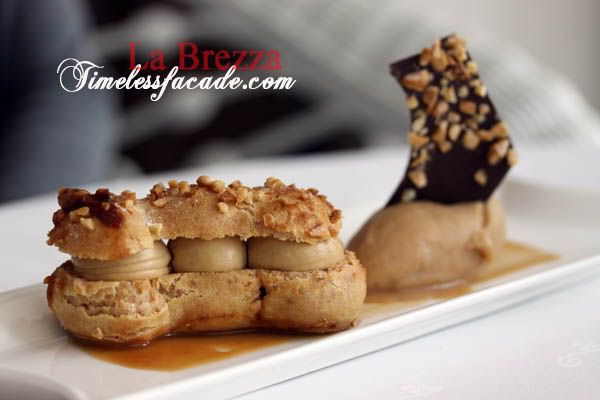 Paris Brest
This dessert was said to be created by a pastry chef in honour of a bicycle race between Paris and Brest in France. But La Brezza's rendition was a little lacking. The pastry wasn't fluffy and could have been a little softer as well. The hazelnut cream filling was decent though and the brown sorbet by the side was actually lime sorbet. Surprise surprise.


Chocolate Tart
The chocolate tart was rich with a tinge of bitterness and a layer of gooey caramel wedged inside, all held together by a thin yet solid tart base. Sadly, the caramel didn't quite feature in the taste though. And what better to complement a chocolate tart then with a scoop of chocolate ice cream and a piece of chocolate?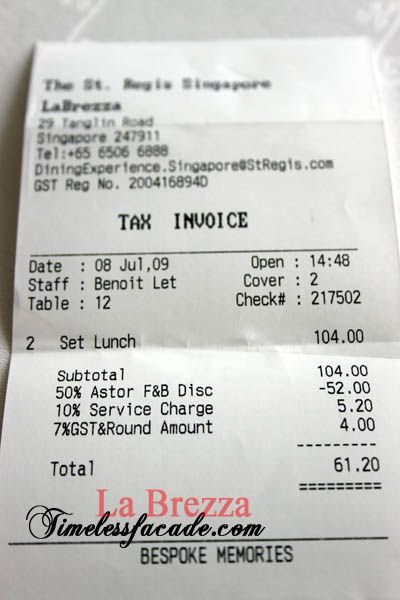 Bill
Without the 50% discount, I would be hard pressed to find a reason to return, especially when the 3 course set lunch is a whopping $52++ ($61.20 nett). The bottle of Evian provides scant comfort for the price and so does the food quality, which is above average but still a few notches below outstanding.



Final Verdict:
Ambience:7.5/10
Service:7/10
Food:7/10
Value for money:5.5/10 (without discount)
Overall:6.75/10

Address: Level 2, St Regis

Contact: 6506-6888

Opening Hours: Lunch 12:00 PM – 3:00 PM ; Dinner 6:00 PM – 11:00 PM

Website: http://www.stregisdiningsingapore.com/index.php/get/page/PQYLNMA8/DEG65ENG