Mortons has introduced the USDA prime burger, nicknamed "The Million Dollar Burger" by one of its founders, to its sole outlet in Singapore and according to history, it was this very burger that launched Morton's of Chicago, not a piece of steak which Mortons is known for. Surprise surprise.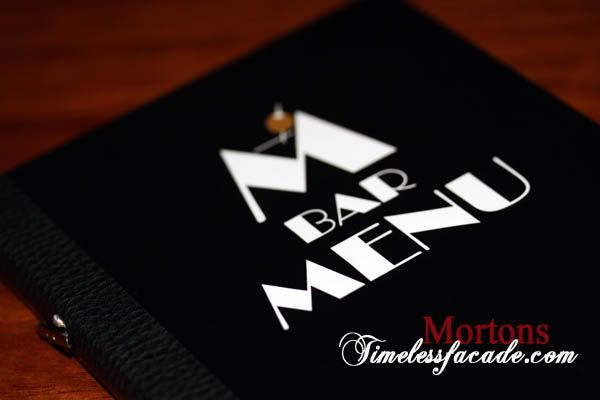 Interior & Menu
You can choose to have the burger either at The Bar at Mortons which is on the fourth and a half storey, or at the steakhouse itself on the fourth. However, if you choose the latter, you will be subjected to a compulsory extra $5++/pax surcharge because of the humongous onion loaf that is served.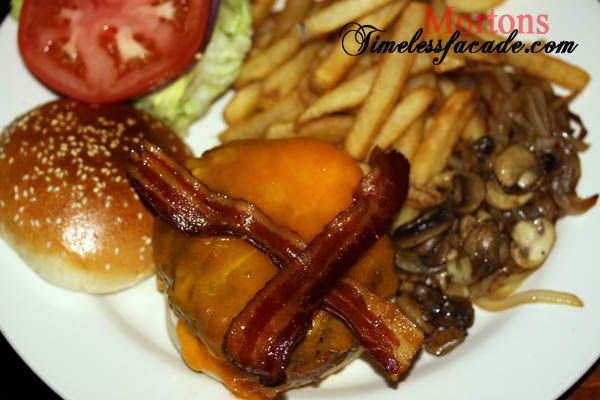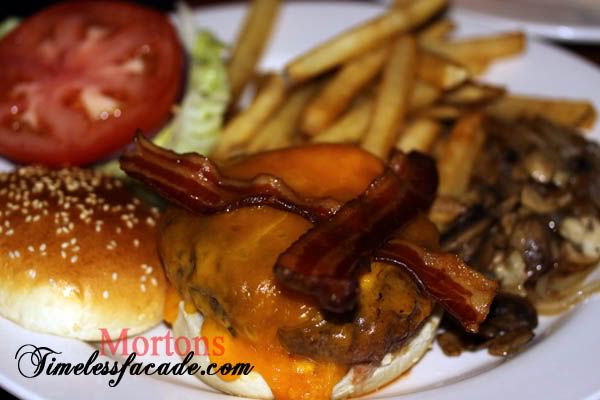 USDA Prime Burger
If you make an order for the burger before 8pm, its $30++. After 8pm and its $25++. The beef patty weighed about 12oz or 340g, which dwarfs almost all of the current competition, served up on a nicely toasted sesame bun. Although I was never a proponent of quality beef (apparently its grain fed and aged) being minced up into burger patties, I have to admit that Mortons did a pretty good job with it. The medium rare patty was tender and carried plenty of juices without the natural beefy taste being too overwhelming. However, the texture was rather smooth, indicating that it was probably machine chop/minced rather then hand. Not that it mattered much though as this burger ranks as the one of the best burger I've eaten in Singapore so far. The sides are decent as well so make sure you ask for all of them (sauteed onions, bacon, mushrooms) but just don't get too excited over the hand cut idaho potatoes, which failed to wow.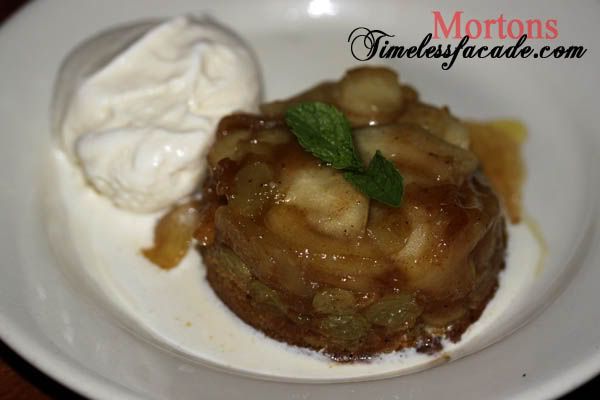 Upside Down Apple Pie
The apple pie was as good as I remembered it to be - not too sourish with raisins for a light sweetness and a scoop of smooth vanilla ice cream. Prices remain the same ($20++) as 2 years back, which is a rarity in restaurants nowadays.


Morton's Hot Chocolate Cake
The stuff that makes people throw all diet plans out of the window and another signature dish of Mortons - its decadent hot chocolate cake. The crust was a little hard and held up pretty well while the rich molten chocolate was viscous almost to a fault. Admittedly, it's expensive ($25++) for its size and though good, I find it rather ridiculous to pay so much for it.


Bill
$30 sure isn't cheap for a burger, but given its quality, I would gladly pay. Service was lacking that evening and we had a hard time trying to get any wait staff's attention. To compound our woes, the wait for our burgers stretched to more then an hour - something which Mortons needs to look into. But hey, it was a great evening and great place to chill.
Final Verdict:
Ambience:7/10
Service:5.5/10 (Only on this particular visits. Prior visits have been great)
Food:8/10
Value for money:6.5/10
Overall:6.75/10
Address: 4th Storey, Mandarin Oriental Singapore
Contact: 6339-3740
Opening Hours:
Bar
Monday - Saturday 5pm - 11pm
Sunday 5pm - 10pm
Dining Room
Monday - Saturday 5:30pm - 11pm
Sunday 5pm - 10pm
Website: http://www.mortons.com/singapore/
ps: sorry for the rather bad pictures. The lighting was quite dim and tripods are expensive and cumbersome.