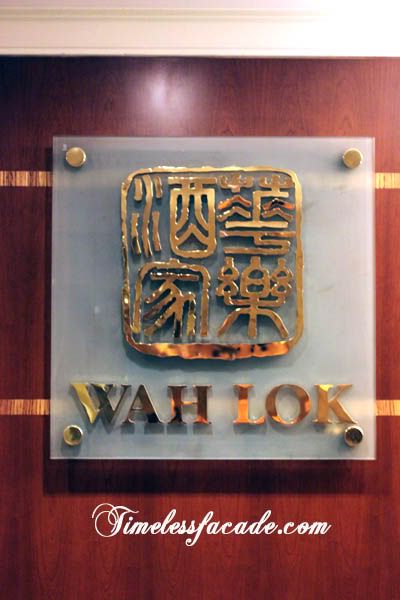 And the dim sum obsession continues, this time at Wah Lok, for a leisurely Sunday dim sum lunch. Expectations were high because of a
prior favourable experience
.
Interior
We didn't manage to get a table in the main dining hall this time round, but was instead ushered to an adjourning dining ball room that didn't use to host any of Wah Lok's customers. Guess business must really be good even in the midst of a recession.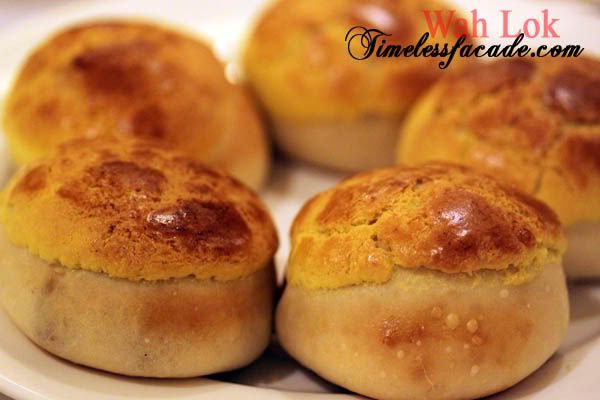 Bo Lo Bao
Very few places do the pineapple bun aka
bo lo bao
(
菠萝包)
well and Wah Lok belongs to that small category. Crusty at the top without being overwhelmingly sweet yet soft at the bottom, filled with a piping hot char siew and onion filling. Very good indeed. Incidentally, this dish happens to be one of Wah Lok's signature dish.
Stewed Chicken Claws
Chicken claws aren't exactly my cup of tea so I tend to avoid them hence no comments.


Prawn Cheong Fun
I thought that the rice flour was a little too limp probably due to it being immersed in the soya sauce for a tad too long. It tasted rather lacklustre and wasn't exactly silky. Crunchy prawns though.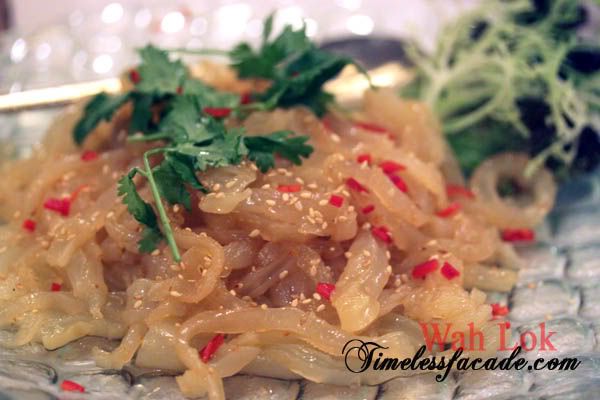 Jellyfish
Apparently a favourite of my family members, the jellyfish was crunchy with a mild spiciness. Nice as an appetiser but watch out for the price tag ($20++).


Deep Fried Dried Beancurd
This
腐皮
卷 came across as a wee bit too oily but very crispy and stuffed with crunchy prawns. Not too bad although one of the rolls did seem a little too overfried. Talk about QC.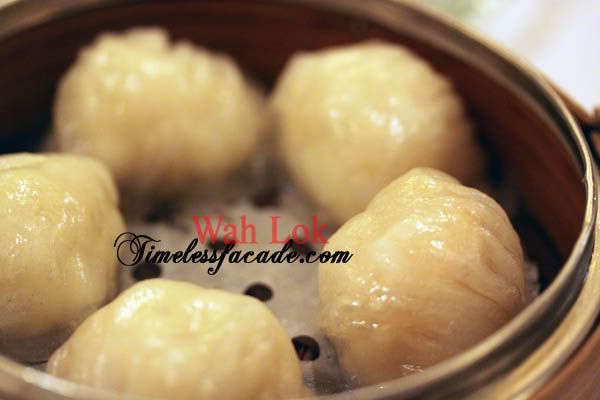 Har Gao
The
har gao
skin was thin but a little too limp for my liking, probably from sitting around somewhere for a tad too long. I liked the crunchy prawns though and overall still quite a good dish.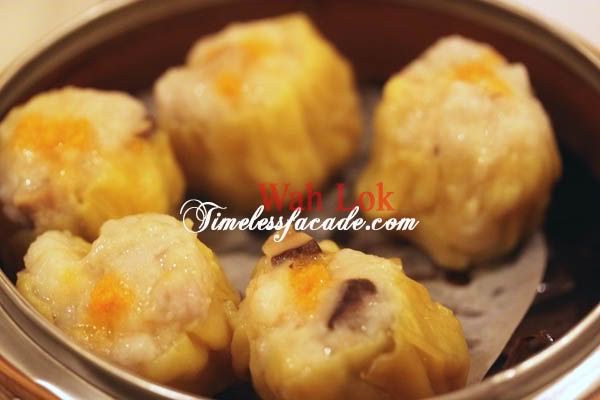 Siew Mai
Void of the overwhelming pork taste that plagues most
siew mai
elsewhere, Wah Lok's rendition had a greater proportion of lean meat then fat meat, which was a plus. Nice.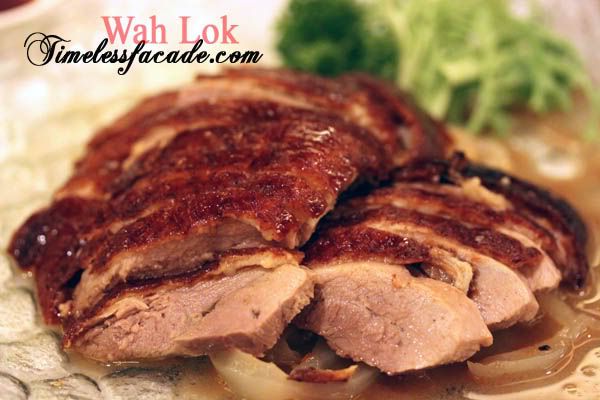 Roast Duck
Crackling crispy skin coupled with tender fibrous flesh that carried a bit of bite, what's not to like? Only grip I had was that the meat tilted a little towards the dry side. It would be great if they had drizzled a little more sauce.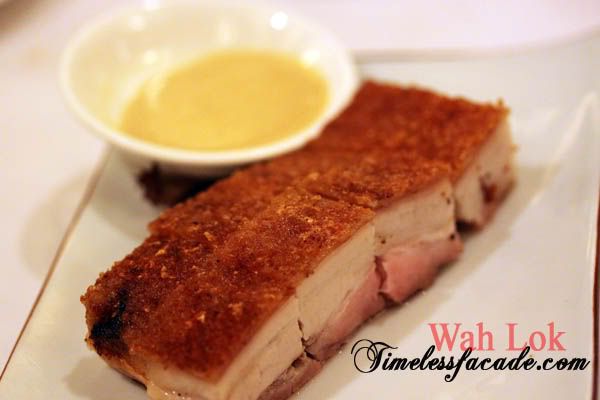 Roast Pork
I'm a self professed roast pork addict and I pounce at every opportunity to order this ever so sinful yet delightful meat dish. Moderately fatty with crackling crispy skin - my kind of roast pork. Pity about the apparent lack of salt. Would have preferred it a little saltier.


Shark Bone Soup
I didn't quite take to the shark bone soup though it wasn't too milky and came across as relatively light with pieces of chicken swimming in it. I just didn't like the layer of sediment it left on my tongue but its personal preference.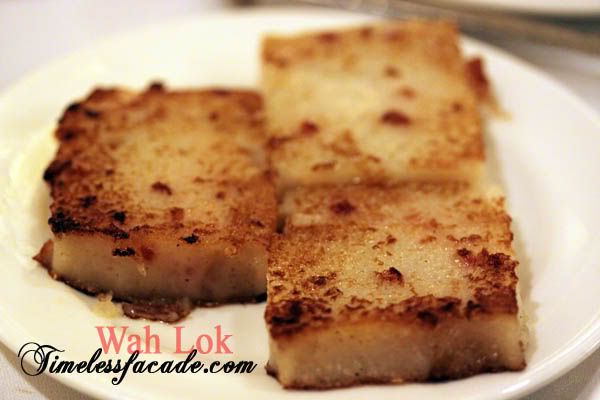 Pan Fried Carrot Cake
Average best describes this dish. Personally I prefer their steamed version as the fried variant was a little too mashy and not the least bit uplifting.


Boxthorn with Assorted Egg
I last had this dish at
Szechuan Court
and found it quite normal. Ditto to Wah Lok's version. I am just not a fan of century egg, in whatever cooking style.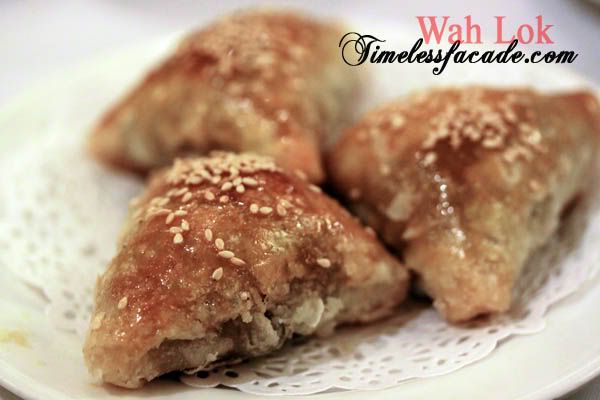 BBQ Pork Pastry
The
char siew sou
was nicely glazed with syrup while the
char siew
filling was sticky and I could make out sizeable chunks of meat amidst the gravy. A pity the pastry lacked butter.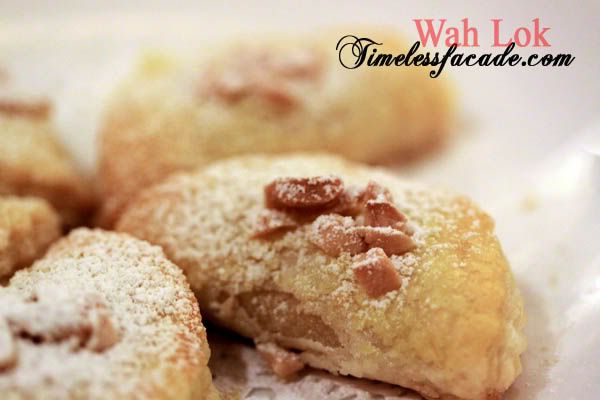 Baked Custard Pastry
This dessert has an interesting Chinese name - 美人腰, which literally translates into "pretty lady's waist". Try as I might, the meaning behind the name eludes me. Nonetheless, it's pretty good if I may say. The flaky pastry was very well baked with a nice and not too sweet custard filling stashed between. Topped with icing sugar and almond, it made for a perfect ending.

Deep Fried Ice Cream
I liked this dessert as well. The mango ice cream was coated with flour and grated coconut before deep frying, resulting in a nice semi crispy flour enveloping a scoop of ice cream. Nice! I did find the oil used a wee bit too stale though.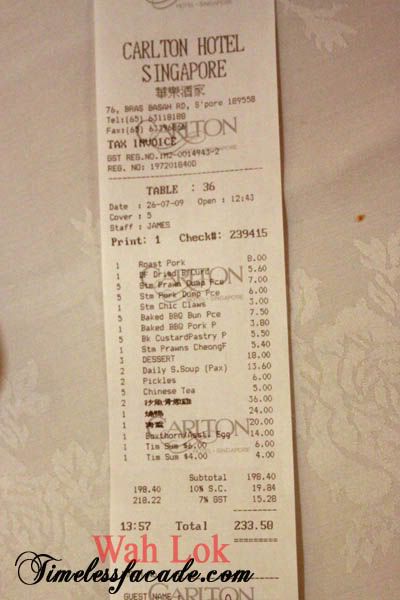 Bill
A satisfying lunch cum dim sum session cost to the tune of $234 for 5 pax, which is money well spent. If anything, I'll be back for the
po lo bao
and the baked custard pastry, both of which have cemented a place in my heart.



Final Verdict:

Ambience:7/10
Service:7/10
Food:7.5/10
Value for money:7/10
Overall:7.125/10
Address: 2nd floor, Carlton Hotel
Contact: 63118188/9
Opening Hours:
Lunch 11:30 am - 2.30 pm (Mon - Sat); 11 am - 2:30 pm (Sun & PH)

Dinner 6:30 pm - 10:30 pm
Website: http://www.carlton.com.sg/dining_wah.htm