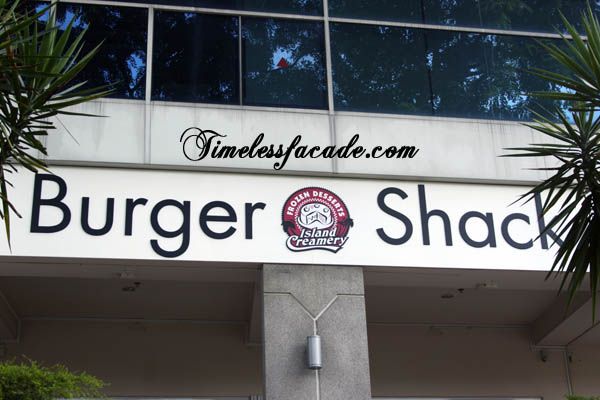 I read with much interest the opening of yet another burger joint, this time by the owners of Island Creamery who decided that they wanted to do something else besides making ice cream. And with prices starting at about $5.70 for a beef burger, who could resist the lure to try it out?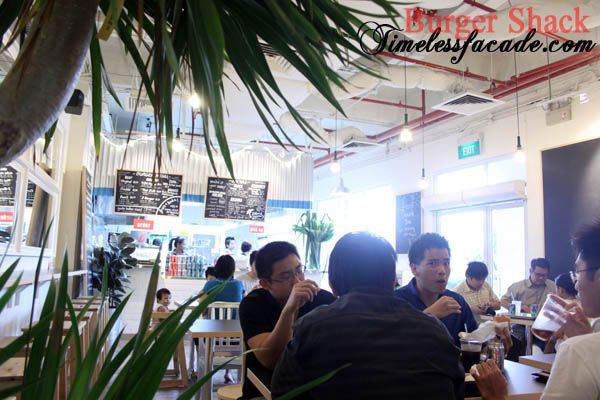 Interior
Occupying the space that used to house
Melvados
at King's Arcade along Bukit Timah Road, Burger Shack boasts a white spartan cafe like interior with a couple of tables and chairs for dine in customers. How this place works is simple. You place your order at the counter, make payment and wait for your order number to be called out to collect your food.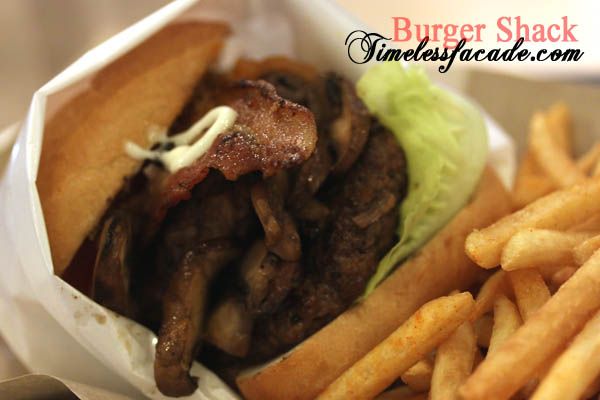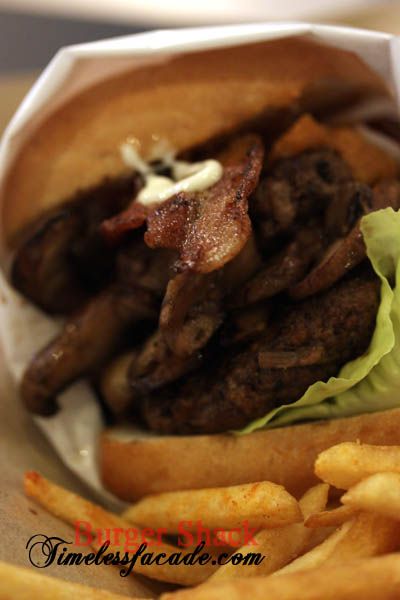 Double Original Burger
Greedy me couldn't be satisfied with a single patty hence I opted for the double ($7.70) with an addition of sauteed mushrooms ($1.50) and bacon ($1.50). To be honest, it was smaller then what I had expected and the quality was downright disappointing. The beef patties didn't taste fresh and had quite a bit of fatty meat in it. On the upside, you could see it as the patty being hand chopped rather then machine processed. Apparently their buns are made from scratch, like
Everything with Fries
so comparisons might seem inevitable. Actually no comparisons are needed as Burger Shack's buns came across as dry and hard - worse then most buns I've had. I honestly can't bring myself to believe that the buns are made from scratch.
Grilled Chicken Burger
The grilled chicken burger was sandwiched between the hard and stale buns but at least the breast meat was relatively tender. It would have been better if the fatty skin had been removed and they had added some seasoning into the otherwise bland and flat piece of meat. The tomato puree atop didn't help matters much. Don't get me started with the shoestring fries, which were hard, dry and proved quite a chore to chomp through. But at least there was seasoning.


Bill
We paid about $22 for our dinner and walked out of the place smelling of food from head to toe. They really need to do something about the ventilation of the place. Food for thought - Success in one area of F&B doesn't guarantee success when diversifying into other branches of the everchanging culinary landscape. And that is something Island Creamery has to think about. Should it leverage on its core competency and continue to sell ice cream or should it move into offering burgers? If the latter, I suggest they relook into their burger recipes before Burger Shack dilutes the Island Creamery brand name.



Final Verdict:
Ambience:6.5/10
Service:NA
Food:5.5/10
Value for money:6/10

Overall:6/10

Address: #01-01 King's Arcade, 559 Bukit Timah Road

Contact: 64663477

Opening Hours: Noon - 10pm. Last order at 9pm. (Closed on Mon)