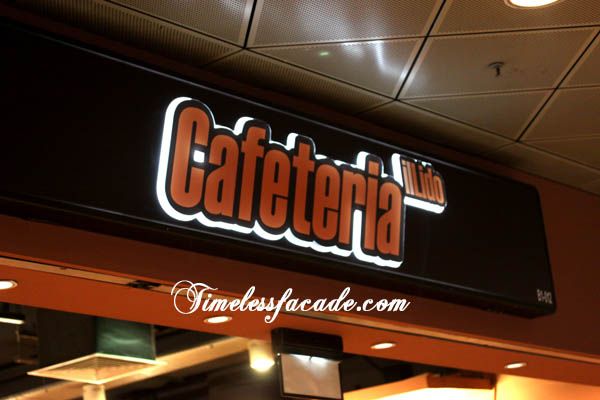 Upmarket restaurant IL Lido at Sentosa has apparently gone mass market with its latest offering - Cafeteria IL Lido, located at Suntec City Mall. Although I didn't think too much about the upscale IL Lido, I was tempted to find out what its "mass consumer centric" eatery offered.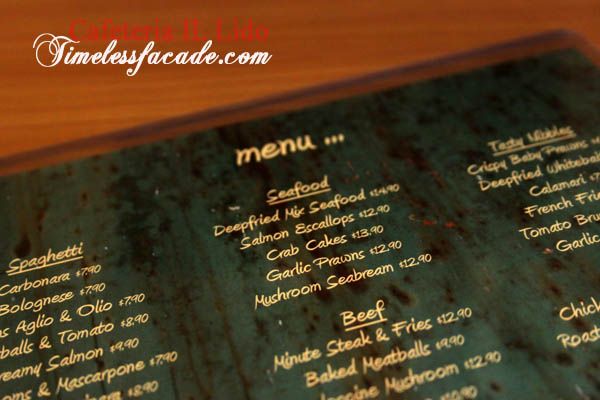 Interior & Menu
The eatery seats beside other mass market eateries around the mall's fountain area at B1 and boasts a seating capacity probably in excess of 80 pax. The place is rather "cafeish" and comes across as cheery and soothing with its bright wall tones and wooden furniture.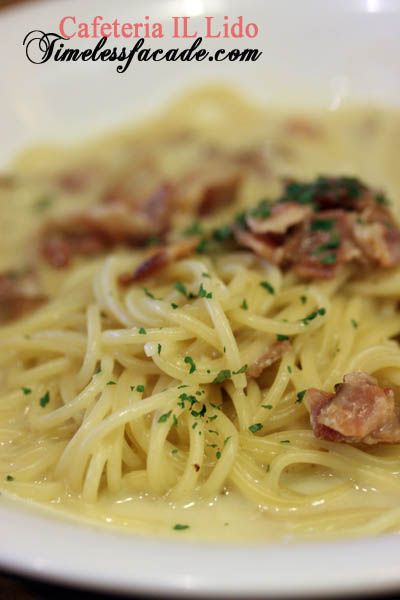 Spaghetti Carbonara
This honestly smacked of convenience. The pasta wasn't al dente while the cream sauce was rather watery without any presence of egg yolk and tasted like the pre made bottled cream sauces you could get off the shelves at any supermarket. The only saving grace was the generous amount of bacon chips which could have used a little more salt.


Ham and Mushroom Pizza
The pizza base was thin, almost to the extent of biscuit like. While I appreciate the gooey cheese and generous toppings atop, I didn't quite take to the pizza in general because everything tasted bland. The crust was way too thin (and hard) to absorb any flavours from the tomato sauce or the cheese and essentially you are just eating biscuit topped with ingredients, something which I can probably do myself without too much hassle.


Tiramisu
This tiramisu has the dubious honour of being the worst tiramisu I have ever eaten in my life (sometimes I wonder if it is even edible) . For starters, it was served at room temperature and that resulted in the mascarpone cheese being soft and almost watery. To cut cost, they probably didn't add eggs in it as well, which made the whole dessert very flat tasting. The sponge fingers were terrible - drowned in what tasted like instant coffee and grossly soft. It came to a point where I was almost "drinking" the whole dessert. And if you are thinking alcohol, there is none of it present.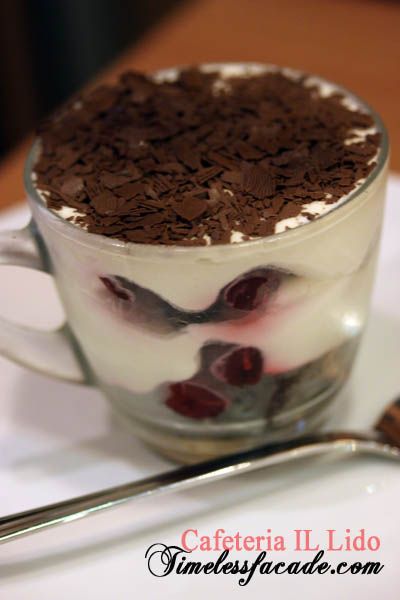 Black Forest
I would say the black forest was at least palatable. The cherries were a little dry but rather tart and the cream to sponge ratio was quite lopsided in favour of the cream. At least it was sweet though.


Bill
I don't know about you but $36 for such mind blowingly lousy food irritates me to no end. Compound the fact that service was seriously lacking ( I had to gesture for about 10 mins before I could catch the attention of any service staff and I wasn't the only table facing such problems) and that I had to pay a 10% service charge for that, I will never go back, not even step near it. Honestly, IL Lido has never enjoyed a high standing in my books but with Cafeteria IL Lido, the entire brand name has just slipped a few rungs.



Final Verdict:
Ambience:6.5/10
Service:5.5/10
Food:5/10 (2/10 for the tiramisu)
Value for money:5/10

Overall:5/10

Address: #B1-012 Suntec City Mall

Contact: 6883 2341

Opening Hours: Daily: 11.30am - 10pm