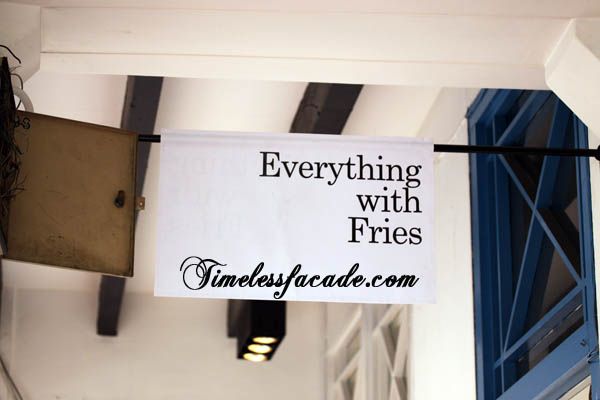 It's interesting how eateries are named nowadays. Some allude to hidden references while others, like Everything with Fries, tells you straight up what to expect from the restaurant. Indulge in my lameness for a bit as I can't help but think that this cafe's name is in response to the "Would you like fries with that?" question. HAHA.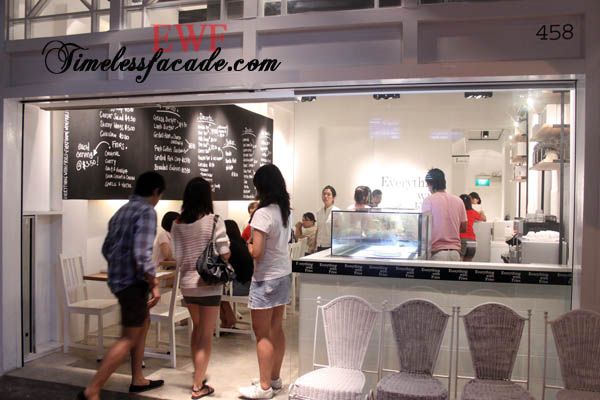 The Place
The eatery's stark white facade cuts a contrasting impression amongst the faded walls of its neighbours along Joo Chiat Road. Wait staff in pink tops and white shorts add to the overall "uplifting" ambience of the place. There is the problem of cramp spaces though. We got a seat next to the walkway and every time someone walked past, they had to squeeze their way in. Imagine someone's butt scraping past your table when you are eating. Definitely not a pleasant prospect.


Egg Soup
Apparently a signature and the only soup available on the menu, the one egg soup was essentially chicken broth with a slightly creamy texture and a sourish hint. The accompanying portion of deep fried whisked egg tasted a little like french toast sans the bread. Rather appetising I must say, especially with the addition of ground pepper.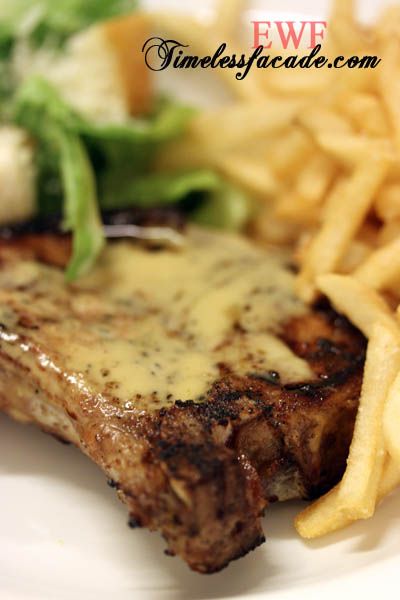 Grilled Pork Chop
The pork chop's seasoning was quite good but probably a wee bit too flavourful for my liking. Grilling imbued it with a nice smoky taste but unfortunately the meat came across as a little too dry. And as the name of the eatery suggests, it came with a choice from a selection of fries (original, curry, salt and vinegar, sour cream and onion, garlic and herbs) as well as a salad, to balance out all that unhealthy stuff. I'm not too sure the fries were that fantastic though, nothing like my favourite fries from
New York Fries
.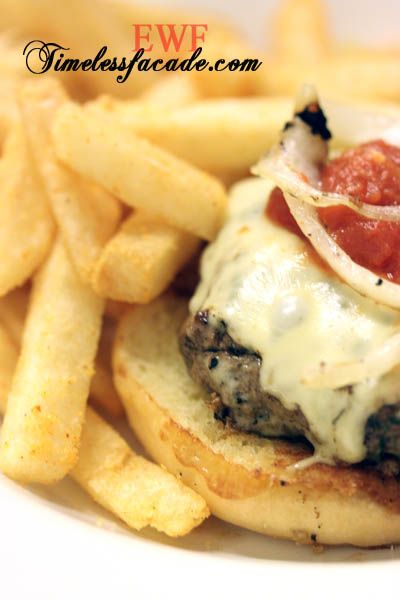 Cheeseburger
My initial reaction upon seeing the burger was one of mild shock. The beef patty was probably only the size of 1.5 Macdonald patties, which is really quite small. Size aside, the texture of the patty was rather uneven, which probably means that it hasn't been machine processed. But I would have liked it a little juicier. The bun is purportedly made from scratch and I must say that I enjoyed it quite a bit. Light without being too dense and mildly sweet with a coating of butter, pan fried till lightly charred on the surface - very good!


Pear Tart
The nutella tart was sold out so we had to settle for the pear tart with an additional scoop of ice cream (+$1.80), which tasted suspiciously like Wall's ice cream. This dessert was a poor attempt at a tart in my humble opinion. The crust was suppose to be flaky but turned out rather elastic. And its a little odd if pear slices don't taste like pear. Overall still edible but don't expect much.


Bill
Dessert and cramp spaces aside, I must say that the meal was quite enjoyable, especially with the relatively economical price tag and chirpy service. I would definitely make it a point to return, but in the meantime, they might want to take a look into their table arrangement.



Final Verdict:
Ambience:6.5/10
Service:7/10
Food:7/10
Value for money:7/10

Overall:6.875/10

Address: 458 Joo Chiat Road

Contact: 6345 5034

Opening Hours: Daily: Noon - 10pm(Closed on Mon)