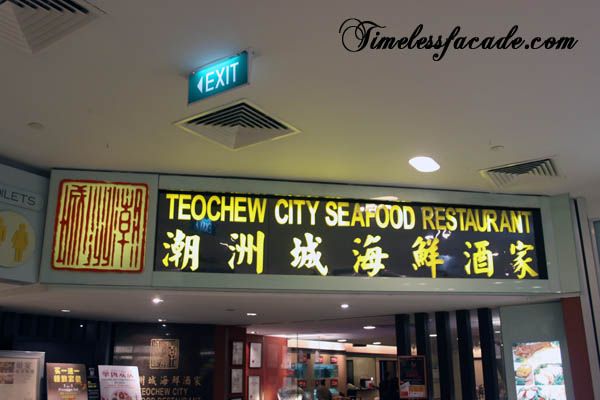 Had been meaning to try out Teochew City for quite a while now so made it a point to head down one weekend evening for dinner. Owned and operated by the Prima group, which also owns the historic Prima Towering Revolving Restaurant, Teochew City is one of the pioneers of Teochew fine dining in Singapore and apparently serves quite good Teochew food, if the hearsays are to be trusted.


Interior & Menu
Located in a corner at the top floor of Centrepoint Shopping Centre, the restaurant cuts a lone figure amidst the retail shops in the mall. A huge signboard makes known the restaurant as soon as the escalator takes you up but human traffic on that level is probably too scarce to make much of a difference. The restaurant's interior is rather spacious and offers a view of live seafood swimming around in huge tanks by the side - very typical Chinese restaurant decor.


Crab Meat & Fish Maw Soup
The soup was tasty and not overly starchy with relatively generous amounts of crab meat and fish maw. However, drinking too much still can make you woozy. And $8 gets you a decent sized bowl.


Braised Goose
I doubt the ban on fresh goose meat has been lifted so this is probably frozen meat. Not that it mattered though, because it was handled quite well and the only slip was the mild dryness of the meat. Portions were also generous for a small serving.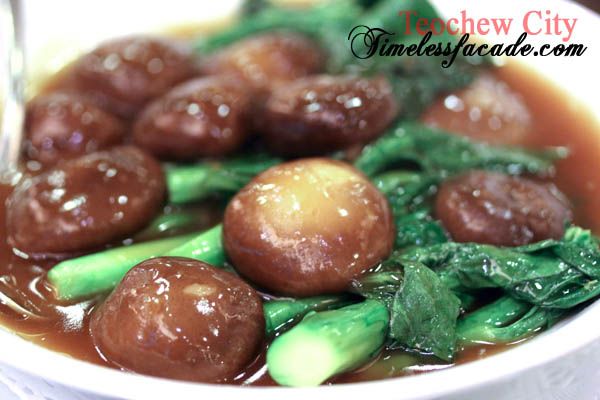 Hong Kong Kailan with Mushrooms
The vegetables weren't overcooked while the sauce didn't come across as too starchy. Mushroom servings were generous and though not the most exciting vegetable dish I've had, no complains really.


Lobster and Prawn Balls
This dish featured prawn paste and fresh prawn molded into balls and deep fried till crisp. Nice but a tad too oily for my liking. The pièce de résistance however, was the egg white with lobster meat served alongside. Savoury without any hint of rawness and a nice smooth texture, complemented by the shreds of lobster meat within. Could have done with a pinch less salt though.


Yam Paste with Gingko Nuts and Pumpkin
The hallmark of Teochew desserts and its most famous one yet - the humble yet time consuming to produce yam paste. Fragrant with a spoonful of not too sweet syrup atop, the paste was smooth and thick. And I like my yam paste without coconut milk.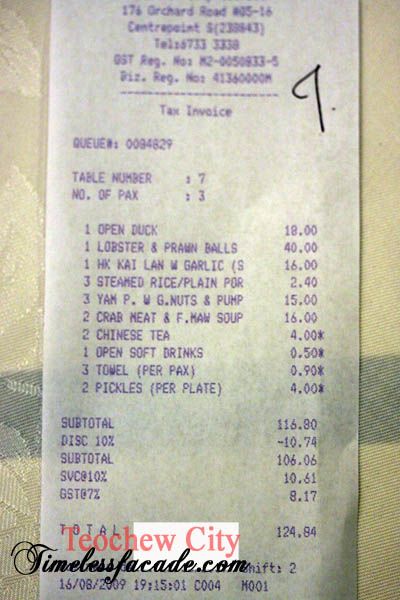 Bill
After a 10% discount, the 3 of us chalked up a bill of almost $125 ($138 without discount), which isn't exactly cheap but consider the quality of food and I reckon it's still reasonable. Service was good and the place provided a nice respite from the mad Orchard Road crowds on a weekend.
Final Verdict:
Ambience:7/10
Service:7.5/10
Food:7.5/10
Value for money:6.5/10 (without discount)
Overall:7.125/10
Address: #05-16 Centrepoint, 176 Orchard Road
Contact: 6733 3338
Opening Hours:
Lunch:
10:30am - 3:00pm (Weekdays)
10:30am - 3:30pm (Weekends & PH)
Dinner:
6:30pm - 10:30pm (Daily)
Website: http://www.pfs.com.sg/restaurants/teochew_city/