It was back to Wo Peng once again, after a rather delightful Mother's day dinner there just a
few months back
. This meal was a celebration of sorts.
Interior & Menu


Smoked Duck
As per my previous visit, the smoked duck was good - smoked till the meat sported a reddish tinge with a hint of smoky aftertaste in every bite. Only gripe was that it did seem a little saltier this time round.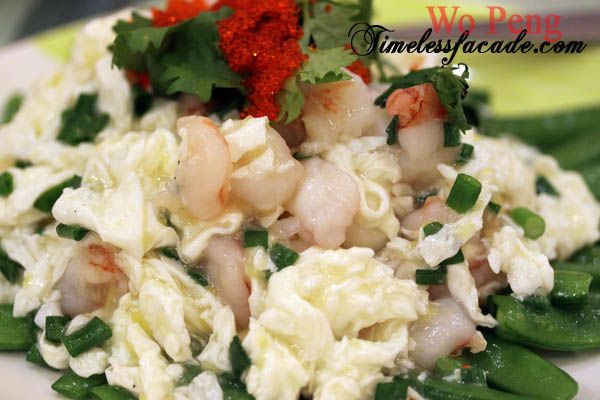 Sauteed Prawns with Egg White & Fish Roe
I liked this dish quite a bit. Crunchy sweet peas amidst generous egg white that hinted lightly of salt and fresh crunchy prawns. Best eaten with a bowl of rice.


Crispy Kampong Chicken
The chicken was relatively good. Crisp skin that carried a whiff of charcoal smokiness layered atop succulent meat. There was the problem of consistency though. Some parts like the wing were a little drier while some parts came across as slightly saltier.


HK Kai Lan with Mixed Sausage
To be honest, this dish was puny and it was meant to feed 6 hungry people. 3 would have been a more reasonable figure. The kai lan (Chinese Broccoli/Kale) was average but the bright spark came in the form of the mixed sausage, which was tasty without being overly dry or hard.


Braised Beancurd with Golden Mushroom & Conpoy
After the stellar repertoire of dishes, I had expected the beancurd to be of equally good quality but sadly, it fell flat. The beancurd was soft but came across as bland. Even the golden mushrooms and carrot strips couldn't save it.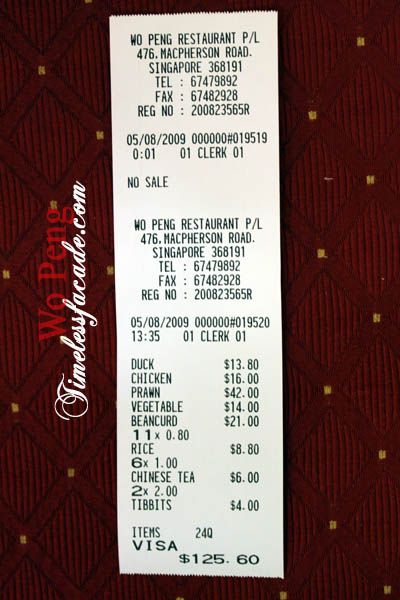 Bill
The 6 of us chalked up a bill of about $126, which is quite a fair bit to pay for lunch in the outskirts of town. However, take comfort in the quality of the food and the fact that prices remain unchanged for dinner. If that isn't enough, there's commendable service too, without the service charge.



Final Verdict:
Ambience:6.5/10
Service:7.5/10
Food:7.5/10
Value for money:7/10
Overall:7.125/10

Address: 476 MacPherson Road

Contact: 6747-9892

Opening Hours: Daily, 11.30am to 3pm, 6.30 to 11pm