Popped by Hai Tien Lo (HTL) for lunch one glaring weekday afternoon. The restaurant is currently having a "cardholder dines free" promotion until the end of November with a minimum of 2 pax for their weekday dim sum lunch.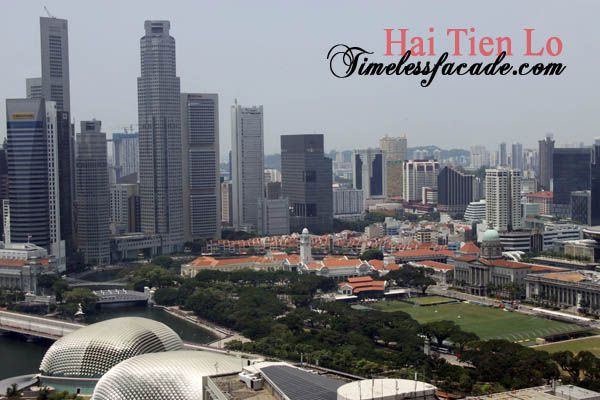 View from my seat and Interior
One of the huge draws (at least for me) of HTL is its excellent views of the city scape and its uncluttered seating arrangement that allows most, if not all tables a window side view without bearing the brunt of being exposed to direct sunlight. An ideal place to have a leisurely lunch in my humble opinion.


Deep Fried Cheese Rolls
Very well deep fried crisp wanton skin enveloping a prawn filling with hints of cheese. Honestly it was a little unsettling for me and the excessive oil factor was quite a turn off.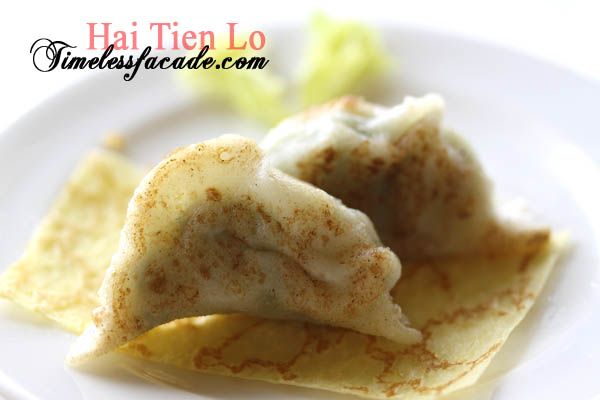 Pan Fried Seafood Dumplings
The 锅贴 (Pot Stickers) were just bad. The skin was too thick and tasted more chewy and limp then crispy. It could have done with a lot more flavouring as well. I gave up after the first mouth.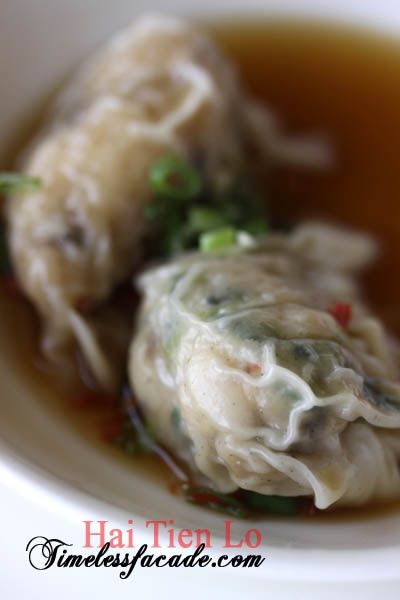 Poached Beijing Dumplings with Vinegar Chilli Sauce
The 饺子 was a little oversoaked in the mildly spicy and vinegarish sauce which rendered the skin unbearably soft. At least the prawns were fresh but could have done with more crunch. Overall decent but not something I would order again.


Pan Fried Rice Rolls served with Conpoy Sauce
This dish of rice rolls (猪肠粉) differed from the usual dim sum offering in that it is pan fried till lightly charred on the surface before serving. Coupled with a savoury sauce boasting mild flavours of shrimp, it was delectable - fragrant and tasty.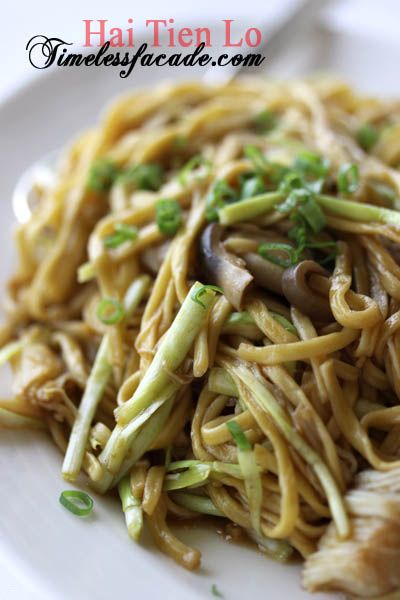 Stewed Ee Fu Noodles with Crab Meat
You have a choice of either this noodle or the duck & silver bean sprout fried rice (limited to 1 order). The noodles sounded more appetising hence we went for it. Limp would be a good word to describe the noodles as it seemed a little too soft. However, the crab meat was generous and overall nothing too fancy.


Crispy Stuffed Beancurd Skin
The beancurd skin (腐皮卷) reminded me of samosa, with its triangular shape and puffed up appearance. Crisp beancurd skin covering fresh shrimp and pork filling sans the reused oil taste, what's not to like?


Steamed Carrot Cake
This looked deceptively hard and dry and I half expected it to provide stiff resistance to my fork. On the contrary, it was smooth with bits of meat for that added texture but could have done with a more robust taste. The sauce was lightly salty and savoury but there was just too little of it in my humble opinion.


Steamed Mushrooms stuffed with Prawn Paste
I envisioned a huge mushroom stuffed with prawn paste in the center. What I got was a mushroom with a huge lump of prawn paste sitting atop and drizzled with egg white sauce. Perfectly fine I guess and very decent with the woody taste of the mushroom providing a nice backdrop against the mild fishiness of the crustacean paste.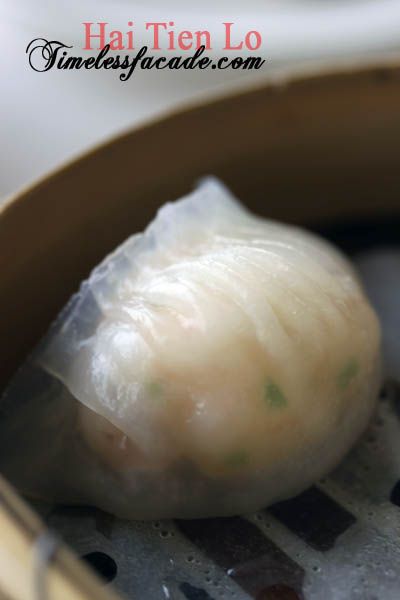 Steamed Prawn Dumplings
Semi translucent (albeit a little too thick) skin offering a peek of the generous mound of fresh and crunchy prawns buried within. Served piping hot and wolfed down in a matter of seconds. That's the magic of it.


Steamed Barbecued Pork Buns
I am a sucker for carbohydrates hence I never fail to order the buns at any dim sum session. Straight out of the steamer, the BBQ pork buns were very good. Fluffy and moist flour with a generous serving of BBQ pork that threatened to elevate my sugar levels close to that of a diabetic. Sesame seeds mixed in with the filling provide a nice crunch to the overall texture. If you have a low tolerance for sweet stuff, my advice would be to skip this entirely.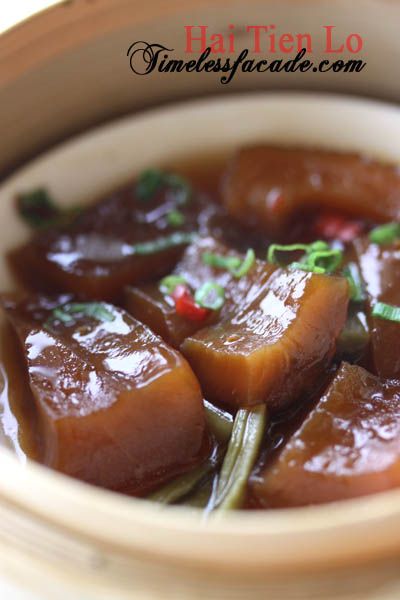 Steamed Sea Cucumber in Abalone Reduction
The sea cucumber was soft almost to the point of being jelly like. Not exactly my cup of tea.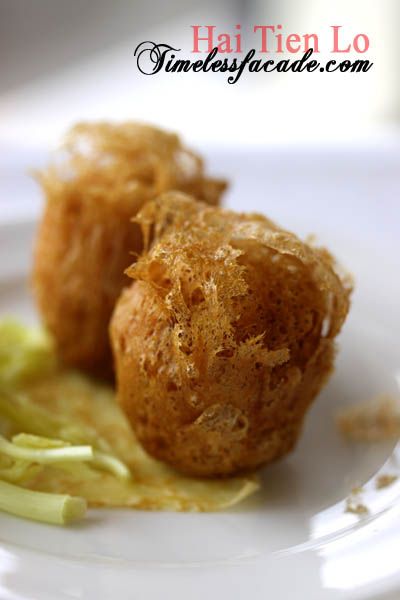 Deep Fried Vegetarian Taro
Decent without coming across as too oily though it was very well deep fried to a crisp. The presence of vegetables within provided an extra crunch amidst the smoothness of the taro.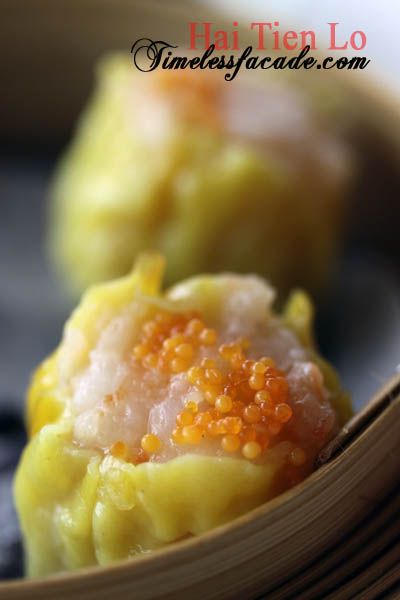 Steamed Pork Dumplings
Thankfully, the
siew mai
had a significantly larger proportion of lean to fatty meat, which cut down on the nausea quite a bit. The presence of prawn paste in it upped the taste factor but overall texture seemed a little on the soft side.
Chilled Mango Pudding served with Cream of Mango Sago
Aesthetically pleasing, the mango pudding came served with Nata De Coco. Decent and a nice sweet conclusion to the oily dim sum session. If mango pudding isn't to your liking, there is the option of Hashima for dessert as well.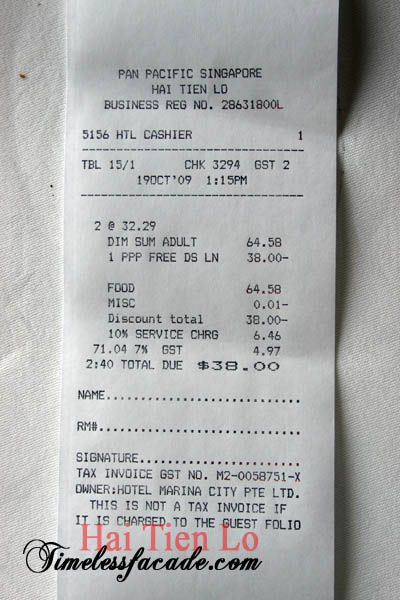 Bill
Being a promotion, the 2 of us paid a mere $38 nett ($76 before discount) for our lunch, which is a steal considering the stellar ambience, decent service and reasonable quality of food. Sure, some items are forgettable but the value for money proposition is undeniable.
Final Verdict:
Ambience:8.5/10
Service:7/10
Food:7/10
Value for money:7.5/10
Overall:7.5/10
Address: 37th Floor, Pan Pacific Hotel
Contact: 68268338
Opening Hours:
Monday to Friday: 12.00pm to 2.30pm & 6.30pm to 10.00pm
Saturday & Sunday: 11.30am to 2.00pm (Brunch) & 6.30pm to 10.00pm
Website: http://www.panpacific.com/en/singapore/restaurants_bars/Hai_Tien_Lo.html