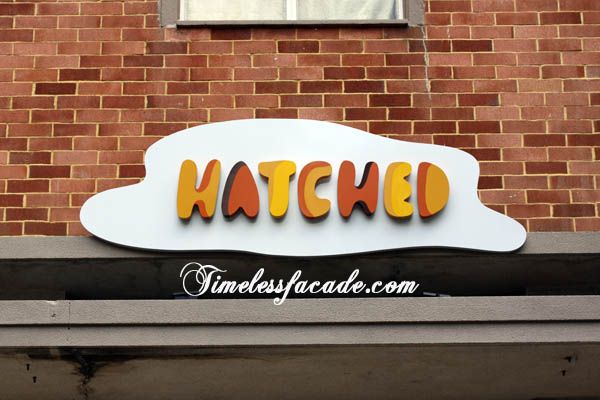 Finally! A place that sells all day breakfast and nothing else - a casual eatery by the name of Hatched, which apparently is the brainchild of a former SAF scholar who probably decided that eggs and breakfast were his calling.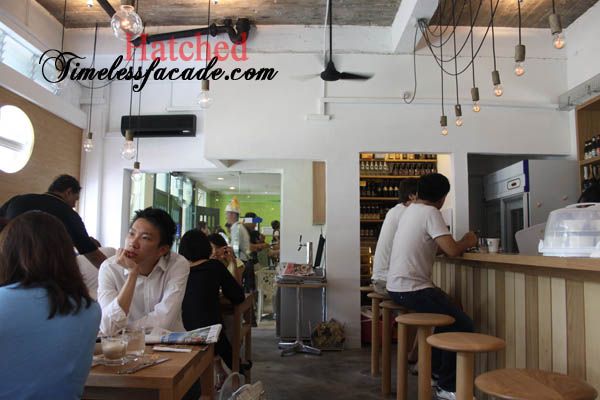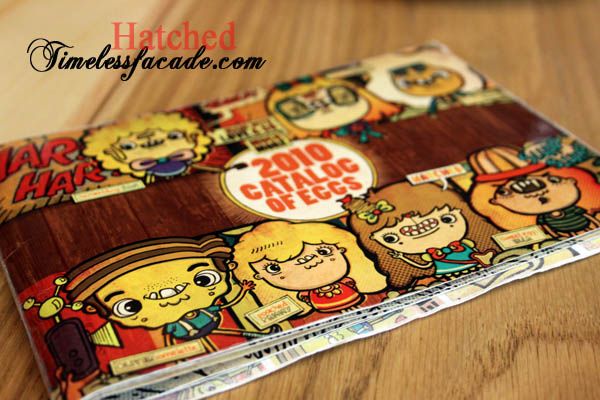 Interior & Menu
The eatery is housed in Evans Lodge, a rather dilapidated building along Evans Road that is home to a
prata
shop as well. The interior of the place is charmingly cozy, with bright sunlight frittering through the side windows. Capacity probably peaks at about 30 people or less, making reservations a must, especially on weekends. Special mention goes to the menu, which is extremely colourful and cute but probably caters more to the ladies then guys.
Dippy Eggs and Soldiers
Cutesy names and aesthetically pleasing food presentation aside, this dish didn't wow one bit. The dipping bread sticks looked tantalising but had a funny mildly rancid taste while the soft boil eggs didn't taste anything out of the ordinary (Read. Your local coffeeshop standard). A pity there wasn't enough Parmesan cheese or limp bacon bits to go around.


Burly Benedict
This was a double portion and it sure wasn't big. The eggs were nicely poached but the muffin wasn't spongy enough for my liking and was overly greasy. However, the major disappointment came in the form of the corned wagyu beef, which was a little rubbery and tasted very processed. It didn't help that the salt content was excessively high as well.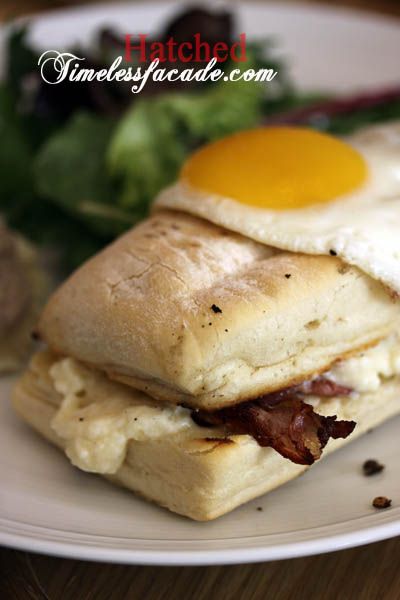 Croque Madam
The Ciabatta bread was rock hard and I mean it literally. I had to muster up quite a bit of strength in order to cut through it with my knife. Seriously, hurling it at someone could have caused a minor concussion. The grilled kurobuta ham tasted no different from ordinary ham which makes it a waste of good pork. The side of mashed potato could have done with a little butter but at least the mushroom drizzle was decent.


Papillote
I thought that the smoked salmon was a tad too salty for my liking, masking the taste of the scrambled eggs. A very normal dish to say the least. I don't even know why we paid $12 for it. Well, at least the tomato was nice.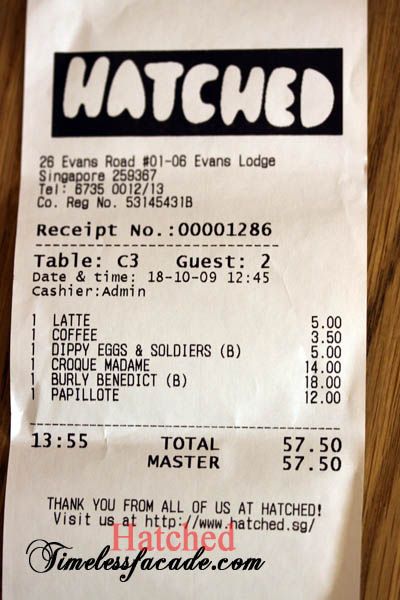 Bill
Ever had the feeling of being full but not the least bit satisfied? Well that was what we felt after our $58 brunch for 3. I like the vibe and decor of the place (save for the less then ideal car park lots) and I like the culinary concept. However, food quality treads in the average zone and the long waiting time for the food doesn't exactly help things. Lets hope, for Hatched's sake, that they buck up because I hate to see such a concept go to waste.
Final Verdict:
Ambience:7/10
Service:7/10
Food:6/10
Value for money:6/10
Overall:6.5/10
Address: #01-06 Evans Lodge, 26 Evans Road
Contact: 6735 0012
Opening Hours:
Sun-Thu: 8am - 10pm
Fri-Sat: 8am - 12am
(Closed on Mon)
Website: http://www.hatched.sg/
On a more positive note, we had desserts at Cedele, which provided the satisfaction that we sought. Ironical eh?